Photo: weheartit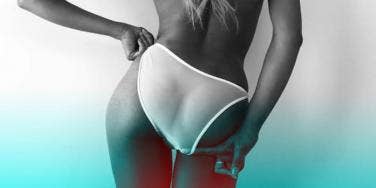 Hey. It's better than going to the gym! *wink*
Sex is good for your body in all sorts of ways. Yes, it's great for your mood and your stress levels, but it's also amazing exercise.
If there's a certain area (say, your butt) that you're working on, choosing the right position can get you there. And it's way more fun than working out at the gym.
These are the best sex positions to try if you want a tighter, firmer butt. You're welcome.
1. Missionary
Surprisingly, the most basic sex position can actually provide a great workout.
"You can boost the intensity here by asking your partner to prop himself up on all fours. Then, your role will be to raise your hips and meet him halfway. As you move up and down, you're guaranteed to feel the burn in your butt," says Tristan Weedmark of We-Vibe.
2. Lotus
This is a seated position where you wrap your arms and legs around your partner's back, essentially sitting on his lap while rocking. In addition to engaging your core, the Lotus position will strengthen your glutes while your muscles put in some serious work as you thrust back and forth, according to Weedmark.
5. Pinball wizard
Get into a partial bridge position, while he kneels and enters you from behind. This makes your butt do all the work.
7. Figure 8
This is like missionary with some spice. Lay flat on your back using a few pillows to prop up your butt. Have him enter you and clench your muscles all the way.
Previous
Next
BEGIN