Photo: Instagram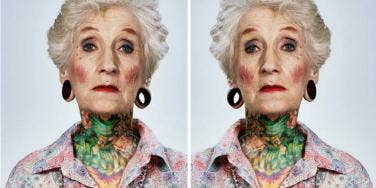 This is your future, young people with tats.
You wouldn't know it by looking at the number of people with tattoos today, but it used to be that only outlaws of a sort were inked. If you had tattoos, especially if you were a woman, society thought of you as hard, weird and strange.
Older people who have tattoos got them long before they became popular. They didn't get inked because it was trendy — they did it as a way of expressing themselves in a radical way. With so much tailored to the young, older people are often invisible and are thought of as irrelevant, but when a senior citizen is heavily inked, you can't help but notice them.
Arguments against tattoos were that they would look awful on wrinkled and aging skin, when actually, older people with tattoos look badass and fabulous. Their tattoos tell the stories of their lives and will continue to last as their memories start to fade.
Here are 14 Instagram photos of inked senior citizens who show that they're still as vibrant and colorful as the tattoos they so proudly wear.
Photo: Instagram.com/jenlouloub
1. An inked older couple
They're completely inked and still in love.
Photo: Instagram.com/bodymodificationsx
Photo: Instagram.com/followprettyguardian
3. A face full of tats
Anybody who's met this man will never forget him.
Photo: Instagram.com/meowitsrose
4. A man ready to fight
We're sure his exterior is covering up his heart of gold.
Photo: Instagram.com/brittstables
5. Vietnam and lone wolf hands
If those tats could talk, I wonder what stories they'd tell.
Photo: Instagram.com/jinlingruccha
6. Lovely older woman
This woman is proof that a woman of a certain age can still be hot.
Photo: Instagram.com/oddkc
7. Back and front tats
These tats looks just as good as the first day he got them.
Photo: Instagram.com/azndaveflash
8. Vintage tats
These tattoos were completed long ago, but their artistic value remains.
Photo: Instagram.com/vape_mate
9. Tatted teacher
A teacher expressing herself through body art.
Photo: Instagram.com/thenameisriot
10. Woman with a heavily inked neck
Turn a problem area, like an aging neck, into a work of art.
Photo: Instagram.com/rachealynnn
11. Stunningly handsome man
Could this man get any hotter?
Photo: Instagram.com/smell_the_roses11
12. Naked from the waist up
Naked and yet completely covered up.
Photo: Instagram.com/foxesmoon
13. Magic man
He's the life of every party.
Photo: Instagram.com/dangilliver
14. Full back tat
With a back tattoo and sleeves as detailed as these, you'd think this man is a human canvas.
Previous
Next
BEGIN