Photo: weheartit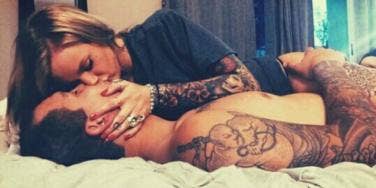 Nothing says "I love you" like having it in writing. On your body. Permanently.
We all have a friend who's never kept a job, girlfriend, political identity or moral system for more than a few years, but won't bat an eye at getting a tattoo that says "Turn Down For Sandwichez" engraved on his clavicle.
And through the use of lasers, orbital sanders or magic, maybe he's right to be so be cavalier about body art. Maybe crossing the "i"s and dotting the "t"s is for squares who just don't understand the importance of L-I-V-I-N.
A story from Live Journal's Oh No They Didn't came out with a story about Jennifer Lopez's boyfriend Casper Smart getting her name tattooed on his doodle, declaring in front of God, Jesus and everyone who will listen that this is J-Lo's Jambony. Thankfully, there are no photos.
Here are 16 other cases of people who should consider getting a KickStarter going for a decent plastic surgeon.
1. Place boobs here.
Much respect to the "artist" and customer for not over-thinking this whole thing, and tattooing the words on backwards so a lady can read it. If women like two things it's brutally creepy honesty, and legibility.
2. Crossed-off names
When someone has herpes AND anterograde amnesia, there isn't a whole lot else he can do. Now, not sure if this is a hit list, but I do know one thing ... RUN, LAURA! RUN FOR YOUR LIFE!
3. Brenda
If you've seen the back of one diehard 90210 fan, you've seen them all.
Photo: sheenamckee.blogspot
4. Heart tattoo
Good news: these are clearly drawn on with a pen. Bad news: one of these girls borrows the other girl's underpants without asking.
5. Chopper's bitch
A sample of a conversation this woman has every single day:
Stranger: Who's Chopper?
Lady: My old man.
Stranger: Who are you?
Lady: I'm Chopper's bitch.
Photo: LYGSBTD.Wordpress.com
6. Spank me
You parent any way you want to, but when your child is literally always asking for a spanking, you should reconsider the standard operating procedure in your home.
7. Eff me
All I can really say to this woman is "make me."
8. Get some
If you're not a fan of Duke Nukem, you probably think this is a very crass tattoo. If you ARE a fan of Duke Nukem, you're probably a very crass person, so the first person was probably right about how crass this tattoo is.
And if you've ever forgotten what crass means, it's an abbreviation for C-R-Ass, or see our ass.
9. Coyote versus Roadrunner
One is a smug, trouble-making hooligan who flaunts the laws of man, nature, and physics at every turn. The other is a self-described genius whose single-minded purpose in life is to impose his will upon a very specific target.
Hey Freud, which tattoo does the dude have? MEEP MEEP.
10. Puzzle tattoos
We all think that we've found the very special key to put in our ignition. But everyone's going to feel really stupid when one of them gains 64 pounds and the pieces don't fit together anymore.
11. Game Of Thrones
I really hope the Dothraki translation is "One bug that crawls up another bug's butt to explode and die." Man am I jealous of these two good-looking dorks.
Photo: Viral Nova and Cheezburger
12. Double hearts, double time
Let's both promise to never, ever gain or lose a single pound, or move from exactly where we're standing. Or share this photograph. On the upside, this is an original idea that no other couple could ever think of...
13. Corpse Bride
Do we know where exactly Tim Burton and Helena Bonham Carter were when this photo was taken? Well, to be fair these are hideous tattoos, but not so bad when you consider what a wonderful movie Corpse Bride was.
14. Big mistake
Kudos to this tattoo artist for not spending an hour coming up with an incredible design for how to make the previous ink a chrysalis from which this person's new life has an opportunity to emerge. Next time, let's just tattoo "F*ck you too, dad" over the entire area.
15. To infinity ... and beyond!
This is by far the sweetest one because who doesn't love Buzz Lightyear? However, it presupposes that one or both don't understand the nature of infinity.
Previous
Next
BEGIN