Photo: Instagram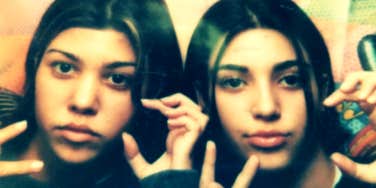 Damn. She looks different.
We all know the Kardashian and Jenner families. The super-famous families that rose to fame by just being celebrities and hanging out with other celebrities. And while we all hate on them for rising to fame for almost absolutely nothing, there's no denying that we would love to be in their position.
Since then, the Kardashian family has made a name for itself. Kim Kardashian is arguably one of the most famous and influential women in the world right now, being a business woman and being married to famous rapper Kanye West.
---
---
The Kardashian-Jenner family certainly isn't shy about using social media. Twitter, Instagram, Snapchat, you name it — they use it all. There are so many pictures that the Kardashian and Jenner family like to share on social media.
But hands down, the best ones happen to be the #TBT (or Throw Back Thursday) pictures, where we can see Kim Kardashian plastic surgery and wonder what parts of her and her family are real.
A lot of them show the girls when they were growing up during the 90s before they were massive international celebrities. They liked the Spice Girls just like us, but they also had famous childhood friends like Nicole Richie and child star Gaby Hoffmann.
There's also one thing that's pretty interesting about these photos: how much Kim Kardashian has changed over the years.
Not only has the reality star evolved when it comes to her fashion, but she's changed dramatically in her looks since she rose to her super-stardom. Back in the day her body and face were almost unrecognizable.
---
---
Of course, that can be said for a lot of celebrities and even other members of the Kardashian-Jenner clan. Plastic surgery isn't uncommon among rich celebrities. But Kim has definitely had the most dramatic changes out of her entire family.
Everyone, even Kim, knows that her booty is one of her most standout features. But it's crazy to know that she hasn't always had it, as we can see from numerous #TBT pics on Twitter.
Without being unfairly judgmental, it's safe to say that Kim Kardashian plastic surgery doesn't have to be such a bad thing. When people aren't confident in how they look, they often times have the opportunity to change it — and that's totally OK.
From being Paris Hilton's best friend to being one of the most recognizable and influential names in the celebrity world, these 20 pictures show that Kim Kardashian has certainly come a long way since her rise to fame.
---
---
1. Partying before plastic surgery
Kim posted this picture of her living it up with Khloé. Her face looks pretty unrecognizable.
2. The Kardashian/Jenners back in the day
Most of the Jenner and Kardashian kids together. Look how far they've come!
3. Kardashians at the beach
If the Kardashians ever went on the show Jersey Shore, this is probably what they would've looked like.
4. A rare picture without makeup
You've just got to love finding rare pictures of the sisters rocking out with no makeup on.
5. Kim's senior year of high school
This is Kim as a senior in high school with her dad.
6. Sisters spending the day together
Not only did Kim look different, but Khloé rocked blonde hair. And look at how tiny Kendall was!
7. Kim and Nicole Richie
It looks like Nicole might have had the bigger transformation between the two.
8. Kim having a great time in Bora Bora
Kim posted this picture of her and Kourtney living it up in Bora Bora back in the day.
9. Another party picture
She really loved Herve Leger back in the day, but it doesn't look like that's changed much.
10. Kim and Kourtney in 1998
Kim and Kourtney prove that they were basically the coolest gals growing up.
11. In the photo booth with Nicole Richie
Little Nicole Richie, Gaby Hoffmann, and Kim in one picture.
12. Scott, Kim, Khloe and Kourtney back in 2006
Kim posted this throwback to 2006 when she was just getting started.
13. The Kardashian Spice Girls
Of course Kim would dress up as Posh Spice.
14. Kim on a Range Rover
This is definitely one of the most insane throwback pictures of Kim. There should be no other way to pose with a Range Rover.
15. Kim in 2006
Gotta love those hoop earrings.
16. Kim at the Backstreet Boys concert
Kim and Khloé celebrated Kim's 18th birthday at a Backstreet Boys concert.
Photo: PR Photos/Chris Hatcher
17. Kim and Nick Cannon
Remember when Kim dated Nick Cannon? She looked different even then.
18. Kim in her "skinny dayz"
Kim posted this picture with a caption giving a nod to her "skinny dayz."
19. Kim and buddy Paris Hilton
Here's a picture of the friendship that started it all.
20. Her Herve obsession never really ended.
Kim posted this picture, proving she's always known how to pose.
Previous
Next
BEGIN