Photo: Warner Bros.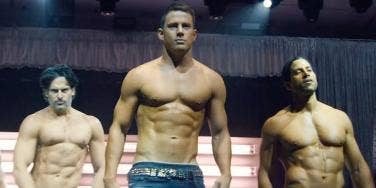 You seriously won't believe what these stars named their little friends.
I always thought that no one ever really nicknamed their penis. I just thought it was an urban legend or a joke that TV shows and movies used to make a character look sleazy.
I mean, that is a weird thing to do unless you nickname every single part of your body. If you nickname your arms and your legs and each individual one of your fingers, then I guess it's not creepy.
It's weird AF, but not necessarily creepy.
As it turns out, there ARE guys out there who actually do give their penis a name (and/or have it named for them).
But why? Are girls into that? If you meet a guy and he's like, "I nicknamed my unit Batman," is that a turn on?
If so, I don't think it should be. I think if you get turned on by that, then you get turned on by the wrong things (but #notjudging).
What happens if you break up and his penis has to "meet" a new woman? Does the little guy's name have to be changed? Or does she have to accept inside of her some dick that another chick named Richard? What if Richard is the name of her ex?
Do you not see how terrifyingly complex this is all getting?!
So, anyway, it just so happens that when Adonis-of-all-Adonises-ever Channing Tatum took part in an AMA ('Ask Me Anything') on Reddit, he revealed that he had nicknamed his buddy.
Apparently, he calls it Gilbert.
And I feel so conflicted because that's creepy, but it's also hilarious at the same time.
So I need to go figure some things out.
And while I'm doing that, here are 10 more celeb penis names that are seriously NUTS...
1. Channing Tatum
Nickname: Gilbert
Gilbert makes me think of Dilbert, from the newspaper comic strip. Also, Dilbert looks kind of like a "Gilbert," if you catch my drift.
2. Anthony Kiedis
Nickname: Antoine the Swan
I feel like this is some sort of trick. Anthony Kiedis is kind of a weird guy, so if he asks if you want to meet his swan, it seems believable that he'd own a swan. Then instead of seeing a majestic swan, you see his penis.
Doesn't seem fair.
3. Steve-O
Nickname: Julius
Steve-O's penis has a nicer name than his actual name. Steve-O is the name of a frat boy. Julius is the name of a professor or something equally as respectable.
Photo: NBC Universal Television
4. Rainn Wilson
Nickname: The Fail Whale
Apparently, Rainn Wilson has trouble in the bedroom. Maybe if he focused on things other than coming up with clever nicknames, he'd do better.
5. Owen Wilson
Nickname: The Butterscotch Stallion
Butterscotch goes on ice cream, not a penis. Why would Owen Wilson want to ruin dessert? WHY?!
6. Macaulay Culkin
Nickname: Floyd
Wait, Macaulay Culkin isn't famous anymore! Get him off the list!
7. John Mayer
Nickname: David Duke
Why? Why why why?! The explanation doesn't help because according to John Mayer, his David Duke is racist. Sure, John. Your penis is racist, not you. Sure.
9. Hugh Jackman
Nickname: Old James Rogers
Yes, the word 'old' is officially part of the nickname for Hugh's main man. I guess that's just how they do things in Australia. They do things weird over there.
10. Gary Busey
Nickname: Big Wednesday
Ok, sure, Gary. Big Wednesday is an old movie about surfing and the Vietnam War. So I guess it makes sense, right? I mean, both the plot of the movie AND it being a celeb penis nickname.
11. Vinny Guadagnino
Nickname: Moby Dick
Technically, this was a nickname given to Vinny's Vinny by fellow Jersey Shore castmate Snooki. It's not the most clever nickname, so it's actually more embarrassing that it took two people to come up with it.
Previous
Next
BEGIN