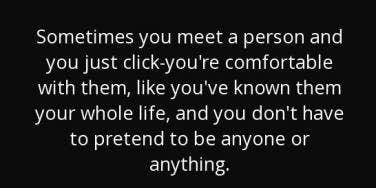 Nothing is better than having a husband who is both your lover and your best friend.
Friedrich Nietzsche once famously said, "It is not a lack of love, but a lack of friendship that makes unhappy marriages." And this couldn't be more true; after all, the strongest relationships seem to be those that are built on friendship (hence why so many friendship quotes focus on love).
No, this doesn't necessarily mean that your husband will enjoy going shopping and getting mani/pedis with you or that you have to enjoy watching football in order to be friends with him. What this does mean is that your romantic bond contains many of the wonderful traits that everlasting friendships do.
The two of you share common interests but also know how to discuss and get past your differences. You know what pushes each others' buttons as well as what makes one another smile.
Just like the greatest friendships, your relationship is full of trust, respect, honest communication, loyalty, adventure and unconditional love.
You can tell each other anything—even those TMI details that would otherwise be embarrassing. Not only can you make each other laugh (as you often find humor in the same things), you also know how to cheer each other up during a stressful week; this includes knowing when to offer an ear to listen when they want to talk or to give space when they don't.
But most of all, you enhance each other's lives. The laughter you share, the problems you endure and the tears you wipe away not only strengthen your bond, but also give you both motivation to become a better person. There's no question that this kind of love built upon friendship is capable of standing against all odds. It's the kind of love that could last a lifetime.
These quotes are proof of that.
If you're searching for the best quotes and memes to share with the people you love (or just want to feel inspired yourself) ... look no further! From the sweetest love quotes, inspirational sayings, and hilarious relationship truths, we've got you covered.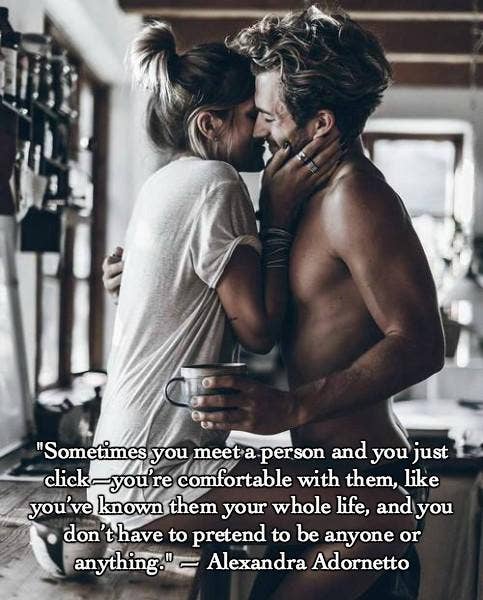 Photo: WeHeartIt
1. When you click
"Sometimes you meet a person and you just click. You're comfortable with them, like you've known them your whole life..." -Alexandra Adornetto
Photo: WeHeartIt
2. If you're being honest....
"I love being married. It's so great to find that one special person you want to annoy for the rest of your life." - Rita Rudner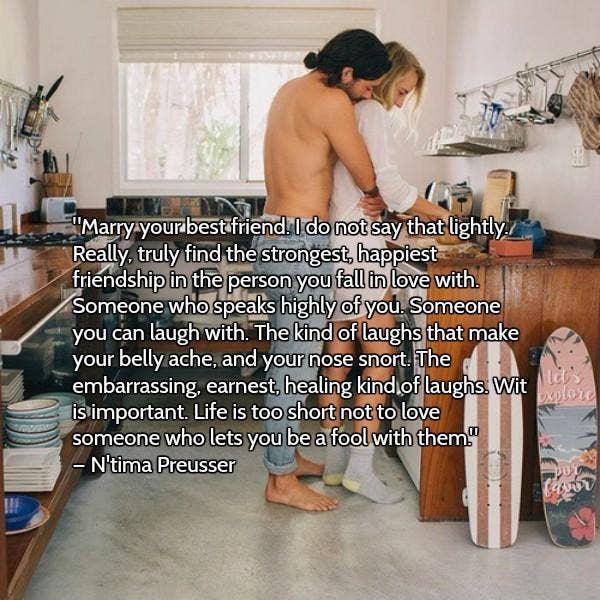 Photo: WeHeartIt
3. Why it's important to marry your best friend...
"Marry your best friend. I do not say that lightly. Really, truly find the strongest, happiest friendship in the person you fall in love with. Someone who speaks highly of you. Someone you can laugh with. The kind of laughs that make your belly ache, and your nose snort. The embarrassing, earnest, healing kind of laughs. Wit is important. Life is too short not to love someone who lets you be a fool with them." -N'Tima Preusser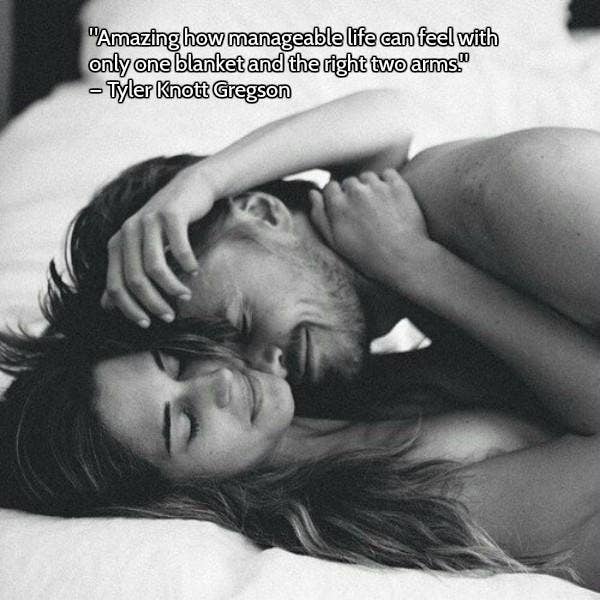 Photo: WeHeartIt
4. He makes everything better...
"Amazing how manageable life can feel with only one blanket and the right two arms." - Tyler Knott Gregson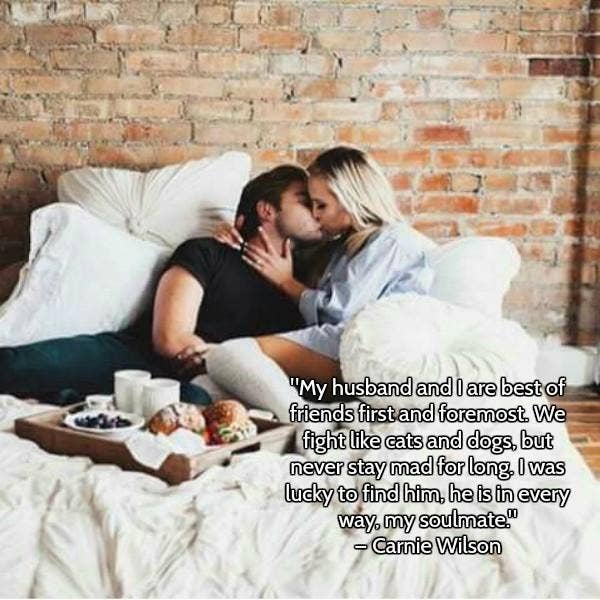 Photo: WeHeartIt
5. He's your soulmate
"My husband and I are best of friends first and foremost. We fight like cats and dogs, but never stay mad for long. I was lucky to find him, he is in every way, my soulmate." -Carnie Wilson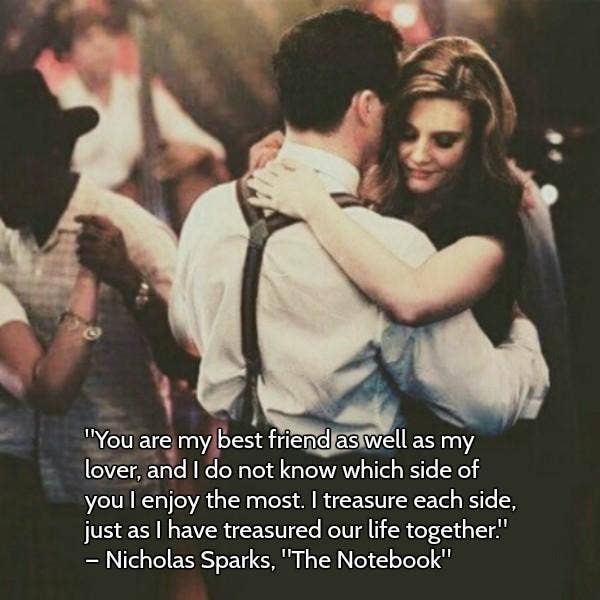 Photo: WeHeartIt
6. The Notebook always gets it right
"You are my best friend as well as my lover, and I do not know which side of you I enjoy the most. I treasure each side, just as I have treasured our life together." - Nicholas Sparks, The Notebook
Photo: WeHeartIt
7. Weird love is the best love...
"We're all a little weird. And life is a little weird. And when we find someone whose weirdness is compatible with ours, we join up with them and fall into mutually satisfying weirdness—and call it love—true love."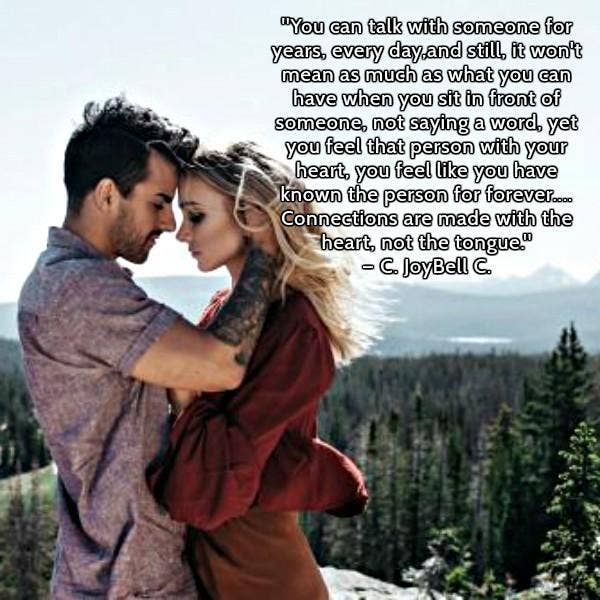 Photo: WeHeartIt
8. When you don't have to say anything ... you just know.
"You can talk with someone for years, everyday, and still, it won't mean as much as what you can have when you sit in front of someone, not saying a word, yet you feel that person with your heart, you feel like you have known the person for forever ... connections are made with the heart, not the tongue."
Previous
Next
BEGIN