Photo: weheartit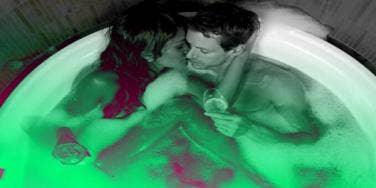 Try these positions at your own risk.
Have you ever heard of a little thing called the Kama Sutra? You probably know from pretty much every women's magazine out there that it's known for being the "everything you need to know" kind of book when it comes to learning new and (supposedly) amazing sex positions.
Naturally, as an everyday woman looking to heat things up a little more than usual in the bedroom, chances are you have thought about taking a peek or two at this famously naughty guidebook. What could be the harm in getting a little creative, right? Wrong. So wrong.
Unfortunately, if you haven't been a lifelong yoga enthusiast, a super-bendy ballerina, or a physics-defying contortionist, most of these suggestions are probably going to look a lot more scary than sexy. But don't worry! Even if we can't (or won't) convince ourselves to try any of these super-awkward sexy-time moves, they're definitely worth a good laugh.
Out of the hundreds of strange tips that the book of Kama Sutra has to offer, we succeeded in finding the worst of the worst of the WORST. Get ready for some weird and flat out cringe-worthy sex advice that's going to blow your mind. These 11 ridiculous sex positions will leave you wondering, "Who on Earth thought THAT would work?"
1. The Peg
Not only is this position going to be uncomfortable with your knees practically next to your ears, but you've also drastically increased the likelihood of getting kicked in the face. The best trophy from sex is NOT a black eye.
2. The Crouching Tiger
You have to be the queen of leg day to even attempt this one. If you're not worried about your thighs cramping from the strain you're putting on them, you can fret over what happens when you lose your balance and fall off the bed.
3. The Balancing Act
Sit down on him, curl your body up into a ball, and keep your fingers crossed that he doesn't let you roll off and away. Actually, just mentally cross them; you're going to need all the appendages supporting you that you can get.
4. The Triumph Arch
If laying on your back with your feet under you isn't a problem, good. Now just let your man "slide" right under you so his feet can go by your head. Getting into the position without an ER visit is the real triumph.
5. The Challenge
This "challenge" appears to be what was inevitably the downfall of Mrs. Humpty Dumpty. If his hands slip even a bit, you're going to be thrust off and suffer a great fall of your own. Even the king's men won't be able to help you.
6. The Waterfall
Not for the faint of heart! If you attempt this one, you're probably going to pass out. Too much blood in your head means not enough for your genitals. You're going to need more water than this waterfall can supply.
7. The Indian Headstand
Can you do a handstand? If yes, can you do it while some guy is thinking with his little head and ramming his penis into you? That's what this position entails. The support falls on your arms (until you actually fall on them).
8. The Wheelbarrow
As a master of balance and skill, this one shouldn't cause you any issues. Oh wait, that's not you? Then you can anticipate toppling over shortly after beginning. That's probably why it's suggested you put a pillow on the ground.
9. The Lustful Leg
Assuming you're not a flamingo, this one will probably cause you some discomfort. Well, a lot of discomfort.
10. The Ape
Use your feet to balance and control the motion in this one or use them to get up and demand your partner doesn't insist on such craziness, because neither of you is going to be happy when you slip off and try to get back on.
11. The Propeller
You may be wondering how this one works, and there really isn't an answer for that. Your guess is as good as any for how your guy's going to manage any kind of circular motion in this position. At least the others seem kind of feasible.
Previous
Next
BEGIN