Anyone who's felt the real grief of a broken heart can relate.
Going through heartbreak can feel like the end of the world. You spend so much time loving and being with one person that when that time is over, you don't even feel like yourself anymore. It's almost as if you put so much of your own personality and feelings into the relationship, that when it's all over, you don't even remember who YOU are.
Sounds familiar, doesn't it?
When you go through an intense heartache like a break up or losing someone important to you, you can do one of two things: pick yourself up, or let the heartache take over your life.
Or, if you're like me, you eat all the Ben & Jerry's cookie dough ice cream you can, and THEN pick yourself up and move on with your life.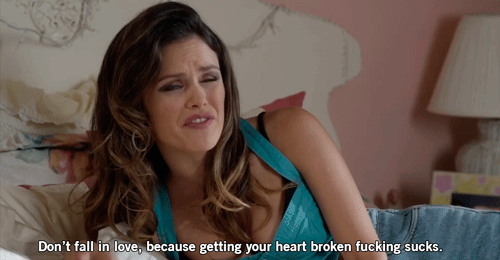 Tumblr
Renowned poet, author, and super-feminist Rupi Kaur reminds us that no matter how crippling the heartache ... it's NEVER the end of the road.
With her powerful words, she tells her Instagram and Facebook followers that you CAN be a survivor of heartache instead of letting it run your life. She reminds us that even when we suffer a devastating blow like heartache and it feels like the pain is enough to swallow us whole, we are strong enough on our own to survive it.
That said, a lot of us aren't ready to hear these kinds of words. Rupi's right there with you. But she believes that — in time — everyone can heal.
Her words are both gentle and honest enough to make anyone who reads them think, "You know what? She's totally right," and that is what makes her loved and admired by so many. If anyone can truly make you feel better about being single or learning how to love yourself again — or even just knowing that you're not the ONLY one feeling this — it's Rupi Kaur.
These poems remind us that surviving heartbreak is just the beginning of a new, stronger, and maybe a little more jaded YOU.
You can check out Rupi Kaur's collections of poems, milk and honey here. Or if you need a little more inspiration after reading through her powerful poems, take a listen to her TED Talk. As if she doesn't already have ENOUGH talent, she's an incredibly powerful speaker too.
If you're searching for the best quotes and memes to share with the people you love (or just want to feel inspired yourself) ... look no further! From the sweetest love quotes, inspirational sayings, and hilarious friendship truths, we've got you covered.
YourTango may earn an affiliate commission if you buy something through links featured in this article.