Photo: Instagram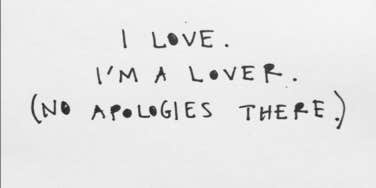 Get your love on.
Cleo Wade is one of those people you find online who completely changes your world in less than ten words. Her Instagram page is filled with a collection of handwritten and typed musings that are both intelligent and relatable. Not only do her posts show off her skills as an artist, but they also touch your soul in ways only a poet can.
What we love most about Cleo Wade and her words of wisdom is that she gives it to us straight.
This girl has no time for sugarcoated or bland words; she gets straight to the point in a way that leaves you reminiscing about her lovely poesies long after logging off of Instagram.
One of her main topics is love; a subject that can feel played out to the every day observer. One quick search online will bring up more clichéd quotes about love than you can count on both hands. Because of this, saying "I love you" can feel almost fake or meaningless.
So how does Cleo Wade differ from these run-of-the-mill quotes about love?
Whether she's writing three words or ten, she is opening her followers to a love that is more passionate and raw, emotional even; words that make you feel like she's written them just for you.
Whether you are looking for quotes about self-love, new love, or longstanding love, Cleo's already got 'em written. After taking a look at some of our faves written by her here, we suggest you check out her Instagram page for more incredible work.
If you're searching for the best quotes and memes to share with the people you love (or just want to feel inspired yourself) ... look no further! From the sweetest love quotes, inspirational sayings, and hilarious relationship truths, we've got you covered.
The best relationships are the ones where you can be 100% yourself.
"I am really into your crazy." — Cleo Wade
Really deep love takes time and commitment.
"And if you want love... the really good kind... you are going to have to get your hands dirty." — Cleo Wade
There's nothing like finding someone who makes you feel whole.
"What could be more than us, you and me, a thing so complete." — Cleo Wade
Falling in love can be scary, but it is oh so worth it.
"Fall in love a little and if you are feeling very brave... fall in love a whole fucking lot." — Cleo Wade
Being in love means a little less "me" and a little more "us".
"You want to fall in love? Lose your fear. You want to stay in love? Lose your ego." — Cleo Wade
Be proud of how hard you can love.
"I love. I'm a lover. (No apologizes there)." — Cleo Wade
Of all the fish in the sea, you're my favorite one by far.
"You are my fish in the sea." — Cleo Wade
A love that makes you feel complete is one that should be cherished.
"You and me. So complete." — Cleo Wade
In good times and bad, love makes you feel it all.
"You make me feel all of my feelings." — Cleo Wade
When you have good love, you know it's real.
"Yup. It's love." — Cleo Wade
You deserve nothing less than the best, so go ahead and show off.
"Be the type of love you deserve, if for no other reason but to show us all how it's done." — Cleo Wade
You know you've got real love when you find your kind of crazy.
"Baby, you are completely insane and I wouldn't have it any other way." — Cleo Wade
Love helps you conquer things you thought were impossible.
"Love: the thing that has no fear or anxiety." — Cleo Wade
No one else can love you better!
"The perks of being me? Loving you." — Cleo Wade
Is there anything better than finding a love that's all your own?
"You and me. There is nothing like us, huh." — Cleo Wade
Nothing is more magical than finding love and getting lost in it.
"The magic of you overwhelms me. That's all." — Cleo Wade
A bridge made from love lasts forever.
"The mind tells you this river has no bottom, the heart tells you we can put a bridge here." — Cleo Wade
Previous
Next
BEGIN