Photo: weheartit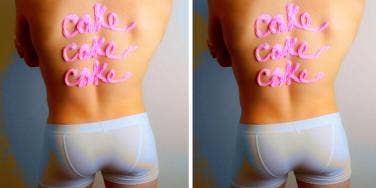 He'll thank you later. *wink*
As in all things, there are different strokes for different folks. When having sex, you may or may not be into butt play. For some, it's an acquired taste. But there's all sorts of ways to stimulate his anus while having your fun.
Put your stereotypes away, friends. Anal stimulation isn't just for gay men! Many men who enjoy having sex with women also enjoy having their anus stimulated. Of course, not all agree. But it can be incredibly pleasurable, so it's worth broaching a conversation to find out.
"To be honest, I'm not really sure about this. I'm not one looking for any anal stimulation on me, or even really what that fully means. I'd imagine the same as it would be for with women," says adult star Ryan Driller, who says for added play, either in Cowgirl or Doggy Style, where her ass is kind of spread, you can play with it a bit.
"For licking or penetrating, I'd say missionary, with her hips rolled up a little. This typically has been easier access for me, and more comfortable for the girl, to first accommodate my penis. Spoon is also a go-to first position for anal sex."
If you're not specifically talking intercourse positions, there are many ways for the two of you to get into position for anal stimulation, from pegging to fingering to analingus. But if you mean sex positions, "It depends a bit on body size relative to each other, but missionary can allow for reaching around to get to his anus. Scissoring can work, too," says Carol Queen, sexologist.
The possibilities are endless. You can stick to basic sex positions like missionary, or you can get a little funky and try something you've never tried before. Either way, he's sure to be bursting at the seams with pleasure, all thanks to you.
Here are several positions that can help you stimulate his prostate gland.
2. Rim job
Yes, that's a blow job, but to his butt. Don't knock it till you try it!
3. 69
In the 69 position, you can reach up to stimulate his prostate internally or simply press his perineum to stimulate it from the outside, says Driller. Have him bend over the bed or a piece of furniture for prostate play with your hands, a toy or strap-on.
5. Scissoring
Moving legs back and forth in a way that mimics scissors can have all sorts of fun in sex play, but we mostly know of it in girl on girl fun. However, you can also use it to rub anuses against other anuses, or anuses against vaginas or penises, creating all sorts of stimulation no matter what your sex.
Previous
Next
BEGIN