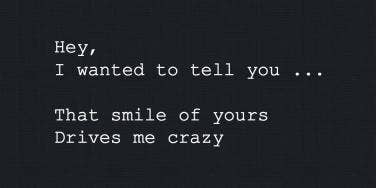 Trust us ... he wants to know how much he means to you.
People love to focus on showing men how to express their love to their partners, but rarely do we discuss how important it is to show our guys the same thing.
But the boys deserve a ton of love too, ladies!
Sure, most men may not care for a bouquet of flowers from the gift shop, and they may prefer a night alone with an ice cold beer to a romantic candlelit dinner for two, but sometimes what these guys REALLY want is some authentic words straight from the heart telling THEM why they are so special.
Why are these big, greasy, macho (juuuust kidding!) guys worth your time? Well for one, they are people just like you and me. And they have real, authentic, RAW feelings. Just like us.
Sure, they may not express things in the same way and we women may THINK we know how to tell a man how we really feel, but honestly these guys just want some simple, heartfelt words to make their day feel a little warmer and little brighter.
So instead of assuming that your guy would rather spend time away from you, try telling him something you genuinely feel, straight from the heart. I mean, who wouldn't love FEELING loved? And remember to keep showing your guy — not only through your words, but through the way you treat him every single day — just how much you really, truly, deeply care for him.
---
If you're searching for the best quotes and memes to share with the people you love (or just want to feel inspired yourself) ... look no further! From the sweetest love quotes, inspirational sayings, and hilarious relationship truths, we've got you covered.
---
Kayla Cavanagh is an editor and writer living in Central Florida. When she's not feverishly obsessing over spreadsheets and grammar, she enjoys drinking margaritas by the pool, watching movies with her husband, Matt, and dancing with her kids in the living room.
Talk about how he made you a better person than you were without him
"You found parts of me I didn't know existed and in you I found a love I no longer believed was real." — Unknown
Tell him about how happy he makes you.
"The happiest I've ever felt was that moment I discovered you loved me too." — Unknown
Tell him what turns you on the most about his body.
"Hey, I wanted to tell you ... that smile of yours drives me crazy." — Unknown
Tell him how you really feel.
"If someone asked me to describe you in just 2 words, I'd say ... simply amazing." — Unknown
Tell him he's got EVERYTHING you've ever wanted.
"What I have with you, I don't want with anyone else." — Unknown
Tell him how you think he's the best sanctuary there is.
"You're my favorite place to go to when my mind searches for peace." — Unknown
Tell him he's the one you've always dreamt of meeting.
"I never knew how to write and this life is the story I have always wanted to tell."" — Tyler Knott Gregson
Tell him your love is something that was meant to be.
"I didn't plan on falling in love with you, and I doubt if you planned on falling in love with me. But once we met, it was clear that neither of us could control what was happening to us." — The Notebook
Tell him how you love to roll over to his sleeping face every day.
"I always wake up smiling ... I think it's your fault." — Unknown
Tell him that you'll love him no matter what.
"I love you for all that you are, all that you have been, and all you're yet to be." — Unknown
Tell him how lucky you feel to have been the one to find him.
"Some people search their whole lives to find what I found in you." — Unknown
Tell him that you were destined to be together.
"When your eyes me mine, my soul pointed at you and whispered to my heart, 'Him'." — Unknown
Tell him you can't wait until you're by his side forever.
"I can't wait until I can roll over at 2A.M. to find your lips instead of a text." — Unknown
Tell him that his love means the world to you.
"I love my eyes when you look into them. I love my name when you say it. I love my heart when you touch it. I love my life when you are in it." — Unknown
Tell him that you're always thinking fondly of him.
"I realized I was thinking of you, and I began to wonder how long you'd been on my mind. Then it occurred to me: Since I met you, you've never left my mind." — Unknown
Previous
Next
BEGIN