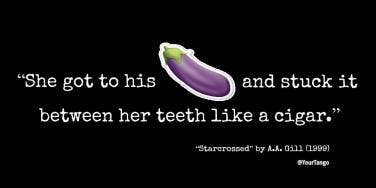 Bad sex has never, EVER sounded this bad.
Let's be honest — it can be hard to describe sex without sounding really, really silly. The winners of this award know, because these are some of the WORST sex scenes ever written.
The "Bad Sex in Fiction" Award kicked off in 1993 (you can find a full-list of winners here), but we decided to collect our Top 10 favorite quotes from past "Bad Sex" winners.
We've all been there. You're trying to spice up an evening by talking dirty, working your hardest to sound smooth and sensual, but then you think about what you're actually saying for a split-second and you start to LAUGH. Or you just get so embarrassed that everything grinds to an unfortunate stop. All because you thought it might be erotic to talk about your partner's "taut, dripping butt."
If it makes you feel any better, describing sex isn't easy for ANYONE, even famous, best-selling authors. That's why, in 1993, The Literary Review started their annual "Bad Sex in Fiction" Award, which honors "an author who has produced an outstandingly bad scene of sexual description in an otherwise good novel." And these are writers who should know better — authors like Bonfire of the Vanities' Tom Wolfe and Morrissey. (Yes, THAT Morrissey. Who knew that he wrote a novel?)
In the words of The Literary Review, "the purpose of the prize is to draw attention to poorly written, perfunctory or redundant passages of sexual description in modern fiction, and to discourage them." The key phrase is right there at the end — "discourage them." Because you will NOT believe how misguided, weird, and decidedly NOT SEXY some of these sex scenes are. They're INSANE. Some reference Zorro or "otorhinolaryngological caverns" (??). Some use phrases like "pained frenzy of his bulbous salutation" or "seductive pin-striped foreskin." These passages (hopefully) don't sound like the kind of sex that you (or ANYONE ELSE) has ever had in the history of EVER. These quotes won't make you blush. Instead, they'll just make you go, "Wait, WHAT?" But they are painfully funny to read aloud.
If you want to build up your confidence in your own talking dirty skills, you HAVE to check out these 10 TRULY awful sex scenes.
• • • • •
If you're searching for the best quotes and memes to share with the people you love (or just want to feel inspired yourself) ... look no further! From the sweetest love quotes, inspirational sayings, and hilarious relationship truths, we've got you covered.
2015 Winner: "The List of the Lost" by Morrissey (2015)
"At this, Eliza and Ezra rolled together into the one giggling snowball of full-figured copulation, screaming and shouting as they playfully bit and pulled at each other in a dangerous and clamorous rollercoaster coil of sexually violent rotation with Eliza's breasts barrel-rolled across Ezra's howling mouth and the pained frenzy of his bulbous salutation extenuating his excitement as it whacked and smacked its way into every muscle of Eliza's body except for the otherwise central zone."
2014 Winner: "The Age of Magic" by Ben Okri
"Adrift on warm currents, no longer of this world, she became aware of him gliding into her. He loved her with gentleness and strength, stroking her neck, praising her face with his hands, till she was broken up and began a low rhythmic wail … The universe was in her and with each movement it unfolded to her. Somewhere in the night a stray rocket went off."
2010 Winner: "The Shape of Her" by Rowan Somerville
"The wet friction of her, tight around him, the sight of her open, stretched around him, the cleft of her body, it tore a climax out of him with a final lunge. Like a lepidopterist mounting a tough-skinned insect with a too blunt pin he screwed himself into her."
2007 Winner: "The Castle in the Forest" by Norman Mailer
"The Hound began to come to life. Right in her mouth. It surprised her. Alois had been so limp. But now he was a man again! His mouth lathered with her sap, he turned around and embraced her face with all the passion of his own lips and face, ready at last to grind into her with the Hound, drive it into her piety."
2005 Winner: "Winkler" by Giles Coren
"And he came hard in her mouth and his dick jumped around and rattled on her teeth and he blacked out and she took his dick out of her mouth and lifted herself from his face and whipped the pillow away and he gasped and glugged at the air, and he came again so hard that his dick wrenched out of her hand and a shot of it hit him straight in the eye and stung like nothing he'd ever had in there, and he yelled with the pain, but the yell could have been anything, and as she grabbed at his dick, which was leaping around like a shower dropped in an empty bath, she scratched his back deeply with the nails of both hands and he shot three more times, in thick stripes on her chest. Like Zorro."
2004 Winner: "I Am Charlotte Simmons" by Tom Wolfe
"Hoyt began moving his lips as if he were trying to suck the ice cream off the top of a cone without using his teeth … Slither slither slither slither went the tongue, but the hand that was what she tried to concentrate on, the hand, since it has the entire terrain of her torso to explore and not just the otorhinolaryngological caverns."
2002 Winner: "Speak Softly" by Wendy Perriam
"Weirdly, he was clad in pin-stripes at the same time as being naked. Pin-stripes were erotic, the uniform of fathers, two-dimensional fathers. Even Mr. Hughes's penis had a seductive pin-striped foreskin."
1999 Winner: "Starcrossed" by A.A. Gill
"She got to his cock and stuck it between her teeth like a cigar."
1996 Winner: "The Big Kiss" by David Huggins
"Liz squeaked like wet rubber. She grabbed my love-handles and ground her hips against me, her eyes black saucers staring into mine as she hooked a yoga-leg onto my shoulder. We went through a medley of our favourite positions. When Liz saw that I was about to shoot my blob of Lo-Cal genetics she turned onto her stomach, lifting her arse to get a hand to her clitoris and chase me to an orgasm. She made it just in time."
1993 Winner: "A Time to Dance" by Melvyn Bragg
[This was the first EVER winner of the Literary Review's "Bad Sex in Fiction" Award.]
"We came together, do you remember, always tenderly, at first standing, like a chivalric introduction to what was to be a voluptuous sensual battle? Just stood and kissed like children, simply, body to body, skin to skin, you slightly stirring against me, myself disregarding for those seconds the ram of sex aching below."
Previous
Next
BEGIN