Photo: Instagram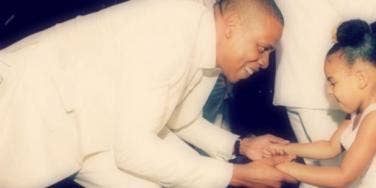 We promise these will melt your heart.
I think we can all agree that one of the sexiest things I man can do is spend time with his children. I'm not sure what it is but it's absolutely hot! But I must admit that celebrity dads wear the look well, given that they aren't too bad on the eyes and perhaps in part to our fantasized crushes. Nonetheless, these are the top 10 best love quotes we found straight from celebrity daddies about the little moments that make fatherhood amazing ... in no specific order. (Hey, it was hard enough to narrow it down to just ten!)
1. Neil Patrick Harris And David Burkta
OK, so we cheated a little on this first one and picked two awesome celebrity dads — married to each other! When deciding what they wanted their twins, Gideon and Harper, to refer to them as, the How I Met Your Mother star said: "This is a sore subject, because we are two gentleman with children, and so we didn't know what to call ourselves. 'Daddy One' and 'Daddy Two' sounded kind of strange ... So David's 'daddy' and I'm 'poppa,' just to differentiate." These two are just too adorable!
2. Caitlyn Jenner
We melted when we saw Caitlyn Jenner cry while giving a speech at her stepdaughter Khloe Kardashian's wedding. With 10 kids who have all turned out quite successful (and with putting up with Kris Jenner nonstop), Caitlyn has got to truly be a great parent! She once joked: "I had been carpooling kids for 33 years. My last Escalade, I had 170,000 miles on it. Those were carpool miles."
He recalls the first day his girls drove off to school, he ran out the door and watched. "I'm standing on the sidewalk with my sad look, waving at them. They waved back, saying, 'We love you, Daddy, we love you!'" And we know they still do.
3. Jay-Z
Even before little Blue Ivy was born we know how amazing of a father Jay would be, given how he treats Bey. Prior to Blue's birth, he said, "I imagine I'll take things I learned from my mom and things I've learned from raising my nephews and apply that. Then at the end of the day, I just know I'll probably have the worst, spoiled little kid ever. Everyone imagines they'll be a great dad until their (kids are) teenagers. (They say), 'Get away from me, Dad. You're embarrassing me.'" So, we're willing to bet Blue is going to be living the royal life under Queen Bey and her father, Jay Z.
4. Tom Cruise
Suri Cruise may get her amazing fashion from her mommy Katie Holmes, but dad Tom Cruise is making her into a star already! "I'll put Suri on a swing and tell her stories when I'm working on a script," he says. "I'll start with the beginning of the movie and take her through the story beat by beat. Of course, I make it age-appropriate. She's four years old. But she asks all the right questions: Why does that happen? Those are the bad guys? You're the good guy, right?" Yes Suri, he's the good guy most of the time.
5. James Van Der Beek
While you may have laughed when seeing him fake cry repeatedly on Dawson's Creek, James Van Der Beek admits he really did cry when his wife, Kimberly was in labor with their second child, son Joshua. He Tweeted on that day: "Had my first son this morning ... well, actually, my wife had him. I just caught him. Wow. Heart expanding way faster than my brain... If you could bottle up and distribute this feeling, I swear there'd be no more war. #fatherhood." Aww, Dawson! He makes us crack up on Don't Trust The B In Apt. 23, but the actor definitely gets sappy when talking about his most important role in life.
6. Kanye West
There's no denying that Kanye definitely has his diva moments in the limelight or strokes of genius, as he'd probably consider them. But, this is in no shape or form reflective of the seemingly amazing father he is to North. Showing his more gentle side to Paper Magazine, West spoke about little Nori, stating, "When I look in North's eyes, I'm happy about every mistake I've ever made. I'm happy that I fought to bring some type of reality to this world we choose to stay in right now, driven by brands and corporations."
Aww, we're glad he finally found a purpose greater than highjacking Taylor Swift's award-winning moments.
7. Ashton Kutcher
Honestly, we can't imagine what having the Punked host as father, but it sounds pretty awesome. Nonetheless, fatherhood has brought our different side to Kutcher that we don't often see in his comical roles. "It's unbelievable. It's the greatest thing on Earth. As soon as this child was born I immediately wanted to call my parents and just apologize because I never knew how much they loved me," he humble-bragged to Conan O'Brien.
8. Channing Tatum
We're swooning already for this chiseled piece of man, so it doesn't matter all too much what he has to say. But, for the sake of staying on topic, during an interview, he told Redbook, "Dance battles do sort of happen, to be honest. When we wake up in the morning we put on music, and while Everly's eating we dance and it just starts to get stupid. Changing the baby is an intermission — but our daughter hates getting her diaper changed, so it's almost like a break-dancing battle to get it on her. As soon as you lay her down, she's bridging out of it and doing some jujitsu windmill. It's pretty intense" How cute! Who knows, perhaps there's a future for her in the next Step Up sequel.
9. Idris Elba
During an interview our favorite British hunk opened up to Rolling Out, about his life as father. "I love, love children. I love being a dad; it's one of the joys of life. In fact, you can take it all away from me tomorrow, but don't take away my children."
10. Matthew McConaughey
​McConaughey warmed our hearts during his interview with GQ, "It's the one thing I've always wanted to be," followed by, "Never is a man more of a man than when he is the father of a newborn ... You know what's important. I definitely got more selfish. And at the same time, I think I got more compassionate." He definitely makes fatherhood look good.
Previous
Next
BEGIN