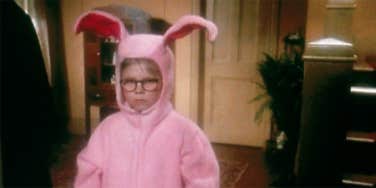 You'll shoot your eye out without these facts!
Even for people who don't celebrate Christmas, Bob Clark's A Christmas Story has become one of the most famous holiday movies of all time. Every Christmas, TBS brings us a full 24-hours of Ralphie and his quest for a Red Ryder BB Gun. If you haven't seen A Christmas Story yet, do yourself a favor and finally watch it this year because it's a classic and every single human being should see the film at least once. (Honestly, you would probably understand way more pop culture references after watching this movie.)
A Christmas Story was released in 1983 and has since became an American tradition. Here is a quick synopsis (for those 10 people who didn't grow up watching the movie): Christmas is rapidly approaching and all Ralphie wants is a Red Ryder BB Gun, but everyone keeps telling him that he's going to shoot his eye out. Add in a school bully, a triple dog dare, and a leg lamp (yes, an actual lamp that is shaped like a leg) and you have the best holiday movie ever. Well, one of them anyways. Sit back, relax, and celebrate the holidays because it's going to be Fra-gee-lay (it's Italian). Here are 16 facts you didn't know about A Christmas Story:
1. Cleveland, Ohio
Director Bob Clark scouted over 20 cities before deciding to film the movie out of Cleveland, Ohio.
Credit: IMDB
2. Ralphie's house
A fan of the movie purchased the house that was used as the exterior shots in the movie on eBay for $150,000. He then renovated it to look exactly like the set shots on the inside. In 2006, the house opened for tourists to view. Brian Jones spent $500,000 to fix up the house and turn it into a tourist destination.
Credit: MGM
3. House Address
For those of you who are now planning a trip to Cleveland (for whatever reason), you can find the house at 3159 W. 11th Street.
Credit: IMDB
4. Peter Billingsley
Ralphie became quite the movie man. Over the years he has produced movies like The Break-Up, Four Christmases and Iron Man.
Credit: IMDB
5. Wil Wheaton as Ralphie?
The famous Star Trek character and Sheldon's nemesis auditioned for the part of Ralphie.
Credit: IMDB
6. Red Ryder B.B. Gun
The famous B.B. Gun is mentioned 28 times in the movie.
Credit: IMDB
7. Jack Nicholson?
Nicholson was given the script and wanted to play Ralphie's father, however, adding him to the cast would have doubled the budget at the time, thus the decision to cast Darren McGavin.
Credit: IMDB
8. First a horror flick
According to Billingsley, in order to get A Christmas Story made, Clark had to agree to make a horror film for the studio as well.
Credit: MGM
9. Don Geyer might be a Christmas ghost
The guy who played the scarecrow was actually the head of Display and Fixtures at the real Higbee's/Dillards department store. Coworkers said that after Geyer passed away in 1999, they spotted him on a loading dock and some say that his voice was overheard on the PA system. Creepy!
Credit: MGM
10. Bob Clark appearance
Clark appears in the movie as the gawking neighbor who admires the Leg Lamp from the street.
Credit: MGM
11. Jean Shepherd
The writer of the movie is also the narrator voice of Ralphie. He also makes an appearance in the movie as the angry man waiting for Santa.
Credit: IMDB
12. Scut Farkas fight
In the scene where Ralphie is fighting Scut Farkas, he is spewing off random gibberish, but according to Billingsley it was 100 percent scripted that way.
Credit: MGM
13. Ralphie is in Elf!
Keep an eye out the next time you watch the Will Ferrell classic. Ralphie is the head elf!
Credit: New Line Cinema
15. Tongue freeze trick
When Flick freezes his tongue to the flagpole, there was a suction cup inside the tube to make it look like he was stuck to the flagpole.
Credit: IMDB
16. Flick's porn career
Scott Schwartz went on to do adult movies later in his career. #winning
Credit: MGM
Previous
Next
BEGIN