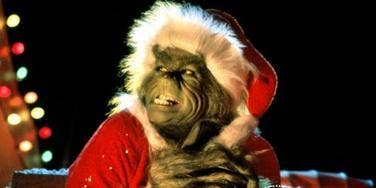 All your happy Christmas song memories are about to be destroyed. You're welcome!
Christmas music is a fun way to get into the spirit of the Christmas season as a whole (provided you don't work in retail, in which case you're probably sick of them by December 2). Christmas songs are fun to sing along with while you're wrapping gifts, decorating your tree, hanging your Christmas lights, or just chugging eggnog and rum from the carton on your couch. (Really, who are you to judge me?)
But seriously: Christmas songs are great, they're festive, they have those adorable jingle bells and they only come along for about a month every year, so it's good to enjoy them while you can.
Still, enjoying Christmas music doesn't mean approving of the messages that all Christmas songs contain. And let's be honest: Some messages of Christmas songs are downright horrifying when you really stop humming along to think about them. These 10 Christmas songs are a lot creepier than picturing your weird Aunt Edna lurking under the mistletoe on Christmas Eve, so you may want to wipe them clean from your holiday playlists.
"Santa Baby"
If you're relying on Santa to bring you this many expensive Christmas gifts, what you really should be asking him for is a job. Or for a subscription to one of those creepy Seeking Arrangement sites.
Photo: WeHeartIt
"Let It Snow"
"Let It Snow" basically says, "Hey, as long as I get laid today, who cares about a potentially nuclear winter?" Spoiler alert: You will when you get your heating bill and realize there's a widespread famine, you selfish prick.
Photo: WeHeartIt
"The 12 Days Of Christmas"
Oh, you want nine ladies dancing, huh? (And don't get me started on the eight maids-a-milking, you freak.)
Photo: WeHeartIt
"All I Want For Christmas Is You"
We made slavery illegal a long time ago. We fought a war over it. So begging and pleading and wailing to another human being and demanding they do your bidding for Christmas is pretty sketchy. Also, is that really all you want? What about peace on Earth and good will towards men? Or a PlayStation 4? If you're that selfish, why are you selling yourself so short?
Photo: WeHeartIt
"Little Drummer Boy"
As someone who previously dated a few drummers, I can assure you that with possibly the exception of Dave Grohl, they really will never have any gifts to bring.
Photo: WeHeartIt
"Baby, It's Cold Outside"
A man is pleading with you to stay the night despite your repeatedly saying "no." At some point you ask, "Say, what's in this drink?" Seriously, this is probably Robin Thicke's favorite Christmas song.
Photo: WeHeartIt
"I Saw Daddy Kissing Santa Claus"
You know how whenever something traumatic happens to a child we always ask, "Where are the parents?" This is where they are: Role playing and not paying attention to their kids. Whoever penned this Christmas song is probably still using the royalties to pay for therapy.
Photo: WeHeartIt
"Santa Claus Is Coming To Town"
Don't act like this is okay. If an overweight bearded man really sees kids when they're sleeping and knows when they're awake, you need to call the police.
Photo: WeHeartIt
"Nuttin' For Christmas"
Unless you're a squirrel or into bukkake, you shouldn't be getting nuttin' for Christmas. At least get a Dunkin Donuts giftcard or something with it.
Photo: WeHeartIt
"Grandma Got Run Over By A Reindeer"
You know what? Grandma probably didn't get run over by a reindeer. Chances are, Grandpa or whoever else was listed first in her will or her life insurance policy was up to something much more sinister and is trying to pin that shit on Donner and Blitzen.
Photo: WeHeartIt
Previous
Next
BEGIN