Photo: Weheartit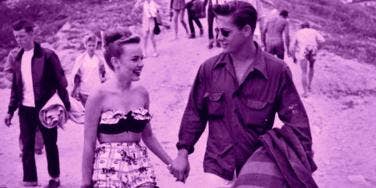 Getting a mixtape was the best EVER!
Nowadays it seems like "I love you" is all-to-often said without meaning and effort.
You'll see it proudly proclaimed with an oh-so-popular 'I love you' window selfie on Snapchat (not sure how it bodes if your 'I love you' sentiment disappears within seconds after viewing), through text messages that eventually get deleted, and through public Facebook statuses that are liked en masse by friends and family.
Back in the day, saying "I love you" was timeless. It was expressed in ways that created a permanent spot in your memory and gave you tingles that were impossible to forget.
Remember handwritten love letters? This now pretty much extinct, old-school way of saying "I love you" was so damn special because of the time it took to scribble feelings and how, even years later, you could pull the letter out of that old shoe box in your closet (we all have one!) and remember how you felt the first time you read it. Even today you can trace your fingers across the words and smile from recognizing your loved one's handwriting.
Don't get me wrong, technology is a wonderful thing and I'm sure "I love you" texts are genuine, but there's nothing wrong with putting in some effort to find a more heartfelt way to say those life-changing words. Love is a wonderful feeling and we have so many ways to express it. We mustn't limit ourselves to the realms of technology to do so because if we do, they'll just lose their meaning.
Whether you are searching for a special way to tell your special someone for the first time, or you just want to spice up your love life, these old-fashioned ways to say 'I love you' will definitely be unforgettable.
1. Love Letters
Love letters are one of the greatest old school ways of saying I love you. They show all sorts of adoring details, from the curve in the words when the writer is pouring their passion into it to the preciseness of the letters when the writer is trying not to make a mistake. Text messages cannot compare to the handwritten romantic prose written by your one and only.
2. Love Poems
You may not be as great of a poet as Shakespeare and your love poem may sound along the lines of Dr. Seuss, but the thought truly is what counts.
3. A Thoughtful Mixtape
Nothing says "I love you" like making an old fashioned mixtape full of songs describing the love you two share.
4. By Letting The World Know How Much You Love Them
Wedding announcements and new additions to families are often seen in the personal section of newspapers. But why not place an ad declaring your love for your loved one? This thoughtful and adorable declaration is the kind of PDA that even the public will smile at!
5. Engraving Your Love Into Nature
Try carving each others' names and/or initials into a tree. Nothing would be more reminiscent and romantic than going back to your spot 20 years later to trace your fingers over the initials of your great enduring love.
Or you can even try the more environment friendly route and write your names in the sand for a picture that will last a lifetime.
6. Through Written Song & Serenade
Maybe your beau isn't the most amazing singer but the fact that he or she took the time and effort to write and sing you a song professing his (or her) love would be completely adorable.
7. Dedicating A Song To Your Love On The Radio
You don't have to hold a boombox over your head to get the message across; you can make a call to your love's favorite radio station to dedicate a song to them on air.
Previous
Next
BEGIN