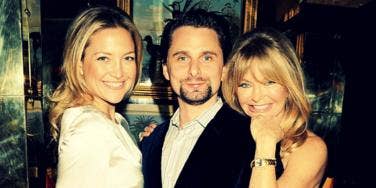 There are plenty of famous faces at the table when these families get together.
When you and I get together with our families for the holidays, the most glamorous part happens when the timer for the outside christmas lights flicks on or mom sets the table with her fancy Christmas dinnerware.
But, when celebrities like Jake Gyllenhaal and Gwyneth Paltrow have holiday dinner with the family, the table is packed with so much star power it would make the rest of us go blind. Ah, to be a fly on the wall, right?
Check out which 10 stars have the most famous faces reaching for more green bean casserole in our gallery:
Photo: weheartit.com
Nicole Richie's Family
Socialite and designer Nicole Richie and husband Joel Madden (of Good Charlotte) will have a lot of people to send holidays cards to after tucking their children, daughter Harlow and son Sparrow, into bed. First, there's Nicole's adoptive father, Lionel Richie, and her godfather, Quincy Jones. Then, there's Joel's brother and bandmate, Benji Madden, who is dating Cameron Diaz.
Kate Hudson's Family
This group should be renamed "Hollywood's Golden Family." Goldie Hawn, Kurt Russell, Kate Hudson and fiance, Matt Bellamy of the British band Muse will surely be having a very merry holiday, thanks to the latest addition to their family, baby Bingham "Bing" Hawn Bellamy. Born to Kate and Matt in July, "Bing" now has older brother Ryder to look up to. We wonder what their Jewish and Buddhist (or as Kate calls it, "Jew-Bu") celebrations will entail.
Jake Gyllenhaal's Family
Sexy Jake Gyllenhaal, who is rumored to be dating Rachel McAdams, will most likely be lighting the menorah with his older sister, Maggie Gyllenhaal, and her husband, actor Peter Sarsgaard, and their daughter Ramona. Maggie will probably leave the big cooking up to her parents, director Stephen Gyllenhaal and screenwriter Naomi Foner. If Jake needs a plus one, he knows where to find us!
Chace Crawford's Family
Hunky Gossip Girl star Chace Crawford is probably super excited to spend some time with his family, especially because it now has more stars! Chace's younger sister, former Miss Missouri and current TV reporter Candice Crawford, is married Dallas Cowboys quarterback Tony Romo. Meanwhile, Chace is rumored to be single but is still hanging around with ex girlfriend Rachelle Goulding. Why do we have a feeling this group will be watching football on Christmas Eve and not GG or The Hills reruns?
The Bruce Willis Family
Mr. Die Hard, AKA Bruce Willis, is going to have to work hard to get his family to a happy and healthy New Year! His wife, Emma Hemming Willis, welcomed their second child together this spring, while his ex, Demi Moore, went through a painful and very public divorce from Ashton Kutcher. It would be nice of him to invite Demi over to his house so she can be with their daughters—actress Rumor Willis, Scout and Tallulah—and not alone in her post-split abode. It will be just like old times (except, maybe a little awkward for Emma).
Ben Affleck's Family
Jennifer Garner will certainly have her hands full this Christmas. She'll need all the help she can get from husband, Ben Affleck, to make sure all the presents are underneath the tree for their daughters, Violet and Seraphina and son, Samuel. No doubt their uncle, actor Casey Affleck will come over with his two kids and wife, Summer Phoenix – sister of River and Joaquin Phoenix. Now, is this a famous family or what?!
Will Smith's Family
Usually, we wouldn't count a whole famous family (cough, the Kardashians, cough) but movie star Will Smith and his loved ones are all famous for their own unique talents and reached stardom separately. Will's wife, actress Jada Pinkett Smith, will probably be jamming out to daughter Willow Smith's hit song "Whip My Hair" as she whips up some finger-lickin' good food and watches her son, Jaden Smith, perform his moves from The Karate Kid.
Jessica Simpson's Family
Hot mama Jessica Simpson is going to have a fun and full holiday celebration! She'll have her hubby, ex-NFL player Eric Johnson, and younger sister, singer Ashlee Simpson on hand. Ashlee will probably bring her hubby, Evan Ross whom she married this summer. All of them can enjoy bonding time with papa Joe and mom Tina as they rub Jess's growing belly and play with Ashlee's son, Bronx.
The Olsens' Family
Up until recently, Mary-Kate & Ashley Olsen were the only famous ones at their table. Then, their younger sister Elizabeth Olsen exploded onto the scene with her stellar performance in Martha Marcy May Marlene. Ashley is dating Bennett Miller, Mary-Kate is engaged to Olivier Sarkozy and Elizabeth is engaged to Boyd Holbrook. We we wonder if they'll each bring their new, equally famous dates to their dinner.
Gwyneth Paltrow's Family
Not only will Gwyneth Paltrow's holiday table be expertly decorated (so she can photograph it for her GOOP newsletter), but she'll also have her mom, actress Blythe Danner, and possibly her ex, who she consciously uncoupled with, Chris Martin, in attendance as well. Martin can sing his hit "Paradise" as their two kids, Apple and Moses, open gifts. Perhaps Gwyneth's first cousin, The L Word actress Katherine Moenning, will stop by to join in!
Previous
Next
BEGIN