So geeky. So cool.
How close are you with your best friend?
Do you tell each other everything? Do you talk every night?
That's cute, but if you and your BFF really want to show off your #squadgoals, you need to get matching best friend tattoos. THAT is the true sign that you and your friend are ride-or-die besties for the rest of your life.
But what kind of best friend tattoo should you get?
Personally, I think you should go full-on NERDY. Why? Because best friends always have something they secretly nerd out over. You guys are so close in personality that you're both normally obsessed with Buffy or Disney or 1980s Atari games or something very, very particular to the two of you.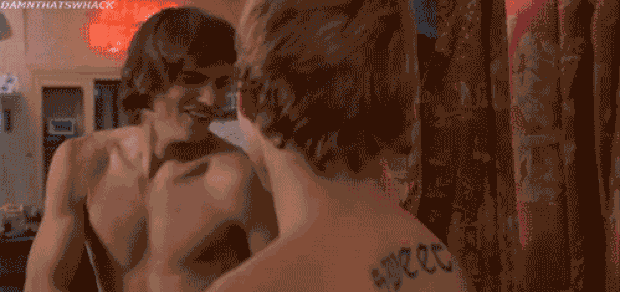 Part of the fun of having a true friendship with someone is that you can let your freak flag fly around them. You don't have to pretend that you don't dress up for Comic Con or you don't re-read the Harry Potter books every year.
They know your weirdness and they love you for it. That's why your matching tattoos should reflect that. Because that type of friendship is rare.
We combed Instagram for some epic ideas for nerdy best friend tattoos and we found these 12 amazing examples of super-geeky matching tattoos that you should be honored to share with your best friend ever.
His and Her Hipster Rubber Duckie Tattoos
Photo: Instagram/@genoski
Perfect for real-life Ernie and Berts.
BFF Magnet Tattoos
Photo: Instagram/@katie.fb6
Perfect for science nerds to geek out over magnetism together (and you can use them to explain why you're ALWAYS together).
Super Weird Matching Unicorn Tattoos
Photo: Instagram/@jordannewalker
Perfect for fantasy fans who want to look like a painting on the side of a 1970s van (That's what makes it cool.)
UFO Night-Time Encounter Tattoos
Photo: Instagram/@sammy.ballew
Super Mario Brothers Power-Up Mushroom Tattoos
Photo: Instagram/@__reecy
Perfect for old-school Nintendo fans. (But do you double in size when you touch them?)
80s Horror "See No Evil, Hear No Evil, Speak No Evil" Tattoos
Photo: Instagram/@pumpkin__23
Perfect for Freddy fans. (These are women with these tattoos, BTW.)
Bob's Burgers Tattoos
Photo: Instagram/@plugless_ink
Perfect for fans of the Belcher family. (There's a point when BFFs have to ask themselves… am I a Tina or a Louise?)
Lord of the Rings Elvish Writing Tattoos
Perfect for J.R.R. Tolkien buddies who wish they were really Hobbits.
The Ladies of Stop-Motion Animation Tattoos
Photo: Instagram/@xxlaurenashxx
Perfect for stop-motion fans. The two best friends connected by a tin-can phone is one of the clichés of the matching best friend tattoo genre, but making the BFFs Sally from the Nightmare Before Christmas and the title character from Tim Burton's Corpse Bride… that takes it up a nerdy notch.
Marauder's Map Tattoos
Photo: Instagram/@lexibuchberger
Perfect for the BFFs who love sneaking out of Hogwarts at night.
Media Player Command Tattoos
Photo: Instagram/@lisaheugten
Perfect for that particular kind of nerdy friend who can talk you into getting matching audio control panel function tattoos on your feet. (Not even going to pretend I understand it.)
The Deathly Hallows Tattoos
Photo: Instagram/@ohanatattoogbg
Is your best friend the kind of person who would follow you on a seven-year quest to destroy the lord of all evil magic? If so, this is the perfect tattoo for you guys.