Take it from one of the wisest men in love on the silver screen.
Ah, the beloved Tom Hanks. If you have never heard of him, get out of the rock you've clearly been living under and watch a classic movie!
Forrest Gump was my personal favorite, oh, and of course The Polar Express, but feel free to choose for yourself. There're countless movies and times Tom Hanks snuck into our little hearts and made us want him as our dad (or BF or husband) IRL.
However, you may not have realized Tom Hanks is known for something much that has NOTHING to do with his work on the big screen.
Tom Hanks and wife of 28 years (yes, you heard me correctly) Rita Wilson are just as smitten and in love as they were when they first got together. TWENTY-EIGHT YEARS of marriage! That's a long time for us regular people — but for celebrities?! That's like ... five lifetimes!
Sadly, many of us are so used to seeing marriages fail when it comes to two famous actors, yet Rita and Tom continue to push the boundaries, being accounted as one of Hollywood's most successful love stories.
So let's cut to what EVERYONE wants to know ... what's their secret to a blissful, happy marriage?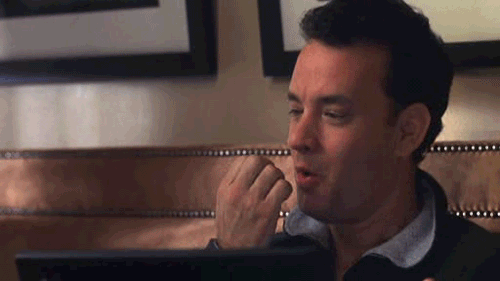 Well, according to Tom, the pair actually LIKES each other. (Imagine that.)
The two tied the knot in 1988 and have two sons together, and Tom has two other sons from his previous marriage to Samantha Lewes — one of whom is the actor Colin Hanks — and even still, the couple keeps on chugging. Nothing could be more admirable.
So if you care to know the secrets of what really makes love last for almost 30 years, look no further than to Hanks himself and some of his best advice:
If you're searching for the best quotes and memes to share with the people you love (or just want to feel inspired yourself) ... look no further! From the sweetest love quotes, inspirational sayings, and hilarious relationship truths, we've got you covered.
SaveSaveSaveSave
I wish there was a secret, you know. We just like each other. You start there. — Tom Hanks
They say it must be hard work. No it's not. Every now and again you know, you gotta get over some stuff but life is one damn thing after another and its actually more pleasant to be able to go home with someone you like to spend time with in order to get with it. — Tom Hanks
No one should get married before they're 30. — Tom Hanks
That woman has loved me skinny, she's loved me fat. She's loved me bald, she's loved me hairy. That woman I know, loves me. So, I'm a lucky man. — Tom Hanks
I'm not a smart man, but I know what love is. — Tom Hanks
If it wasn't hard, everyone would do it. It's the hard that makes it great. — Tom Hanks
My secret to a happy marriage is just being married to the right woman. — Tom Hanks
If you're funny, if there's something that makes you laugh, then every day's going to be okay. — Tom Hanks
I wish everyone could share their life with as good a friend, a passionate lover, as close a partner, and as beautiful a woman as I have been able to with the mate of my soul. — Tom Hanks
You know, I just want you to know, that you never have to change anything about who you are in order to be with me. — Tom Hanks
I knew I had fallen in love and things were profoundly different with me. It happens. You gotta be lucky enough to stumble across it. — Tom Hanks
We've been married for 25 years and it seems like we've been married 2-and-a-half to me, it's blown by so quick. And we have two more kids and four of them all together and I tell you every day is fun. — Tom Hanks
This is what it's supposed to be like when you are married to someone. It's supposed to be this carefree and easy and, you know, oddly enough, weighty. — Tom Hanks