Photo: FunZine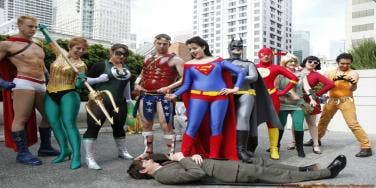 Making cross-dressing cool, one AMAZING costume at a time!
If I had the means and time, I'd be a yearly attendee at the San Diego Comic Con. I wouldn't even go for the celebrities, the goodies, or special previews that are so often associated with the event ... I'd simply go for the cosplay, which is a shortened term for costume play. Dressing up for Halloween is the closest I'll get to actual professional cosplaying, so of course, I do it.
Halloween has always been my favorite holiday because you get to transform yourself into a completely different person. Last year, I spent two hours on my face makeup for it only to melt off in the unseasonably hot weather. But that's OK! I had fun and everyone that stopped by my home was treated to someone other than me.
As an ex-aspiring actress, dressing up and turning into a character that's so far from my own reality is SUPER exciting.
Well now there's a new trend going around that's kind of (well no, TOTALLY) awesome — gender-swapping costumes. Basically, if you've always dressed up as a princess for Halloween but secretly wanted to be Superman ... gender-swapping is how you do it. And you have to admit, it not only looks pretty freaking cool — it's REALLY fun.
So here are some of the funniest and best gender swapping Halloween costumes we could find so you can get the perfect idea for your OWN costume this year:
Peach looks a little unsure of Mario here.
I think Luigi is still upset s/he always comes in second.
This huntress doesn't need Robinhood to help her.
Are you green with envy, yet?
They're hooked on Peter Pan.
Let those gender norms GO!
Misty looks comfortable in those suspenders.
I have one question: How did they get such a close shave?
"I'm a Barbie girl, in a Barbie world!"
I wouldn't be upset if this group came to save me!
Photo: World of Superheroes
Skeletor never looked so good!
These are some fierce pirates!
Previous
Next
BEGIN