Photo: WordPress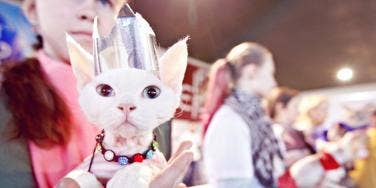 What's better than cats? Cats in COSTUMES!
Halloween is my FAVORITE holiday! I love dressing up and seeing everyone in different costumes — especially babies and animals. My own son is not a huge fan of dressing up, so I have to rely on others for my own personal entertainment. Thankfully, my Facebook and Twitter feed are usually filled with adorable, funny, and creative costumes.
When I would go around trick or treating as a kid (SO, SO many years ago), it was always just a few kids from the block and we would get a LOAD of candy. I never saw animals in costumes. But now, it seems like pet costumes are EVERYWHERE. And you know why? Because they are SO. FREAKING. ADORABLE. I mean, who wouldn't want to dress them up?!
And not only do people torture their animals with uncomfortable pieces of felt and elastic on Halloween, but now the craze has expanded to year-round cuteness. Like this cat who went viral by playing with his favorite toy — a Roomba vacuum — in a shark costume. (No kidding, there are TONS of videos of this cat!)
So, without further ado, here are 31 ADORABLE cat costumes that will have you running to the store (or better, the SHELTER!) in no time:
And the winner for best Van Halen impression is..
This cat is clearly not amused by the eye patch.
A Pop-Tart? A rainbow? No, it's NYAN CAT!
Get a head start on your taxes with this fella.
"Let me in, Coach! I'm ready."
SpiderCat, SpiderCat, does whatever a spider can!
A nun cat? John Lennon cat? Either way, a cute cat!
How is it possible to be THIS cute?
The Joker does NOT look pleased.
Photo: The Denver Channel
How can this be scary when it's so darn cute and fluffy?
"Why is my owner torturing me?"
This one is really crabby!
This cat is a true pure-BREAD. See what I did there?
"Am I still a cat? Please tell me I'm still a cat!"
I think someone thinks this costume is DESPICABLE!
"My, what big eyes you have!"
This cat is definitely a vegetarian.
If with every taco order, this adorable kitten was included.
I mustache you a question!
This kitty has a devil may care attitude.
Ima let you finish but I have the best costume of all time!
"Did I get my Hogwarts letter yet?"
This guy just got back from Santa-Con.
"Does this make me look fat?"
"Should we form a union?"
Previous
Next
BEGIN