Halloween's tomorrow?! Take a deep breath and try these super easy ideas you can make in no time.
It's the day before Halloween. And if you're a procrastinator like me, you know the drill: today begins the last-minute costume hunt where you ravage your closet and drawers, panic-stricken. (And then, you dig through your boyfriend's drawers ... that raggedy old t-shirt should work for some kind of zombie get-up right?) And what if your Halloween shindig has a plus-one? Even worse, right? Now, not only do you have to come up with a costume for yourself, but you have to coordinate costumes with your SO?!
Take a deep breath. We have seven easy, DIY costume ideas you (and your beau) can try on for size!
Wayne Campbell and Garth Algar
All you need to transform into this gnarly duo is a pair of T-shirts (those 90s band shirts you haven't worn in ages will be perfect for this), his trucker cap, a nerdy pair of glasses ... and attitude! This is one idea he won't roll his eyes at and hey, it'll be fun to bro out with him! Don't forget to sing along together: "Wayne's World! Wayne's World! Party time! Excellent!"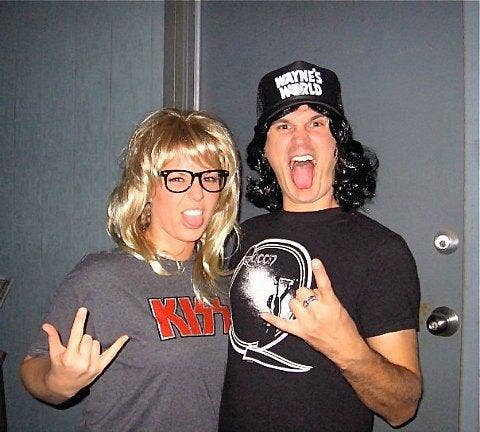 Flo and Mayhem

These two are a match made in commercial heaven! Not only is this an adorable idea, it's incredibly easy to put together. He should don his suit (that he doesn't mind getting a little dirtied up), strap band-aids on his face and hands, and throw on a headband. Let him borrow some of your darkest eyeshadow to give him a black eye. You should wear a crisp white, short-sleeved blouse or polo shirt, draw on a bright red lipstick and a flirty cat eye, and pull your hair back with a headband. Add a "Flo" nametag (and a "Progressive" sign if you have more time).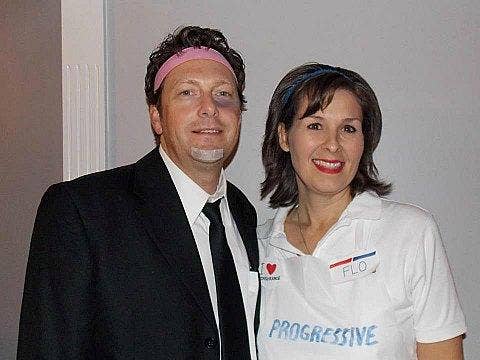 Koala & Tree

This dual costume idea is the perfect excuse for you two to cuddle all night — since you're the koala climbing his tree! Wear a grey sweatshirt and dark skinnies (you probably have both of these already). Smudge your nose with black makeup. Next, cut two "ears" out of a paper plate, color them grey and paste or tape them to a headband. For him, collect a bunch of fallen leaves and tape them to an earth-toned shirt (aka the trunk) so that he looks like a tall tree. Curl up in his embrace!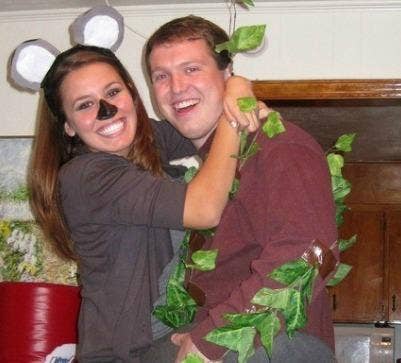 Lightning Bolt & Electrified Victim
If you don't have time to construct a giant, neon-yellow lightning bolt (and let's face it, a day before October 31, you really don't), paste a yellow paper bolt on a black T-shirt he already owns. For you, pull out a top you really don't care about anymore then tear holes and fray the edges. Tease out your hair and smudge your makeup. The point is to look like a hot mess, so have fun destroying your outfit! Destroy a small, cheap umbrella, and you're both good to go!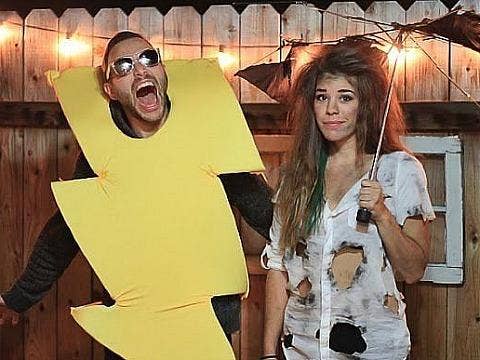 Jack & Jill
You know how the nursery rhyme goes ... so why not go as this classic duo? You both wear two white T-shirts. (Wrinkled and dirty? Even better!) And write the names "Jack" and "Jill" on them. Use makeup to draw fake cuts and bruises on your arms and faces. Bonus points if he can get his hands on a plastic party crown!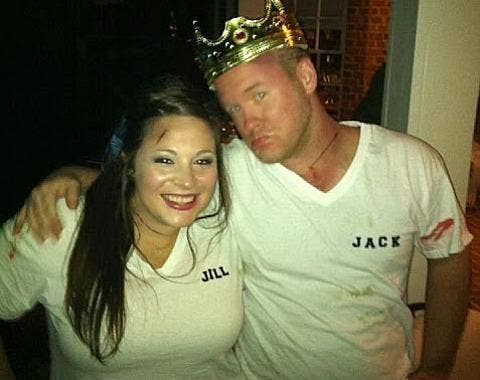 Each Other!
You could consider this a last resort, but if all other costume ideas fall through, how easy would it be to pick through your boyfriend's wardrobe (aka, the same three shirts he wears in rotation) and pull together a getup he wears day to day? You can pull on his favorite Monty Python T-shirt (you know, the one you roll your eyes at) and he can don some of your favorite jewelry. (Bonus points if he can squeeze into high heels — although we don't suggest him stretching out a pair of yours!) Bring along your favorite things. Act like each other. Have fun with it! That's what Halloween is all about!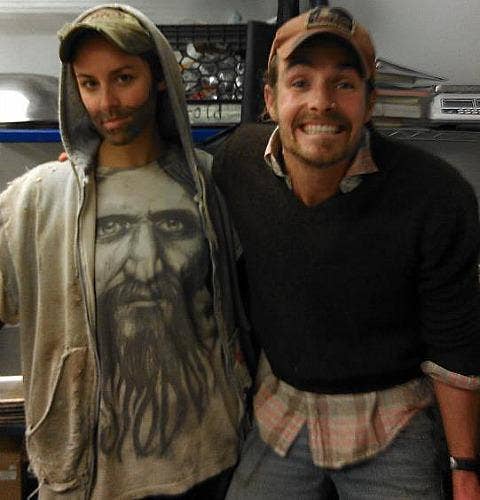 Deer and hunter
He calls you his "dear" already, so this isn't too far from the truth already, right? And if he's an outdoorsy kind of guy, chances are he already has a camouflaged hoodie. A plaid button-down shirt works too. You pose as the deer, and you can feel free to wear a woolen cardigan, a long-sleeved top or sweater dress as long as it's earthy brown. For makeup, powder your face with a matte bronzer and creamy, light eyeshadow. For antlers, you can always stick a pair of thick twigs in your hair. You can always flip this idea too — make him the hunted prey and you be the hunter!
Photo: Pinterest