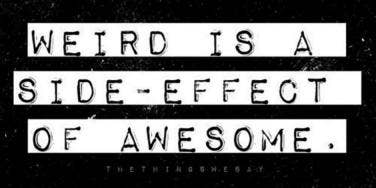 You don't need to change a thing, honey.
Self love is VASTLY underrated. Ever since I could form real sentences, I had it ingrained in my mind that it was more important to build someone else's confidence up before my own. It became second nature to make my friends feel better about their bodies by pointing out what was wrong with mine.
"You have GREAT legs, what are you talking about?! I'm the one with cellulite!" (I love my thick thighs, by the way).
But doesn't this sound oh so familiar? You might not even realize you're tearing your own self esteem down until you look in the mirror and all you can do is criticize yourself.
What we need to do is re-teach ourselves to love every inch of our bodies — all of our stretch marks, our uneven bits, those bones that kind of stick out on our hips — because guess what? Everyone looks different no matter what the fashion magazines say.
And want to hear another secret? NEWS FLASH: The models on the covers of those fashion magazines don't even look like that.
So don't let anyone tell you that you can't eat whatever you want or that you shouldn't wear your favorite crop top or that you take too many selfies. No one is in charge of your body except YOU. And if they have a problem with that, they can come deal with us.
These quotes will remind you how awesome you are and how important it is to love yourself unconditionally (as if you really need reminding).
If you're searching for the best quotes and memes to share with the people you love (or just want to feel inspired yourself) ... look no further! From the sweetest love quotes, inspirational sayings, and hilarious relationship truths, we've got you covered.
Embrace and work everything you got, girl.
"Beauty begins the moment you decide to be yourself." -Coco Chanel
I'm a classy biotch.
"The bags under my eyes are Prada." -girls everywhere
Shine bright like a diamond.
"If you want to give light to others you have to glow yourself." -Thomas S. Monson
NO ONE is perfect.
"You were born to be real, not to be perfect." -Unknown
You are a priceless work of art.
"The more you like yourself, the less you are like anyone else, which makes you unique." -Walt Disney
You don't want to mess with me.
"I am beautiful and if you try to tell me otherwise I will pee on all your things." -Mostly dogs everywhere
Don't waste the person you are.
"Admire someone else's beauty without questioning your own." -Unknown
Rebel with a cause.
"In a society that profits from your self-doubt, loving yourself is a rebellious act." -Unknown
We're all mad here.
"Weird is a side-effect of awesome." -Unknown
Viva la revolución!
"Loving yourself is the greatest revolution." -Unknown
Every mark on your body tells a story of where you've been.
"Stretch marks are just rad lil lightning strikes here to remind you that you are a force of nature." -Your dream guy
See what I did there?
"My ideal body weight is yours on mine." -That guy you have a crush on
All boobs are BEAUTIFUL no matter the letter.
"If your cup is only half full, you probably need a different bra." -Your mom
That cake better be chocolate with buttercream frosting.
"How do I like my eggs? Umm in a cake." -Girls everywhere
You're a fabulous creation!
"Be a pineapple: stand tall, wear a crown, and be sweet on the inside." -Unknown
You're no outlet store.
"When you realize your self worth you'll stop giving people discounts." -Unknown
Previous
Next
BEGIN