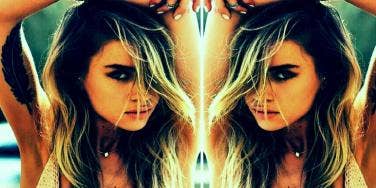 Time to learn the super-juicy stuff.
Sex is supposed to be pleasurable, but for too many of us it doesn't end up nearly as sexy as we may be expecting it to be. Whether we are dealing with a lover that is inexperienced or one that is just plain selfish in bed, we are often not getting nearly as much pleasure as we can.
And a lot of the problem may be we simply don't know how to get the pleasure we need.
"So many ladies come see me in the office and don't even know basic things about their bodies, especially the vagina," says OB/GYN Dr. Drai, Astroglide's sexual health expert.
We ALL use the word vagina to refer to the whole package down there, but the vagina isn't just one simple organ.
"The vagina is actually the canal between your vulva and the cervix. On the other hand, the vulva includes many different parts: the opening of the vagina, the inner and outer labia (lips), the clitoris (this one needs no intro), urethra, and the perineum (the space between the bottom of the vagina opening and the anus)," says Dr. Drai.
And then there's the clitoris, which may or may not be ever-elusive to your lover, depending on their experience. And fun fact: the clitoris and penis are made of out the same tissue!
"If you give the clit some oral lovin', it will expand just like your penis. But the clitoris is way more sensitive — it has 8,000 nerves while your penis only has 4,000 nerves," says Dr. Drai.
With that said, it's important for men to remember that the clitoris needs to be a part of sex and/or foreplay in order to get her there.
"Although not considered a single position, the clitoris needs to be regularly figured into the action on a regular basis. Eighty percent of women require some sort of clitoral stimulation in order to be orgasmic. Anatomically, most men and women don't 'match' up to allow enough clitoral stimulation via regular penis/vagina sex. This means that a free hand, a little extra oral attention or a good sex toy can help and ensure that you'll both get there regardless of the position. Paying attention to the the clitoris shows that you care," says Dr. Kat Van Kirk, a licensed marriage and sex therapist.
Now you know the difference in the lady parts, right? Let's learn some juicy stuff. Here are nine sex positions that are great for stimulating your clitoris.
1. Extra Value Combo
"My favorite sex position for clitoral stimulation is to lie on my back and spread my legs. I love my clit to be slowly licked and tease, then building up to more of a tongue flicking firm motion. When I am ready, I like my partner to slide inside and I can keep the sensation going by rubbing on my clit with two fingers in a circular type motion.
When doing doggie with me on all fours, I can keep my clit stimulated and the guy can use his cock to stimulate my G-spot inside of me on the front wall of my vagina," says Tanya Tate, an award-winning adult performer and director.
2. Solo Sex
If you aren't really in the mood for having sex, there's no better way to get off than masturbation.
"If I'm alone, I just love the Hitachi pushed against my clit. The orgasms are so intense," says Tate.
3. The CAT
A series of scientific studies in the 80s used the "coital alignment technique" (CAT).
"In this, the woman superior lies almost flat over her male partner during vaginal penetration. Sliding back and forth provided some better 'hands free' clitoral stimulation that increased the consistency of orgasm in the couples tested," says Nicole Prause, Ph.D.
4. The Surfboard
"The man lies on top on their stomach, and the woman lies beneath on their back in missionary position. He spreads his legs while she squeezes her legs together. He does the thrusting, adjusting so that the top of the penis grinds upwards against the clit. She squeezes her legs together for extra friction," says Astroglide sexologist, Dr. Jess.
5. Reverse Cowgirl
This position is delightfully visual for him; he gets a full rear-end view as she rides along.
"I highly recommend Reverse Cowgirl to stimulate your C-spot! It's the same as 'girl-on-top,' only she spins around to face his feet. Not only does this allow for deep, pleasurable G-spot stimulation, but she's in a prime position to reach her C-spot with her fingers or a vibrator," says sex expert Dana Myers of Booty Parlor.
6. Modified Reverse Cowgirl
This position is just like Reverse Cowgirl, with a few alterations.
"She sits on top while he lies on his back. She faces away from him (facing his feet) and he bends his legs with his feet flat on the bed. She takes control, grinds as she moves and uses his thighs for extra support," says Dr. Jess.
You can also try the Straddled Reverse Cowgirl: Move from Reverse Cowgirl off to the side so one of your legs is on the outside and the other is in between his legs. You should be straddling his leg/thigh while you ride him so you can grind your Venus Mound and clit against it with every move.
7. Using Props for Positions
You can also use props that position you at a better angle, which can be super-great for stimulating your clit. Sex toys can make paying attention to the clitoris not only fun, but easy. For instance, every couple should own a vibrating penis ring. Clitoral sensation for her, and rock hard, vibrating erections for him.
"Whether it's a bed or bench that allows you to get a better angle, learn to use the resources you have and you shouldn't have any problems getting into positions with a smaller member. This also includes pillows under the hips and sex furniture like ramps and wedges," says Dr. Kat.
8. Double Boat
"Both partners sit on their asses facing one another with their feet on the ground. Then, upon grasping forearms, he enters her to penetrate and she lifts her legs above his. His legs can eventually meet hers, creating a whole new rhythm and angle to penetrate for complete pleasure with the clitoris up front and center," says Dr. Kat.
9. Belly to Belly
This position involves one partner laying belly-up, while the other partner lays belly down directly on top of him/her.
"Belly to belly allows for full body-to-body contact. This position can then be enhanced by using body/sex oils to create an additional sensation as you slide up and down on one another, which can stimulate a profound oxytocin release. Plus, you have access to kissing, fondling breasts and grinding your clitoris," says Dr. Kat.
Previous
Next
BEGIN