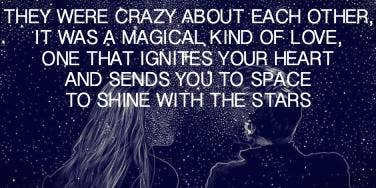 "What we find in a soulmate is not something wild to tame, but something wild to run with." — Robert Brault
There's something about the kind of love that not only lasts and makes it through, but it CHANGES your very being. It's easy to start loving someone — and when you find someone you could see dedicating your life to, it can be exhilarating. But what about those romances you always hear about ... that "love at first sight"?
What is that feeling you get of longing for something MORE, even when you're dating someone who — according to all your friends — is a "perfect" match for you?
While I don't believe in love at first sight, I do believe that somewhere out there, there is SOMEONE you are meant to connect with. Someone who can love you and appreciate you on a level that's not known to many. Someone out there looking for you, without ever knowing it.
This is the kind of love we look for our entire lives, in the people we date and the friendships we form. We truly long to connect with someone who GETS us.
Urban dictionary defines cosmic love as full of emotion, incredibly significant and "amazingly unique." A real, FOREVER love.
Even Florence and the Machine dedicated an entire song to Cosmic Love (which she wrote in TEN MINUTES when she was laying on the floor, hungover. Now THAT's a love song.)
So take a look at these out-of-this-world declarations of love that will make you want to get up, go out and find your prince charming.
If you're searching for the best quotes and memes to share with the people you love (or just want to feel inspired yourself) ... look no further! From the sweetest love quotes, inspirational sayings, and hilarious relationship truths, we've got you covered.
1.
"My soul missed you for 100 years. Believe when I say, I will not let go of you again. You are half my star, you will be forever in my heart." — CosmicPao
12.
"Baby, without you I'm nothing. With you I'm like the moon that lights the night." — CosmicPao
13.
"Baby, if we ever get lost, know that I will always find you because you are the compass of my life." — CosmicPao
14.
"I will carry you close to me, in the space I made for you in my heart." — CosmicPao
15.
"Baby, you are the only one my heart wants." — CosmicPao
16.
"They could feel their hearts sparkling whenever they looked in to each other's eyes." — Unknown
17.
"You make my soul shine like the stars." — CosmicPao
18.
"Our love was unique. It came from the same sun. I could always feel him deeply in my heart, in my thoughts, in my veins. We were magical dancing stars in the journey of life." — CosmicPao
19.
"Only YOU can make me feel in the magical space between your heart and mine." — CosmicPao
11.
"You are my happy." — Unknown
10.
"You make me feel on top of the moon." — Unknown
2.
I will love you forever until the last stars in the universe collide." — CosmicPao
3.
"She could feel the energy of his soul running through her veins like an unstoppable river of sparkling light." — CosmicPao
4.
"They were crazy about each other, it was a magical kind of love, one that ignites your heart and sends you to space to shine with the stars." — CosmicPao
5.
"Only you can make me feel the whole universe shining inside my heart." — CosmicPao
6.
"You're so down to earth. And I'm up in the stars. So show me the sea. And I'll take you to Mars." — Unknown
7.
"A falling star fell from your heart and landed in my eyes." — Unknown
8.
"I'm always in the twilight, in the shadow of your heart." — Unknown
9.
"Oh boy, are you ever going to laugh when you find out how perfect you were all along." — Unknown
20.
"Loving you was like feeling magical colors touching my soul." — CosmicPao
Previous
Next
BEGIN