Photo: WeHeartIt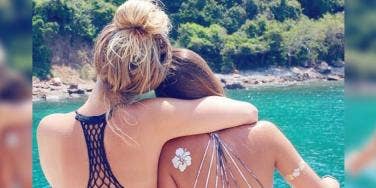 Feel better SOON!
While on the outside, the Cancer horoscope sign can look tough thanks to their hard outer shells, there's no denying that crabs have a soft underbelly. That means that while you may appear cool and collected on the outside, inside, things can be tumultuous. You can even end up swinging between moods and trying to desperately discover a sense of peace and security that can occasionally elude this emotional sign.
When Cancers get hurt, they take a direct hit to their gut — emotionally speaking.
---
---
But they are also the sweetest sign of the zodiac. Because they are so loving, Cancers often find themselves at a disadvantage when it comes to their emotions and moving forward from a tough spot. You are typically pretty mellow, but you're naturally very sensitive, which can lead to some less than happy situations in which — ruled by your heart — you have trouble pulling yourself out of the emotional mire you've gotten stuck in.
But that's OK! There's a reason why famous celebrities and actors are Cancers. Cancers may be emotional, but they can also be shrewd as hell, ready and willing to notice signs of distrust or when they need to step in and protect a friend, loved one, or even themselves. The fallout of that action, however, might you a little down in the dumps.
---
---
Let yourself experience these emotional mood swings, but then bring yourself back to your normal, awesome self. We all need a little help from time to time to get out of a funk, and sometimes, finding inspiration from other people is the best thing for it.
Uncertain if you can pull yourself out of that mood swing that's been ongoing for days? Want to start smiling again instead of scowling over something (or someone!) that's upset you? Then don't focus on the sad anymore, and let us give you some great, uplifting advice to get you back on your feet.
Here are 20 fantastic quotes to help bring even the moodiest Cancer back around to their usual sweet, loving self again.
If you're searching for the best quotes and memes to share with the people you love (or just want to feel inspired yourself) ... look no further! From the sweetest love quotes, inspirational sayings, and hilarious relationship truths, we've got you covered.
20. You are in a class all by yourself.
"Don't compare your life to others. There's no comparison between the sun and the moon. They shine when it's their time." — Shruti Habibkar
19. You have what it takes to be happy.
"Every day may not be good but there is something good in every day." — Alice Morse Earle
18. Feelings matter, but take action, too.
"It's okay not to be okay as long as you are not giving up." — Karen Salmansohn
17. Yes, you are!
"You're braver than you believe & stronger than you seem & smarter than you think." — A. A. Milne
16. You've got this.
"Do something today that your future self will thank you for​." — Sean Patrick Flanery
15. Use post-it notes to remind you to think positively.
"One small, positive thought in the morning can change your whole day." — Unknown
14. Just don't stare too long in the rearview mirror.
"The only time you should ever look back is to see how far you've come." — Unknown
13. Be awesome. Repeat.
"We are what we repeatedly do. Excellence is therefore not an act, but a habit." — Aristotle
12. The only limit you have is the one you set for yourself.
"Have you ever pushed yourself to your limit? Then how do you know you have one?" — Unknown
11. Set big goals.
"If you want something you've never had, you've got to do something you've never done." — Unknown
10. The answer is, "No one."
"The question isn't 'Who's going to let me,' it's 'Who's going to stop me?" — Ayn Rand
9. Just learn and move on.
"Edison failed 10,000 times before he made the electric light. Do not be discouraged if you fail a few times." — Napolean Hill
8. Remember that actions speak louder than words.
"Good things come to those who wait ... greater things come to those who get off their ass and do anything to make it happen." — Unknown
7. Negatives are also mini-blessings in disguise.
"Life is like photography. You need the negatives to develop." — Unknown
6. You are here to be remembered.
5. Make a buzz with your life.
"If you think you are too small to make a difference, try sleeping with a mosquito." — Dalai Lama
4. Every day is another chance to be who you want to be.
"People often say that motivation doesn't last. Well, neither does bathing; that's why we recommend it daily." — Zig Ziglar
3. You are a diamond in the rough.
"A diamond is merely a lump of coal that did well under pressure." — Unknown
2. You are stronger than you realize.
"You can't wait for inspiration. You have to go after it with a club." — Jack London
1. You can change your action even if you can't reverse your reaction.
"Change is not a four letter word … but often your reaction to it is!" — Jeffrey Gitomer
Previous
Next
BEGIN