Photo: instagram.com/charlottemckinney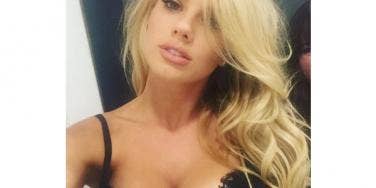 They're beautiful AND talented.
There are so many beautiful women on Instagram that you may not be aware of. There are models, actresses, athletes, scientists, moms — women with both inner and outer beauty. Some of the pictures they share are super hot; others, heartwarming; some, just plain goofy and fun.
Sexy doesn't have to be a full-body shot. Someone can radiate sex appeal by an intense gaze of their eyes or a confidence that emanates from them. Intelligence is sexy, funny is sexy, and being comfortable in one's skin is sexy.
Here are 12 women from around the world who are the epitome of sexy.
Photo: instagram.com/charlottemckinney
1. Charlotte McKinney
Model Charlotte McKinney has dyslexia and was bullied when she was growing up. We highly doubt anyone is bullying her now. Charlotte and her partner, Keoikantse Motsepe, were the second couple to be eliminated on season 20 of Dancing with the Stars.
Photo: instagram.com/realmisacampo
2. Misa Campo
Canadian model Misa Campo's beauty inspires her fans worldwide to create works of art, which she posts on her website.
"If my dog doesn't like U, I don't like U."
Photo: instagram.com/ashika_pratt
3. Ashika Pratt
New Zealander Ashika Pratt has all different kinds of pictures on her Instagram — everything from no-makeup selfies to glamorous professional shots. No matter what the look, Ashika rocks it.
Photo: instagram.com/daphnejoy
4. Daphne Joy
Daphne Joy wears many hats: she's a model, host, entrepreneur and designer, and she wears them (and everything) well.
"Remember you can't please everyone, just the ones that matter," she says. And what great advice it is.
Photo: instagram.com/emrata
5. Emily Ratajkowski
You may know her from the "Blurred Lines" video, but Emily Ratajkowski is so much more, as she explains in her Lenny Letter.
"I refuse to live in this world of shame and silent apologies. Life cannot be dictated by the perceptions of others, and I wish the world had made it clear to me that people's reactions to my sexuality were not my problems, they were theirs."
Photo: instagram.com/realbriamyles
6. Bria Myles
There's a reason that Bria Myles is known as a video vixen, because she absolutely exudes hotness.
"I'm always good. Even when I'm not good, I'm still good," she says.
Photo: instagram.com/yaelchertock1
7. Yael Chertock
Gorgeous Israeli-born fashionista Yael Chertock says, "Create your own style. Don't wear something because it's 'in', but wear it because it makes you look beautiful."
Photo: instagram.com/realanaismali
8. Anais Mali
Stunningly beautiful French model Anais Mali doesn't just have gorgeous pictures of herself on Instagram (don't worry she's got plenty of those). She also has fun shots from her travels around the world.
Photo: instagram.com/aarikagerette
9. Aarika Wolf
Although model Aarika Wolf is super-sexy, she's also fun, intelligent, sporty, and has a great sense of humor.
"I call the shots," she says. She's clearly a woman in charge.
Photo: instagram.com/brittanysuleiman
10. Brittany Suleiman
Lebanese beauty Brittany Suleiman is a model, singer, fitness enthusiast and feminist.
"All of the hard work, physically and emotionally, hating my body, doubting my abilities, comparing myself to other women... all of that is REAL, and even now, people still criticize me. But I have never been more happy and confident in myself than I am today," Suleiman says.
Photo: instagram.com/freediver_mhg
11. Mehgan Heaney-Grier
Mehgan Heaney-Grier is an ocean adventurer, marine conservationist, biologist, freedive champion and TV host. It's no wonder she was named one of Instagram's most inspiring women.
"I thrive on personal challenges."
Photo: instagram.com/hoskelsa
12. Elsa Hosk
It doesn't matter if Swedish model Elsa Hosk is eating ice cream or being silly in a cactus garden — she looks amazing doing it.
"Sick in bed essentials: Boyfriend's t-shirt and cat scarf." Oh, we so agree, Elsa.
Photo: instagram.com/iamlaos
13. Mailaos
This Thai beauty is into every aspect of healthy living, from the delicious meals she prepares to spending some alone time in her favorite cafe.
Previous
Next
BEGIN