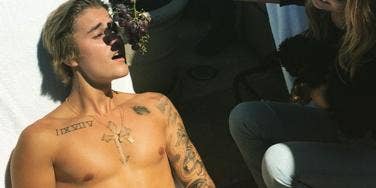 Who needs those pesky tabloids exposing celebs being scandalous when there's Instagram?
Who needs those pesky tabloids to expose celebs being scandalous when there's Instagram and they can do it themselves?! The photo-sharing social media service is a perfect way for the rich and famous to directly connect and share elements of their lives with their fans at their choosing. But that doesn't stop celebs from posting and sharing scandalous, nearly naked, topless, and/or suggestive images to their feeds.
Lady Gaga dares to bare, while Miley Cyrus and Madonna aren't afraid to show off their undies in their 20s and their 50s, respectively. Then there is Adam Levine and Nick Jonas, who love showing off their cut abs. Hey, if ya got it, flaunt it, right?
Rihanna could have her own category when it comes to racy and raunchy Insta images and remember, the singer did go MIA on Instagram last year when she shared a topless mag cover photo that showed off her pierced nipples and sparked the ire of the powers-that-be at IG. The same goes for any of those Kardashians or Jenners. They let every aspect of their life hang out on their various TV shows, and their IG feeds are no different.
These are the most scandalous celebrity Instagram photos. But we're compelled to issue this fair warning: Most of these images, while scorching, are NSFW. So proceed with caution!
20. Adam Levine
Maroon 5 singer Adam Levine has a hot body and looks dayum fine in his skivvies. You can get a good look at the shape of the junk in his Fruit of the Looms, if you look close and, uh, hard enough.
19. Kendall Jenner
Satellite Kardashian Kendall Jenner is the toast of the modelling world and she shared this image on her IG on Easter. Since her face is covered, some speculated whether or not it was actually her. Whatever the case, someone went commando while posing, without exposing herself to the entire world.
18. Amber Rose
Amber Rose, the model and estranged wife of rapper Wiz Khalifa, posted topless beach shots a few weeks ago while on vacation. This one is a swimsuit shot, but the high cut of the bottoms ... oh never mind. This is like frontal dental floss.
17. Kim Kardashian
Kim Kardashian shared this bathing suit snap of her post-baby curves and nearly broke the Internet, long before that whole oily Paper stunt that got old quickly.
16. Nicki Minaj
Officer Minaj, reporting for duty, nipple bondage tape and all! The well-endowed rap vixen protected and served in a very unique (read: sexalicious) way.
15. Nick Jonas
Cut. From. Stone. Joe who? Kevin who? Jo Bros who? Dem abs were something else.
14. Lady Gaga (part deux!)
Lady Gaga gets naked ... a lot on IG. This was for her V magazine cover. Thank God she had arms that doubled as a bra, right?
13. Rihanna (again!)
This is the image that caused RiRi to bounce from IG for a while last year. She showed off her oiled, pierced nipps. We aren't showing the rest of the image, but all you have to do is Google it. Seek and ye shall find the light at the end of tunnel, which are Rihanna's "headlights."
12. Justin Bieber
Justin Bieber has shared plenty of shirtless, tattooed, chestical pics from his Calvin Klein ads and his Men's Health cover. You can be like "Hawt! He's all grown up!" or you can be all "Ew."
11. Kylie Jenner
Kris Jenner's youngest offspring showed off her boobies in a very Kim Kardashian-like way, courtesy of this caged bikini top. It's racy since she's not even at 18 at the time of the posting. Memo: That criss-cross action will leave the worst tanlines, Kylizzle!
10. Chrissy Teigen
Mrs. John Legend was artfully sexy with this pose. Notice her legs aren't fully closed, either.
9. Kesha
This nekkid (we think!) image of the wild child of pop (sorry, Miley, but Kesha had that title first) is drenched in a purple haze, but it's such a tease. You can't tell if she is wearing bottoms or not, but it's what you don't see or fully process that makes this photo so steamy.
8. Heidi Klum
The German supermodel was a true tree hugger ... while topless. Who wouldn't become an environmentalist after seeing this snap, which was posted to Twitter, mind you?
7. Aubrey O'Day
The D-list pop starlet has quite a terrific body, so she shared an image of it, cloaked only in dental floss panties, while posed in front of a window. So she also shared it with anyone who may have had the good fortune to be looking her way.
6. Rihanna
Rihanna often goes topless on IG, but here, she was showing off her between/under the boob tattoo. Those mounds? They are her bodacious boobies. And doe we see a touch of nipple or ... ? Maybe it's lighting. We're not sure.
5. Lady Gaga
Our girl Gaga posed naked while perched on a chair. She rocked the goddess look and you almost see EVERYTHING. She was not modest. #SorryNotSorry.
4. Lea Michele
Lea Michele's body is unbelievable, so she shared it while on vacation. Screw that scenery. It's LM's perfect, heart-shaped bum that attracts all the attention, rightfully so.
3. Selena Gomez
Selena Gomez showed off her silhouette while draped in a curtain. It's a very sexy shot because of what you don't see and you are left to your imagination.
2. Madonna
The Material Girl posted this shot of her crotch right before her birthday last year. Even in her 50s, Her Madgesty isn't modest and that is why we love her. She is also 'scaped. But the cut of those underthings exposes almost a bit too much.
1. Miley Cyrus
The outrageous Miley Cyrus wears Teenage Mutant Ninja Turtles undies. She's also womanscaped down there. Hey, she shared this photo first ... so she's not shy about her lady parts, which remain covered, so relax. (Plus, who hasn't seen Miley Cyrus naked in some weird shoot or another at this point?)
Previous
Next
BEGIN