Photo: nutscapes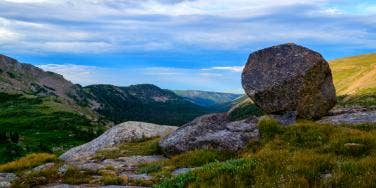 It's called "nutscaping" and it's a hot (and hairy) new trend.
Although it's been around since 2007, Nutscaping is taking over the internet.
Nutscaping is taking a picture of a beautiful landscape ... and including your testicles in the photo. Testicles, the body's most underrated body part, have gotten a bit of a complex. Now they finally have a chance to show how they can be considered art, just as much as their flashier body-brother, the penis.
The Nutscape website gives the very simple, though still ballsy, directions on "how to nutscape" (according to the community-built, web-based photographic project spawned in New Zealand):
Find yourself somewhere awesome.
Turn your back to the awesome scene.
Drop your pants.
Bend over and shoot Nutscape back through your legs.
Still unclear about what you must do to get that great nut-shot? Here are some more helpful hints:
Keep it loose, bro. If you intend on doing a little nutscaping, make sure you wear loose clothing like sweatpants, athletic shorts, and pants sans zippers and buttons. You want easy access to the testicles, and the quicker you take the shot, the better.
Make sure you're grounded and balanced, adjusting your stance as necessary to accommodate the hanging status of your testicles.
Anchor yourself with your free hand. It's not about doing a circus act — it's about getting the perfect nut/landscaping shot.
It's nutscaping, not d*ckscaping. Enough said. Testicles only.
Collaboration is encouraged. Ask your friends to join.
Check out some of these gorgeous (and sometimes disturbing) shots:
1. A gorgeous blue sky with hanging nuts
Such a nice landscape with the addition of testicles.
2. Black and white... and testicles
It takes a brave man to do nutscaping.
3. Snow-capped mountains... and testicles
But remember: no d*ck pics allowed.
4. Follow the bouncing ball
Landscapes can be boring, but it's SO not a problem with nutscapes.
5. Double testicle exposure
Awe-inspiring, and a little gross at the same time.
6. Testicles hanging over the chaparral
Freeballing in the high country.
7. Testicles on the coastline
Not a UFO — just testicles.
8. Remains of an old culture... and a pair of testicles
Ruins and testicles aren't something you usually see together in a landscape.
9. A canyon... with testicles
Not everybody has the stones for nutscaping.
10. A gorgeous sunset... and testicles
The sun hangs low in the sky, and these testicles hang low in the photo.
11. A new kind of ballsy selfie
The composition of the photo is very important. You don't want the nuts to take over the entire shot.
Previous
Next
BEGIN