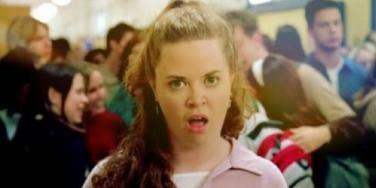 Effort = minimal. (You're welcome.)
Halloween costumes are simply a tradition for Halloween.
And candy. Don't forget the candy.
OK, maybe you're more interested in the candy than the costumes, or maybe you just don't have the time, energy or money to get all dressed up.
Or maybe your friends want to go all out, you're just not feeling it this year.
Combine all that with a severe case of FOMO, and you're going to have to break down and get yourself a costume (or just experience the night's fun antics via Snapchat and Instagram. The thought of that is scarier that any haunted house!).
Whatever the case, sometimes we just have to suck it up and throw, a bone to the tough customs of popular holidays, just to keep up with the crowd.
However, you can always show your uninterested shrug for Halloween and Halloween costumes by putting on super-easy but kind of witty costume, like one of these.
A Kardashian
All you have to do is put on a rocking, stylish outfit, style your hair in anything from a ponytail to a stylish wave. Gives you a chance to practice or brush up on your contouring skills too!
Or To Go A Level Down...
You can just skip the blending step because who wants to put in that much more effort? You can just say you're a Kardashian before blending. Now that's a show stopper.
Army Pants and Flip-Flops
Throw on some army pants and flip flops, and if you want to make the reference even more obvious, you can cut two holes into the chest of a tanktop to show off your bra.
If any uncultured swine asks you what you're supposed to be, muster up your best Mean Girls voice and say: "I saw Cady Heron wearing army pants and flip-flops, so I bought army pants and flip-flops."
If they still don't get it, well, they're a lost cause.
Key and Peele's Meegan
If you haven't already seen this sketch, then you should. All you have to do to be Meegan is throw on whatever clothes you would wear to the club, and shout "I'M OVER IT!" all night. Heck, throw in some of her other golden lines, if you really want to. Just look her up on Youtube and enjoy her résumé of sassy one-liners.
The Sale Section
Just go to the sales section of any store you like, and buy whatever your want.
You can either go the unfashionable route, buying all those things that you can't believe that store ever sold for full price, or channel your inner bargain-hunter and find some great pieces you would absolutely wear in the future, anyway.
Layer it all up for an outfit you can stay warm in while getting the point across ... and brag about how great you are at putting together outfits on a budget.
Broke College Student
Throw on a top bun (or whatever easy hairstyle you choose), sweats, a loose top and a bag of Top Ramen, and not only do you have a comfortable outfit to walk around in, but also a snack in case there's no decent food around.
Yourself... 2 Years Ago
This is for anyone that has a few articles of clothing lying around that they either haven't worn in years, never really wore at all, or simply can't let go of.
Show that old piece of clothing (or pieces of clothing) some love by wearing them on Halloween as a nod to your former self.
Maybe it's cringe-worthy, or maybe it's just loaded with nostalgia, either way, there's got to be a reason you're hanging onto these clothes, right?
If not, maybe this will be a good reminder for you to donate some of the stuff crowding your closet.
Previous
Next
BEGIN