Photo: WeHeartIt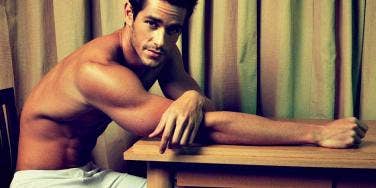 Who knew?!
It may seem like men's brains are in their penis, and a lot of what they do is centered on that area. But it seems there's just as much going on in their testicles.
These little fun sacks don't get much attention, in and outside of the bedroom. There's a lot that people — and women, in particular — don't actually know about them. Maybe women just don't see them as very significant to pay much attention to, but when you take the time to really think about it, there's a lot going on down there.
"The scrotum isn't exactly the 'prettiest' or most elegant part of the human anatomy; in fact, there are a few in this world that can be quite the opposite. But let's not be too hard on them... after all, it isn't their fault any more than we can blame the production of cellulite we find on our backsides, ladies," says Dr. Yvonka, a clinical sexologist.
The male scrotum can be used in ways that are enjoyable to males and females, but to what degree may vary, as they're excessively sensitive.
Extreme sensitivity makes it so that the scrotum is not to be messed around with (well, you can definitely mess with it, as long as it's done right). It has the potential to send your man into one of the greatest orgasms of his life, so long as it's handled with care and you don't end up giving him blue balls.
"We can help our SO's achieve a much more pleasurable experience during sexual trysts when incorporating these fun sacks during sexual play, and then later we can use it as a means of punishment when they misbehave," says Dr. Yvonka.
See, everyone wins! All jokes aside, here are some crazy facts about a man's testicles to keep in mind when it comes to the family jewels (they're called this for a reason). And once you learn these crazy facts about a man's testicles, you'll be sure to pay them much more attention.
1. The origin of the word "testicles" means to "bear witness."
Testicles come from the Latin word Testis, which means to witness. It's believed that in ancient Rome, men had to swear on their testicles in court. We should try that today; there would be a lot less fibbing.
2. Blue balls is a real (and painful!) thing.
Testicles can nearly double in size during sex. All that built-up pressure hurts if not released, and that's where blue balls come from.
3. They're the male equivalent of ovaries.
The testicles, scrotum, jewels, whatever you choose to call them, are the number one variable in reproduction alongside the ovaries, says Dr. Yvonka. They're in charge of producing and safe guarding sperm — a common well-known fact, but a good reminder nonetheless.
4. They're SUPER sensitive.
Touching, licking, and kissing them can be a powerful burst in pleasure for your man, but no squeezing or biting. OK, maybe a little... men may enjoy it, but keep it light and only on the skin, not the actual testicle.
"Men get very aroused when you enjoy every part of them down 'there,' as much as women do in the good old-fashioned lumberjack fantasy of 'pick me up and ravish me,'" says Dr. Yvonka.
5. Surprise! They smell.
Testicular odor is caused by sweat and bacteria, says Brook Frank, the CEO of Fresh Balls, and they are not like fine wine. Rather than conditions improving with age, the older men get, the worse body odor becomes.
6. They don't always match in size, just like breasts.
Just as one of our breasts may be bigger or hang differently than the other, the same can be said for his testicles.
"It's normal for a male's testicles to hang unevenly. In fact, approximately 85 percent of males have a left testicle that hangs a bit lower than the right. Use this to your advantage by paying enough individual attention to each," says Dr. Yvonka.
7. They can reveal if he's faking an orgasm.
Testicles have a natural tendency to retract when the man is about to orgasm. It enhances sensation when the testicles are cupped during climax, although it's also a great indication of true climax, says Dr. Yvonka. For a few of those male climax fakers out there (yes, they exist), us women can cop a quick feel during your "orgasm" if we're suspicious.
8. Coldness is their enemy.
Testicles also shrink when they're cold because it's the body's natural way to protect itself, just as they hang down and are loose when you're too warm in an effort to release heat.
"The temperature for sperm production has to be 'just right,' which makes the scrotum an excellent natural heating and cooling machine. Unfortunately, it's just for that one specific area," says Dr. Yvonka.
Looks like there's serious truth to that Seinfeld scene after all.
9. Most important of all, they should be handled with care.
Squeezing too hard could release a vast amount of adrenaline into the body that could be deadly, along with the instinctive reaction of whomever those testicles belong to. So always be gentle!
Previous
Next
BEGIN