Photo: Topco Sales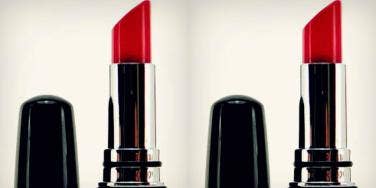 Is that a lamp? Oh, no. It's a vibrator.
Visiting your family for the weekend and don't want to risk the chance of your toys being discovered?
We've all had those mortifying memories of our mom finding our vibrator in our underwear drawer. It doesn't get any easier when we're adults: the people who discover our toys act like TSA agents. Or worse, our kids find them.
The secret is to have your fun, but be as discreet as possible. These clever sex toys pack a pleasure punch, but are very easy to disguise as something innocent:
1. Single speed vibrator disguised as lipstick.
Hide the GrrlToyz Lipstick Vibe away discreetly in a purse or makeup case. No one will ever be able to tell.
Get it here.
2. Sleek vibrator disguised as a necklace.
The Crave Vesper is a multi-functional toys that doubles as a gorgeous piece of jewelry, and a strong, slim vibrator. You have a choice of gold, silver, or rose gold, and the device even charges from a USB port.
You can easily take an elegant night out to a sexy night in bed.
Get it here.
3. Couples stimulator disguised as home decor.
With a Pulse II Duo, couples can enjoy a toy that also passes for living room decor. It has dual-function for double the fun, and has technology that allows for hands-free stimulation.
Invite your in-laws over without fear.
Get it here.
4. Massage oil disguised as a candle.
What do you get with the Don't Stop Massage Candle? You get a beautiful piece of decor for any room in your home ... and no one has to know that it's meant to fulfill your hot wax fantasies.
The candle melts at body temperature, leaving behind all-natural oils to massage anywhere you want. Plus, no more blistering hot oil to ruin your mood; this oil is comfortably warm.
Get it here.
5. Male stimulator disguised as eggs.
This innocuous package brings new meaning to beating your eggs. Each egg in the Tenga Egg 6-Pack offers a different texture for ultimate pleasure.
To use, open the egg, put lubricant inside the opening, and voila! The material stretches over the penis and stretches down the shaft. Much better than using your hand, don't you think?
Get it here.
6. External stimulator disguised as a diamond.
Diamonds really ARE a girl's best friend, especially THIS diamond — the Twenty One Vibrating Diamond. Each side offers a different texture and pattern to keep you feeling shiny and new.
It even comes with a gift box to display your new BFF.
Get it here.
7. Sonic vibrator disguised as a Magic 8-Ball.
Think sonic, like a sonic toothbrush or skin cleanser. The Revel Body Sol Sonic Vibrator has two sides, with each offering a different sensation. And if you take it with you into the bathtub, it stimulates oral sex.
It's not a new age Magic 8 ball, but it'll certainly feel like magic.
Get it here.
Previous
Next
BEGIN