Photo: WeHeartIt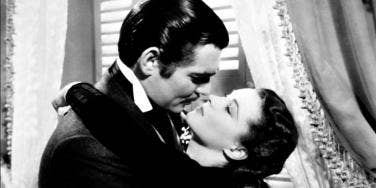 Your 101 course in romantic film history.
If I were to ask you for your favorite film depictions of love and romance, what would you give me? I have a fear you'd go straight for The Notebook or that doomed love boat, Titanic.
My sweet pets, gather 'round and let me show you what I think of when talk turns to love. (No, no, don't look at me — look at the screen. This isn't the dark ages, and I have a few more years before I'm cast as the wizened old woman.)
Here are some of the most marvelous on-screen couples of our time. This list is by no means complete, but think of it as your 101 course in romantic film history, and I promise you'll never long for Nicholas Sparks to kindle your fire again.
1. The Thin Man Series (1934)
Nick and Nora Charles (William Powell and Myrna Loy)
They say the couple that drinks together, stays together. Nowhere does that theory hold more gin (and whiskey and vodka) than with Nick and Nora Charles, a couple who banters and drinks.
It doesn't hurt that former detective Nick respects his clever, sparkling wife so much that he brings her along to solve cases. Nor that, in future movies, they keep parenting simple by letting their baby sleep in an open dresser drawer while Nick pours fresh his-and-her cocktails.
Here's a montage of their boozier moments.
2. The Philadelphia Story (1940)
Tracy Lord and CK Dexter Haven (Katherine Hepburn and Cary Grant)
When friends tell me they haven't seen this one, I die. And then I send them to watch it immediately.
Tracy Lord and CK Dexter Haven are exactly the people you want to be former lovers, just so you can watch them go at it (and maybe fall in love again? I'm no spoiler, so I'm saying nothing).
Their dialogue crackles but it might be CK's speech on Tracy's intolerance for human frailty that really hits me.
Fun fact: Hepburn wasn't doing so hot at the studios when she saw "High Society," the play on which this is based. She bought the rights before the studio bosses could and told MGM head Louie B. Mayer he could make the film if he cast her and the male co-stars of her choice. Shrewd.
3. No Man Of Her Own (1932)
Babe Stewart and Connie Randall (Clark Gable and Carole Lombard)
As classic films go, this is one you know was written in a rush by some studio hack. But that's OK because it's saved by the on-screen (that was also off-screen) chemistry of Gable and Lombard.
A scene called "Lombard on a Ladder" is so hot that it prompted the founding of Hollywood's League of Decency. (Wouldn't we all like to spawn such things?) This one, where Babe follows Connie through the stacks, is very hot, too.
Side note: Gable and Lombard fell in real-life love on the set, and after she died in a plane crash, lady's man Gable is said to have never loved anyone the same way again — though his next mates looked like wannabe Lombards.
4. It Happened One Night (1939)
Peter Warne and Ellie Andrews (Clark Gable and Claudette Colbert)
Clark Gable again, but with a different woman. And still, he oozes sex when his worldly reporter is riding on a train with a society princess. See the smoldering Walls of Jericho scene for what I mean.
But it's the way these two drive each other crazy that makes it a relationship for the ages. Take this line, from Peter, when asked if he loves her: "A normal human being couldn't live under the same roof with her without going nutty!"
And don't we all want to know that we have the power to drive the one we love a little crazy?
5. Gone With The Wind (1939)
Scarlett and Rhett Butler (Vivien Leigh and Clark Gable)
Goddamn, Clark Gable, get a room with everyone! I probably don't have to tell you much about this one.
You know it's fan-yourself-hot when Rhett Butler tells a defiant Scarlett, "Frankly my dear, I don't give a damn," proving that the stronger the woman, the more she likely needs a guy who will call her on her own bullsh*t once in a while.
Though, for my money, the best Butler line is, "No, I don't think I will kiss you, although you need kissing, badly. That's what's wrong with you. You should be kissed and often, and by someone who knows how."
P.S.: Technically, this one is in color, but in the still black-and-white era of 1939, that was a big deal.
6. Casablanca (1942)
Ilsa Lund and Rick Blaine (Ingrid Bergman and Humphrey Bogart)
Another one you know about, and perhaps the couple most likely to leave us upset at the end. Seriously, I get it's all about Rick being selfless in wanting the best for his lover, but can you really "have Paris" with someone and just let it go?
What a great debate to have with your lover: is it more loving to selfishly insist on being with someone, or to selflessly let them go? Or, maybe Rick's being both since Isla will never regret choosing him. So many ways to look at it.
7. Love With The Proper Stranger (1963)
Angie Rossini and Rocky Papasano (Natalie Wood and Steve McQueen)
Who said movies back in the day didn't tackle the touchy stuff? Angie is pregnant after a one-night-virginity-losing-stand with Rocky, a musician. When she hunts him down to ask for the name of an abortion doctor (wow, talk about follow-up), the ensuing day date is when they get into the good stuff.
The dialogue is surprisingly unpolished, which makes watching the crackling couple fall in love feel that much more real.
8. Barefoot In The Park (1967)
Corrie and Paul Bratter (Jane Fonda and Robert Redford)
"Paul, I think I'm gonna be a lousy wife. But don't be angry with me. I love you very much — and I'm very sexy!"
If every marriage could start with such honesty, well, at least people would be honest. (And we'd be living in a Neil Simon-scripted world, a la the newlywed Bratters, an opposites-attract couple negotiating their first year of marriage in a five-story walk-up.)
It's a good one for anyone trying to figure out how to mesh rose-colored romance with the realer stuff. The film is a credit to what parts for women can be written well, as Fonda's Corrie may be a free spirit but she's also no idiot.
Yes, this one's in color, too, but it's still way older than you, kiddies.
Previous
Next
BEGIN