Photo: weheartit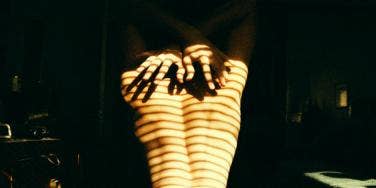 You'll never see these stars the same way again.
Ah, fetishes. They're everyone's dirty little secret, aren't they?
We all have our own individual set of kinky sexual preferences, and, of course, there's nothing wrong with that. Role-play, fantasies, bondage — you can do it all. It's one of the ways women can express themselves physically in a respectable, yet down right dirty way. You might like to take it slow at first and work your way up to a queen level or maybe you just kick it into high gear from the start.
But let's face it: there is no denying that some of those intimate desires are just flat-out weirder than others. If you've had more than one sexual partner, you've probably run into some weird fantasies by this point.
That nice, gentlemanly guy who brought you flowers on the first date and held open every door for you? Yeah, he's got some weird ideas hidden away in that brain of his, he's just waiting to unleash it. And maybe you're on the weird side as well, but hey, if you own it then do it.
Though there are strange fetishes that will blow your mind, check out the video below for some of the most common fetishes:
You're not alone, kinky lovers. As it turns out, some of our favorite celebrities fall in the "kinky" category, too, and they may even have some of the craziest fetishes we've ever heard of as well as some we haven't.
That's right, those put together, classy celebrities we obsess over are actually way dirtier than you probably imagined. Those creative minds don't stop working off-stage, as it turns out it just gets juicier and stranger. Who knew the real performance didn't happen until they were off camera?
These celebs' favorite fetishes have given us a whole lot more to talk about on this subject of kink, and we're not going to lie, some of it is pretty ridiculous. No judgment here, but come on...
They went into the down and dirty of what some of Hollywood's most famous faces are really into behind closed doors, from a foot fetish to a "golden shower" to cross-dressing (yes, really). And that was only the beginning!
We actually did some digging of our own for these celebs' favorite fetishes, and you're not going to believe what bizarre things we found. Trust us, if you thought you were into some kinky stuff, just wait until you hear what fetishes these notable stars secretly want to indulge in the bedroom.
1. Foot Fetish
Who knew that this little fetish had so many fans? Quentin Tarantino, A-Rod, Brooke Burke, Tommy Lee, Marilyn Manson, Dita Von Teese, David Boreanaz, Jack Black — and that's just to name a few. This fetish is one of Hollywood's most popular. Apparently, all those pedicures are well worth it.
2. Crossdressing
Quite a few men in Tinsel Town like to indulge their feminine side. Evidently, during their marriage, Nick Lachey used to like playing around in Jessica Simpson's shoes. Marv Albert's interest in women's apparel was a bit more risque. He reportedly liked to do all sorts of freaky things while wearing women's underwear.
3. Golden showers
Apparently, Golden Showers (sexual acts involving urine) are also pretty popular, especially with John Mayer, Ricky Martin, and R. Kelly. All 3 of these musicians have mentioned being fans of the practice.
4. S&M
This fetish reportedly counts the late Amy Winehouse and a pre-Brad Angelina Jolie among its fans. S&M can be quite interesting and can range from blindfolds to full-on gear and swings and closets and whips — the list is endless.
5. Knife And blood play
Speaking of Angelina Jolie, she might as well be her own category. In her Billie Bob Thornton days, Jolie was the poster child for not only S&M, but knife play, blood play, and bisexuality as well. It was well-known that she and her former husband wore vials of each other's blood around their necks, which was more than a little creepy.
6. Food fetish
Apparently, a great tasting meal satisfies more than one hunger in Matthew McConaughey. In an interview with InStyle Magazine, he said, "I think food is really sexy. Sometimes, if I taste something I really love, I get such tingles down my spine that I have to stop and take a break." We can only imagine what that "break" is for.
7. Rabbits
James Franco literally has a thing for rabbits. He directly said on an episode of Inside the Actor's Studio, "Sometimes, like, rabbits turn me on. I don't know why." Okay, James, rabbits are adorable, but SEXY? That's a stretch.
Previous
Next
BEGIN