Photo: weheartit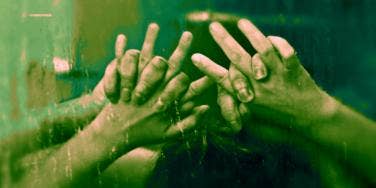 You won't slip and fall, promise.
Watching these sex steamy scenes are downright inspirational, but then we discover in real life they are far more complicated — and dangerous! — than we anticipated. We wish we knew the best shower sex positions to avoid this, but don't know where to look.
You always make it out in your mind to be the hottest way to have spontaneous sex with your partner. He's in the shower, so you jump right in for a little action, expecting it to look just like those sexy movies. But then, to your surprise, instead of shower sex being a huge turn-on, it ends up awkward and down right painful.
How do men and women feel about sex in the shower? Watch the video below to find out:
It's alright, we've all been there. If you feel like you're the least sexy person you know because you've once again failed at making shower sex work, you're definitely not alone.
There are ways to do shower sex correctly, but you've got to put a little thought into it before you jump in next time. Make sure you're paying close attention to key aspects of your shower to avoid those uncomfortable moments in order to make the most out of your shower sex experience.
"The back corner of the shower is likely to give you the stability you need for standing facing each other, standing to face the same direction and even standing doggy style," says Julian Wolf, a sexuality educator and performer.
Don't put your foot up on the lip of the tub unless your other foot is nice and stable. If it is, that's a great height to give your partner access to all of your sensitive bits. As long as the water is pointed away, one partner sitting on the edge of the tub can make for amazing oral pleasure.
And, remember, safety first. Use a rubber bath mat to prevent slips and falls because an injury would kill the moment, fast! Lock the handle onto the wall and either lover can grab onto it for extra staying power. And absolutely use baby soap.
"PLEASE use gentle soap as you wash before you get frisky in the shower. Many soaps can be irritating and a burning vagina can derail a sexy shower session in two bubbles flat," says Dana B. Myers, a sex and relationships expert.
So, do you want some hot and wet shower sex without the awkward slipping and sliding? Try these shower sex positions that are absolutely the best way to start your day when you want a little morning sex that won't make you late for work. You're welcome.
.......
Aly Walansky is a NY-based lifestyles writer. Her work appears in dozens of digital and print publications regularly. Visit her on Twitter or email her at alywalansky@gmail.com.
1. The "Superman"
"Doggie style works great and so does my favorite position, the 'Superman,' where a girl will wrap her arms around my neck, hugging me close, while I move her legs up and grip her butt while thrusting. Just make sure you have traction on the bathtub floor — it can get slippery!" says Moe "The Monster" Johnson, a male porn star.
2. Seated
He sits in the tub with his legs outstretched (or knees slightly bent) and she sits on top facing away from him to control the tempo and rhythm, explains Astroglide's Resident Sexologist, Dr. Jess.
3. Under Arrest
She spreads her legs and arms out so that her body assumes the shape of an "X". He slides in from behind pressing her hands and body into the cold, wet wall.
4. Bend Over Baby
She bends over at a 90-degree angle and holds herself up against the wall. He enters from behind with his hands on her hips.
5. The Captain
"Lift one leg and put your foot on the edge of the tub or shower shelf, like the Captain (you know the one I mean). Your partner can then be either facing you or behind you," says Katrina "Rainsong" Messenger.
6. Hands on the Wall
Face the wall, bracing yourself with your hands, and spread your legs. Keep your knees soft and arch your back to give your partner a good angle to enter from behind.
7. Standing Splits
Stand on one leg and bring your other leg up high resting your ankle on your partner's shoulder. Modification: if you're not ready for full splits you can hook your leg over his arm.
8. Standing Up Facing Each Other
This is a more romantic and intimate position than doggy-style because you can make-out, caress faces, and passionately embrace as you get busy.
This one requires that your bodies are fairly well-matched height-wise unless he's strong enough to lift her up — in which case, he should press her up against a free wall as he thrusts, her legs wrapped around him. Be mindful and use a rubber bath mat with this one so no one falls and breaks their neck!
9. Forget Penetration Completely
As there's only a handful of positions well-suited for shower sex, take the opportunity to focus on reaching orgasm through foreplay techniques instead. Treat each other to steamy oral pleasure as beads of water cascade down upon you (making for a hot visual).
Bring in silicone lubricant for extra-slippery hand-jobs. If there's a bench, she can lay back and experience pleasure with waterproof toy while she turns her head to treat him to oral.
10. Use Accessories
Water will wash away your natural lubrication and can make penetration more difficult and far less pleasurable. Bring in some lubricant, but make sure it's silicone, not water-based (which will wash away!).
Previous
Next
BEGIN