Photo: WeHeartIt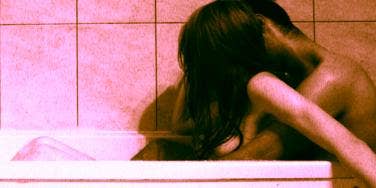 Yes, porn movies can actually be romantic.
For decades, porn was seen as the domain of the male audience — about hot writhing bodies getting off, plot and romance secondary to the sex. However, tides have changed and women are openly watching and enjoying porn more than ever. One in three women admit to watching porn, according to a 2015 research.
It's really only been in the last five to eight years that adult studios have been targeting women and couples as consumers of adult movies and this has seen a huge increase in quality romance that would rival (and up the sexy notch, of course!) of any daytime soap. Who knows porn better than those who work and live in the industry?
We asked some of the biggest names in the adult industry what THEIR favorite romantic porn movies are — here's what they had to say!
1. Torn, New Sensations, 2012
"Imagine: A married man meets much younger "manic pixie dream" woman. She completes him, she gets him, she inspires him, and he's torn about what to do next. If you're skeptical of this film on the basis of its synopsis, rest assured that I was too.
Torn, however, is a complex and romantic exploration of evolving love, partnership, and passion. It's a beautifully rendered film that will challenge your mind and heart, all while being extremely erotic," says sociologist Dr. Chauntelle Tibbals, author of the upcoming book Exposure: A Sociologist Explores Sex, Society, and Adult Entertainment.
"Torn tackles the age old story of married man falling for a much younger woman without the obvious clichés. A romantic story about knowing when to fight for love and when to make the difficult choice of walking away," says adult filmmaker Jacky St. James, the writer/director of Torn.
2. Heart Strings, Wicked Pictures, 2011
"In Heart Strings, a love-forlorn young woman finds herself open to the possibility of new romance when a mysterious stranger strolls into her small country town. But what's his story? This film plays on many romance tropes from damaging past lives to Cinderella-like fairy tales, but it does so in a way that's fresh and empowering. You will find yourself captivated by the romantic fantasy and humming the film's original theme song long after the credits roll," says Tibbals.
3. Marriage 2.0, Lion Reach Productions, 2015
"This is one of my favorite romantic adult films because the characters choose the deepest kind of love, the kind which allows another to fully be, even when it's not comfortable. Yes, I'm talking about the idea of HONEST, open relationships with integrity. They stay with it. They don't give up. In the process of being true to someone else, they find themselves.
The sex is hot because it's real. The dialogue got me to think about unconditional love and how far I would go for someone I loved, and what I might find out about myself in the process. The whole movie is shot in San Francisco, the wind is blowing, the ocean is calling, there's lots of wine and it feels very progressive," says erotic e-tail site GameLink.com Communications Executive Adella.
4. The Opening of Misty Beethoven, Crescent Films, 1976
"It would be easy to pick many fantastic modern romance movies, like Torn, The Submission of Emma Marx, or Aftermath, but my number one top romantic movie is The Opening of Misty Beethoven!" says adult star Casey Calvert, co-producer of the Showtime documentary X-Rated: The Greatest Adult Movies of All-Time.
"It's based on the play Pygmalion and the musical My Fair Lady, but with one very important plot twist: in Misty Beethoven, the two main characters actually end up together, creating the perfect romantic happy ending," says Calvert.
5. An Office Romance, New Sensations, 2010
"This is the first movie from New Sensations' Romance Series I ever saw and it is the movie that made me follow the line ever since. It reminded me of a RomCom I would see in a theater but there was full blown sex with beautiful people," says Adella.
"I wanted to see how it ended. I liked the pacing and how long the crushes built up before the desires were fulfilled. I liked the awkwardness and the innocence and the sweetness. It took me back to my early twenties when I had a crush on my single, sexy, lawyer boss," Adella says.
6. The Sexual Liberation of Anna Lee, New Sensations, 2013
In The Sexual Liberation of Anna Lee, a sexually repressed women discovers the freedom to embrace her deviant side when she undergoes therapy and falls for another patient battling his own demons.
"An unconventional love story about two people navigating the complicated emotional terrain that oftentimes comes with sexual freedom. This film strikes a cord with a lot of women who are straddling that fine line of what it means to be a good girl and what it means to be a bad girl," says adult filmmaker Jacky St. James, the writer/director of The Sexual Liberation of Anna Lee.
7. Aftermath, Wicked Pictures, 2014
"This dramatic movie is about a young man who seeks to learn about his late father by pursuing a mysterious woman from his past," says Sharan Street, Editor of AVN.com, which produces the AVN Awards.
8. Paint, Skow for Girlfriends Films, 2013
"I love movies with a love triangle as a key element of the plot, and Paint provides a very original twist on this: girl meets girl; girl loves girl; girl meets boy; girl seduced by boy; girl must choose between boy and girl.
In Paint, a mature lesbian artist takes a girl with a lot of artistic promise under her wing in the studio and the bedroom. Their affair becomes messy when a man enters the picture, promising the young artist fame, fortune, and his cock. I watched all the way to the end to find out who she chose!" says Adella.
9. Lost & Found, New Sensations, 2011
"It's a no-brainer to include a movie from New Sensations director Eddie Powell and my vote goes to this charming romance about a guy (Xander Corvus) who helps his adorable neighbor (Allie Haze) search for her lost pet — all the while neglecting to tell her that he already knows where the dog is. Meanwhile, two other couples follow their own paths to love," says Street.
10. The Wedding Day, New Sensations, 2010
"'The Wedding Day' was an early New Sensations film that ultimately inspired me to make the career transition into adult," says Jacky St. James.
"I couldn't believe that five years ago adult companies were producing high-quality, cinematic adult content with girl-next door looking women and incredibly attractive men. It was a very simple story, but it was ultimately what prompted me to say, 'Wow, there are adult studios that do care about story, content, and overall production value that are compelling to watch!" St. James says.
11. Fallen, Wicked Pictures, 2008
"Even though I'm biased, I'd say Fallen is one of the most romantic films of all time," says "Guide to Wicked Sex" creator Jessica Drake. "When I read the script in various stages, I began to fall in love with the movie, and that was only the beginning. A fallen Angel (played by yours truly) roams the earth in limbo until encountering love but her love interest is none other than the boyfriend of the woman she was "in charge" of in the very powerful opening of the movie.
Their chemistry is undeniable, and after LOTS of scorching sex, Angel makes the ultimate sacrifice, all in the name of love. When I first watched it, I was enthralled. It's a great movie to watch with your lover, and to this day, it's still my favorite movie I've ever done," says Drake.
Previous
Next
BEGIN