Photo: iStock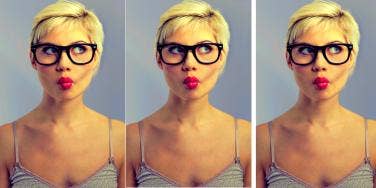 At this rate, everyone's basic.
Now that fall is officially here, I've been stocking up on pumpkin flavored goodies like it's going out of style. And according to some, that makes me 100 percent basic.
When I told my friend about my late night trips to Trader Joe's and how sweater weather gives me the perfect excuse to show off my love for cardigans, she responded with a list of pretty funny quotes (that were stereotypical and random) about why all of these things add up to me "flying a little too close to the basic zone."
Seeing these quotes being shared all over my newsfeed as proof that someone is a walking cliché cements just how silly this really is. Because at the end of the day, when you really look at the "criteria" we're working with, we're all pretty much a little basic.
1. "But first, let me take a selfie." — The Chainsmokers
Because who hasn't indulged in a selfie or two (or six)?
2. "Marilyn Monroe is my spirit animal." — Anonymous
Love her or hate her — she was pretty fabulous.
3. "To me the mark of a fine penis is width." — Miranda Hobbs
Quoting Sex and the City doesn't make you basic; it just means you have great taste, OBV.
4. "The bags under my eyes are Prada." — Anonymous
I don't think anyone actually says this in real life (or is serious about it). Like, ever.
5. "I woke up like this." — Beyoncé
Ladies, being fierce and flawless is a full time job. Beyoncé practically said so herself so this is pretty much a law.
6. "Friends are like uggs. Nobody wants the fake ones." — Anonymous
Come back to me when you find another pair of boots that are comfy as hell and look killer with oversized sweaters.
7. "Can't wait to put a ring on the first PSL." — Instagram
If you didn't freak out when you heard pumpkin spice lattes were making a comeback, you're lying.
8. "Chipotle is the food of the gods." — Anonymous
My friend told me that loving Chipotle is one of the signs that you're basic. I'm pretty sure she's said these exact words before. *side eye*
9. "It's a Wednesday night baby, and I'm alive!" — Girls
If binge-watching HBO's Girls in one sitting is wrong, I don't want to be right.
10. "I can't even." — EVERY basic bitch, ever
Yeah, I can't even understand how doing anything other than breathing makes you basic. Calling girls basic for keeping it real and just being themselves? Now, THAT is basic.
Previous
Next
BEGIN