Photo: WeHeartIt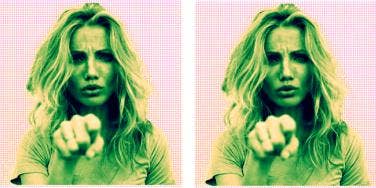 OMG ... who knew?
We've all taken jobs that we really didn't like. Or were over-qualified for. Or were totally beneath us. And even embarrassing.
It's a known fact that you've gotta pay your dues, unless you have an "in" with a relative, family friend or college connection. Nowhere is this more true than in Hollywood.
Some people take jobs as strippers or "escorts." Others (Cameron Diaz. Jon Hamm we're looking at YOU!) even take jobs in the "adult film industry" aka "doing PORN".
Look, if you want to do porn, that's fine. Do it. Have some fun. If that's the life you want to live, or if you need the money, whatever, it's your life. There's no judgment here.
Maybe you enjoy acting and will do anything to get your foot in the door. Or maybe you just really love having sex. That's cool, do porn if doing porn is what you want to do. Just don't expect to do porn until something better comes along.
The majority of porn actors who try to break out of porn never really succeed. They may find a role or two that they don't have to hide from their parents, but typically they never escape from the porn star stigma.
However, there are some people who managed to become mainstream stars. (Of course, they hid that part of their career for as long as possible.)
Just keep in mind that these guys are exceptions to the rule, so don't get too much hope for a future in film if you're currently doing the dirty on camera.
Here are 18 celebrity porn stars, well, actors who did porn who later became big celebs:
Sasha Grey
Unlike most celebrities who try to keep their porn past under wraps, "The Girlfriend Experience" actress Sasha Grey flaunts it with no shame. She was already famous in the porn industry and continues to kill it in mainstream media with her acting, modeling, and music careers.
Channing Tatum
Before he was one of Hollywood's biggest actors, Channing Tatum was a male stripper under the name "Chan Crawford." Okay, so he didn't star in porn. But, did you know "Magic Mike" was loosely based on his stripper life? Now you do.
Kim Kardashian
Though she first became famous by association with Paris Hilton, the infamous Kim Kardashian became a household name after a sex tape of her and ex-boyfriend Ray J was distributed as a film. Though she sued and eventually dropped charges, it paved the way for her widely-known reality show, 'Keeping Up With The Kardashians'. Talk about seizing opportunities!
Sibel Kekilli
This Game of Thrones actress used to be a German porn star, so I'd definitely be wary of looking for any of her old movies.
Marilyn Monroe
Although she wasn't a porn star per se, Marilyn Monroe did pose nude for photos during a short decline in her career. It was the only time she was paid for nude photos. Though the porn of those days was tame compared to today's standards, she was still an internationally known sex symbol that everyone's husband, boyfriend, son, and next-door neighbor drooled over.
Spalding Gray
Before becoming an actor and writer, Spalding Gray appeared in three porn movies. He was too busy with his monologue work that would eventually make him famous.
Dame Helen Mirren
The Internet is abuzz with claims that Dame Helen Mirren was once in a porno or two, and guess what? She's still classier than you and your mom.
Riley Steele
From Starbucks to porn, Riley Steele was encouraged to join the adult film industry by porn star Jesse Jane. She got her big break in 'Pirates II: Stagnetti's Revenge,' the sequel to the porn film 'Pirates'. Since then, she has had very few and small roles in mainstream movies and tv, including 'Piranha 3-D' and HBO's 'The Girl's Guide To Depravity.' Hey, at least she's paid more than as a Starbucks barista.
Perrey Reeves
Before she was in Entourage, Perrey Reeves also starred in an episode of the soft core porn series Red Shoe Diaries.
Sylvester Stallone
Before he was Rambo or Rocky, Sylvester Stallone filmed a weird porno where he played the role of 'Stud.' Hey, porn isn't known for its well thought out writing, ok?
Matt Leblanc
Matt Leblanc starred in an episode of David Duchovny's softcore porn series, The Red Shoe Diaries. That's the weirdest sentence I've ever written.
John Hamm
While he never starred in a porno, Jon Hamm worked as a set dresser. So if you've ever enjoyed the decor in a room during a porn movie, maybe you've enjoyed his work.
Jamie Pressley
Jaime Pressley starred in Poison Ivy 3, which is either an erotic thriller or a softcore porn, depending on whether you talk to someone who worked on the movie or not.
Jackie Chan
This is another case of someone needing the money and doing what they had to do. At least it wasn't his Rush Hour costar Chris Tucker. That would be a real nightmare.
David Duchovny
David Duchovny used to star in a softcore porn TV series called The Red Shoe Diaries about a guy who people would send sexy letters to. He never filmed any sex scenes, he just did a lot of reading.
Cameron Diaz
Cameron Diaz was in a softcore video before her big break came. Good thing, because looking at her these days, porn wouldn't have worked out.
Arnold Schwarzenegger
The former governator allegedly posed for some pictures in the buff. I'd ask him if it was true, but I don't want to get flattened.
Amber Rose
This is actually kind of sad. Before she was a hip-hop artist, fashion icon, and actress, Amber Rose performed striptease at only 15 years old to help her family after her parents' divorce left them financially disadvantaged.
Previous
Next
BEGIN