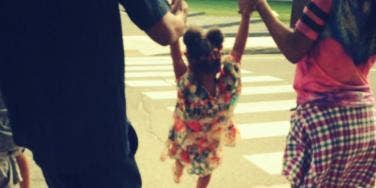 Blue Ivy is the best celeb kid out there. Here's 10 photos that prove why!
With her curly cues and her adorbs, iridescent dress, Blue Ivy, the privileged offspring of Beyonce and Jay Z, made a fashion splash at the 2014 VMAs.
But she ruled your life, our life, her mama's life, her daddy's life and the VMAs' life in general when she cooed, "Yay, mommy" as the Hova took the stage to hand Beyonce her Video Vanguard Award. Bey had just performed a medley of every song from her new, self-titled album to close out the broadcast and ceremony and, unsurprisingly, it was the best performance of the night.
No wonder Blue is the best celeb kid there is!
Bey was already emotional after her performance and after seeing her baby girl and her husband together. But hearing Blue give her a shout out was, like, beyond! We even reached for a Kleenex.
While Blue has been dogged by those pesky Illuminati rumors since her January 7, 2012 birth, and while her gorgeous and flawless mother was accused of using a surrogate during the gestation period in order to maintain her figure, it's pretty much a foregone conclusion that Blue Ivy is better than you and is the best celeb kid on the A-list.
Why does Blue edge out the likes of Suri Cruise or even the Jolie Pitt clan, comprised of Maddox, Pax, Zahara, Shiloh, Knox and Vivienne?
The reason is simple.
So much cruel and unnecessary criticism has been tossed her way by the blogosphere and gossip media, from her natural hair to the fact that she appears to have gotten more of Jay than Bey in the looks department so far.
But who cares! Blue is not even three years old and she's a beautiful baby girl with a sweet heart! She will continue to grow, change and evolve. With Beyonce and Jay as her parents, she will surely become one helluva woman.
Sure, she's probably feasting on a diet of unicorn nuggets sauteed in truffle butter. And it's true that she travels on jets and to exotic locales with Jayonce aka her dad and mom. But when she shouted out Bey at the VMAs, we, like, died.
Here are 10 pictures that prove little Blue, who rarely shows her face in photos, is better than you and is the best celeb kid on the Hollywood block. Actually, little Blue is a New Yorker and her notoriously private parents shun LA life for the most part. That makes her even cooler.
Oh, and check out this cute video of Blue watching her mommy entertain the world!
Blue Ivy Carter
1. Blue doesn't fly coach. Ever.
Blue Ivy Carter
9. Don't you love how Blue Ivy is totally ensconced in her foot, all the while just hanging out with her mom? She is all like, "NBD, I'm just hanging with Bey. She's my mom. We do this all the time."
Blue Ivy Carter
8. First off, we're loving her big, beautiful and natural curls. But she is crazy adorbs when planting a kiss on her mom and we just "Ooohed!" and "Aaahed" for about five minutes.
Blue Ivy Carter
7. Even her freakin' feet are cute. She's the new version of "The Blueprint," which is the game-changing hip-hop album her dad released in 2001. That record came out well over a decade before Blue arrived. But both "Blueprints" show what Jay Z is capable of creating.
Blue Ivy Carter
6. She is the apple of her daddy's eye! Clearly, Jayonce are besotted with their baby girl.
Blue Ivy Carter
5. Not only is she wearing matching and fashionable headgear while traveling with mom, she has dozens of stamps in her passport. We're crushing on that puffer jacket.
Blue Ivy Carter
4. She is the connective tissue, quite literally, between the First Couple of Pop Music and Pop Culture. Plus, she is totally stylish. That flowered sundress? Adorbs!
Blue Ivy Carter
3. Check out that hat, worn while safely nestled in daddy's arms. #BlueIvyFashionistaWhoWillInheritBeyoncesCloset #Jealous
Blue Ivy Carter
2. Here's Blue enjoying a nice-weather hang with mom. Once again, we only see the back of Blue's head, further upping her overall mystique.
Beyonce
10. When this is your mom, well, you were just born lucky.
Previous
Next
BEGIN