Those are some serious athletes!
Some women won't let anything get in the way of Olympic glory, not even pregnancy. These ladies are so dedicated to their sports that they competed with babies on board. Check out our list of these tough women who love their sports and their families.
Amelie Kober, a German snowboarder who took the silver in at Turin, announced that she was to become a mama after a crash preceding the 2010 Winter Olympics. She said of her decision, "I pulled out because I'm pregnant. I did not want to race after I fell." She went on to say, "Eighth place is not too bad. I'm going to have much better news in a few months."
Kristie Moore was able to compete in curling for Canada, where she took the silver medal, at five months pregnant Thank goodness it's a low impact sport!
Kerri Walsh Jennings, one half of the Walsh-Treanor volleyball team, was five weeks pregnant when she competed for the USA in London in She didn't realize she was pregnant until after the games, saying "At some point, you're late and then you start feeling something, and I definitely started feeling something in London."
Air riffle shooter Nur Suryani Mohd Taibi of Malaysia was months pregnant at the 2012 London games. She defended her decision, saying, "Most people said I was crazy and selfish because they think I am jeopardizing my baby's health. My husband said grab it as this is a rare chance which may not come again. Also, I am the mother. I know what I can do. I am a stubborn person."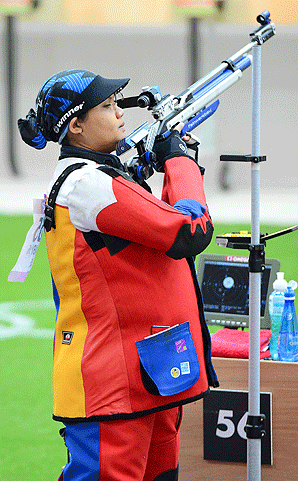 Kerstin Szymkowiak, a German skeleton racer nicknamed the Ice Tiger, won a silver metal for her homeland in while two months pregnant. That's some tigress!