Even though Black History Month is long over, it is still important to give credit where credit is due: to those men and women in history who shaped the world, yet were not given the respect or recognition they deserve, all because of the color of their skin.
And even though their efforts were thankless, it didn't stop them from continually trying to do what was right.
Take Ida B. Wells, for example.
She was a Civil Rights activist, feminist, suffragist, and journalist, but how much did you actually learn about her and the amazing work she accomplished throughout her life?
Born into a slave family in 1862, she was already aware of the mistreatment of black people in America at a young age.
She knew that if she did nothing to try to voice her opinion on the abuse of African Americans while she had the chance, it would only make it harder for future generations to stand up for themselves.
And Wells did more than just voice her opinion.
Thanks to her, black-founded organizations were created and people became more aware of the racism that was going on at the time, leading to a better insight into was happening to the black population in America; not just in the South, but everywhere.
After her friends were murdered by lynching, she began publishing her findings an investigative journalist and newspaper editor, often using the pen name Iola when she wrote.
Wells understood that these lynchings were not only used to eliminate the black population, but also to control it. In 1892, her pamphlet Southern Horrors: Lynch Law in All Its Phases exposed the real reason why black people were getting lynched.
People were determined to keep African Americans down. White women would lie and accuse black people of rape, justifying the outbreak of these hangings and allowing authority to turn a blind eye.
After publishing everything she witnessed, she participated in campaigns created to raise awareness and funds, speaking alongside other famous activists such as Maritcha Remond Lyons and Victoria Earle Matthews.
With the help of publisher William Penn Nixon, she became the first African-American woman to be a paid correspondent for a white newspaper.
But what made all of her hard work even more valuable was that it was all true accounts. So, while it was horrifying to read about everything that was happening, it was incredibly brave of Wells to continue to write, even when she knew how dangerous it was.
Wells — also a women's rights activist — helped form the Republican Women's Club in Illinois so that women could be granted the right to vote and hold office, as well as created the National Association of Colored Women to bring rights to black women.
She was all about making a difference through action, and while she is credited as being one of the founding members of the NAACP, she ultimately left the organization, opting for others that were more about action than passive involvement.
So, it's important to celebrate Ida B. Wells for everything she accomplished, because without her, we wouldn't have the fierce activist community we do today.
Read below to find some of Wells' most inspiring quotes as we celebrate someone who has made a HUGE difference in America's history.
If you're looking for a little inspiration, we've got the best quotes to share and savor. For quotes from the most inspiring celebs, activists, and poets, look no further! You might even find the quote that motivates the best parts of your life (and love!) forever.
Go down in history.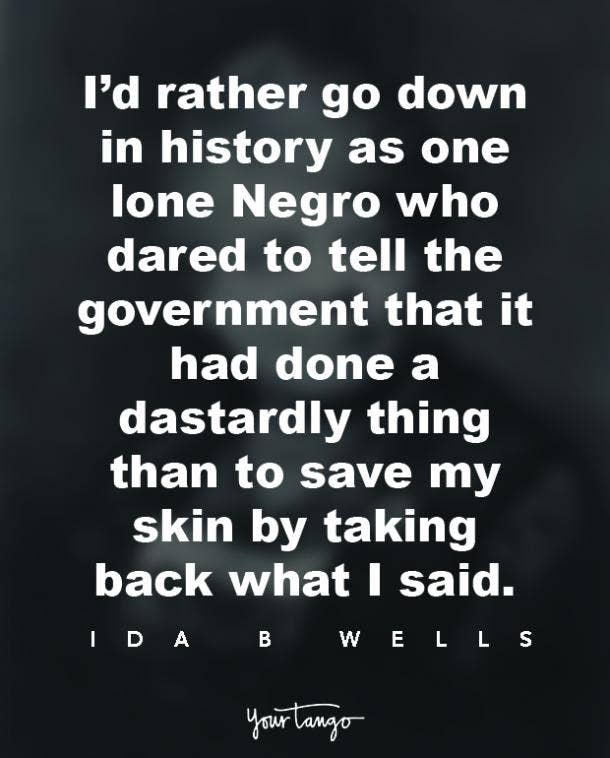 "I'd rather go down in history as one lone Negro who dared to tell the government that it had done a dastardly thing than to save my skin by taking back what I said." — Ida B. Wells
We need to learn to see color as an opportunity, not a problem.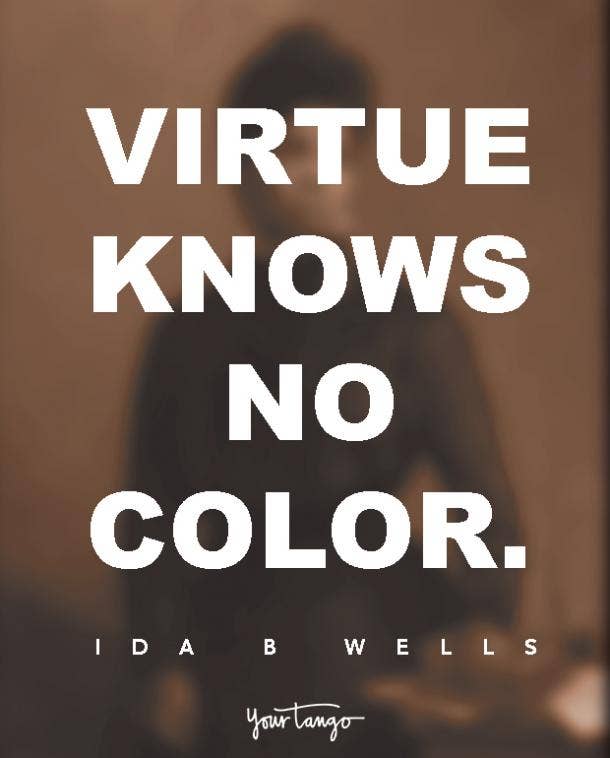 The world is ALL of ours.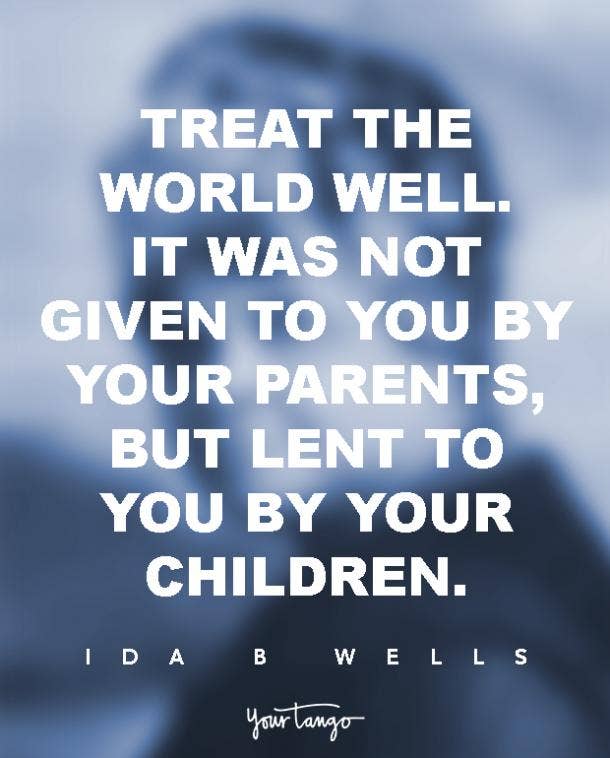 "Treat the world well. It was not given to you by your parents but lent to you by your children." — Ida B. Wells
You can make things better.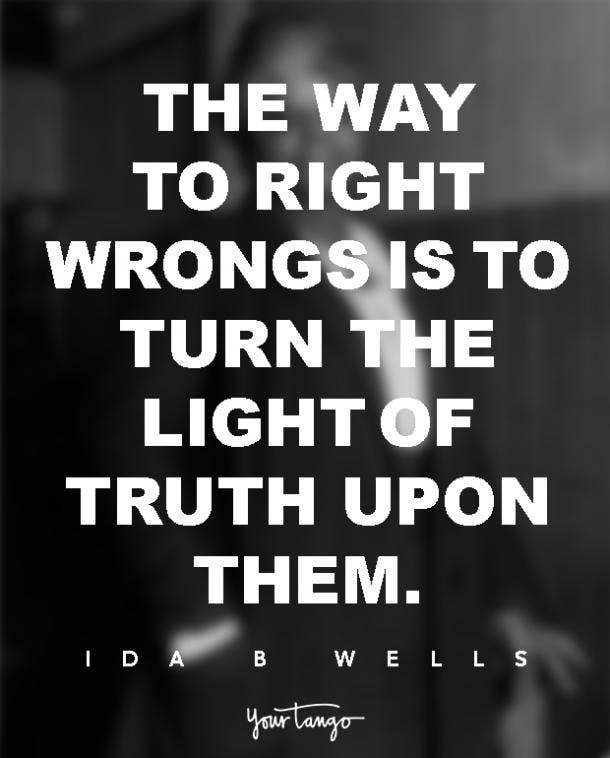 "The way to right wrongs is to turn the light of truth upon them." — Ida B. Wells
Find a way to fix things.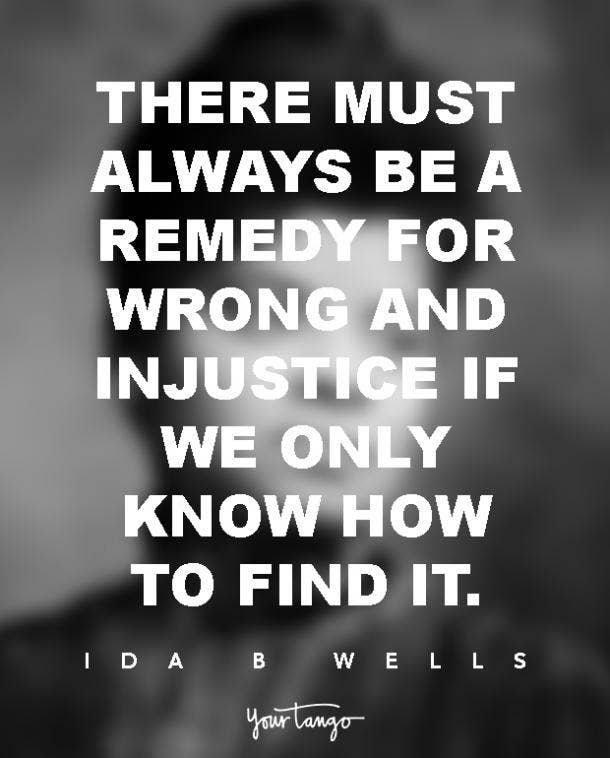 "There must always be a remedy for wrong and injustice if we only know how to find it." — Ida B. Wells
Do what you can to make things right.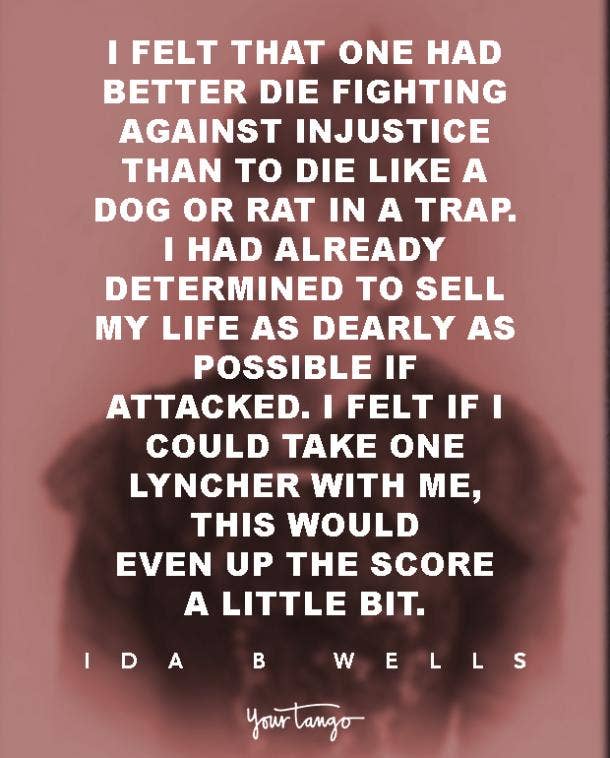 "I felt that one had better die fighting against injustice than to die like a dog or rat in a trap. I had already determined to sell my life as dearly as possible if attacked. I felt if I could take one lyncher with me, this would even up the score a little bit." — Ida B. Wells
Education is IMPORTANT.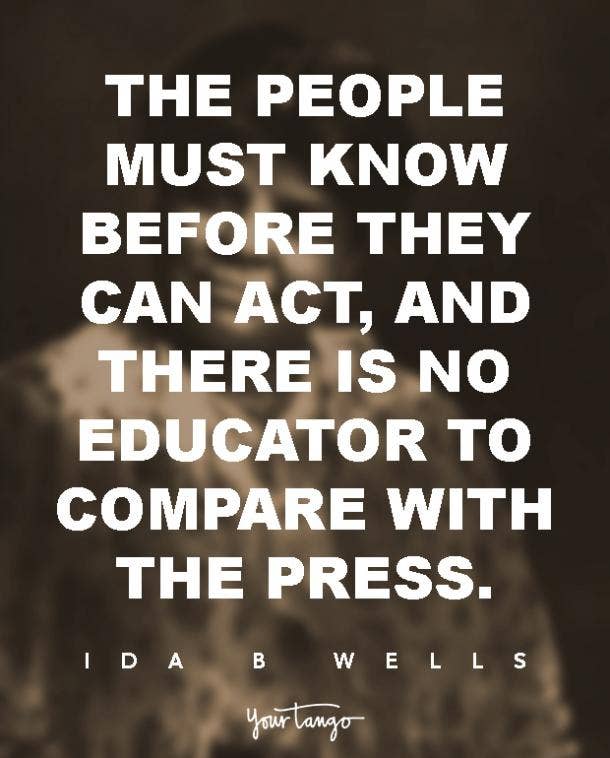 "The people must know before they can act, and there is no educator to compare with the press." — Ida B. Wells
Do what's right.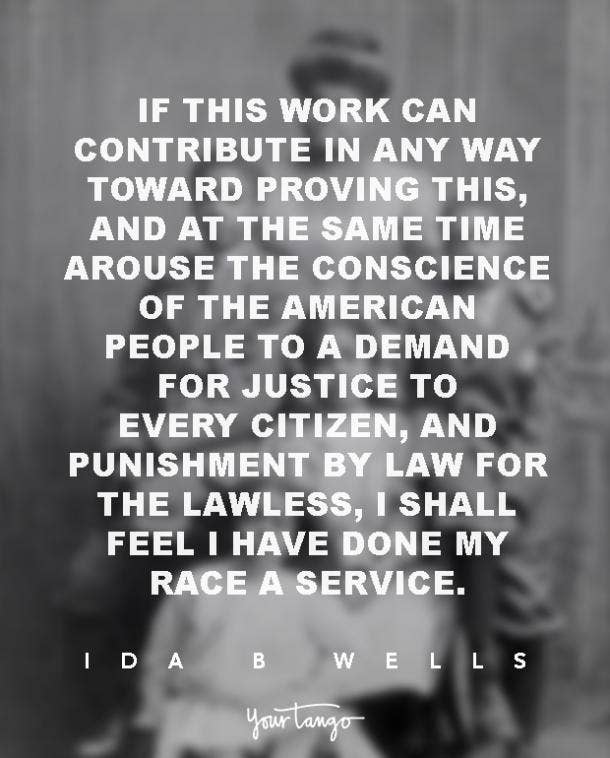 "The Afro-American is not a bestial race. If this work can contribute in any way toward proving this, and at the same time arouse the conscience of the American people to a demand for justice to every citizen, and punishment by law for the lawless, I shall feel I have done my race a service." — Ida B. Wells
Know when it's your turn to step up.
"Somebody must show that the Afro-American race is more sinned against than sinning, and it seems to have fallen upon me to do so." — Ida B. Wells
We need to come together.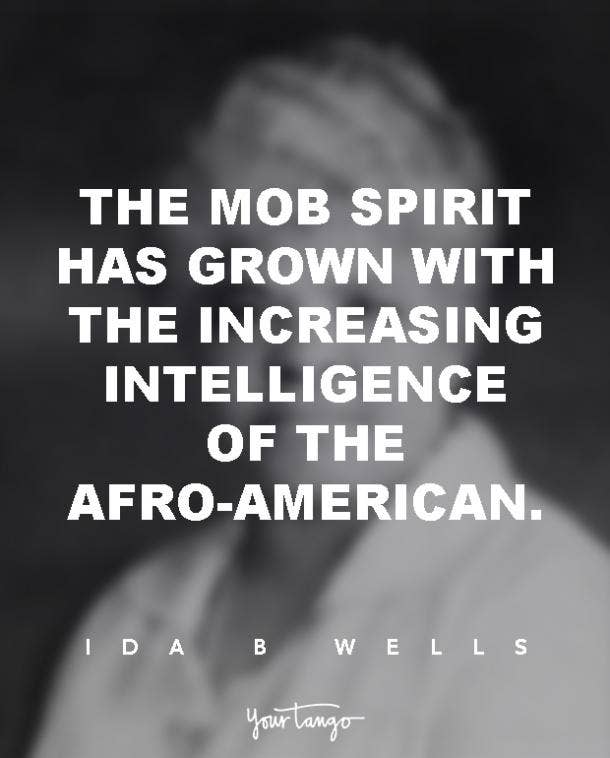 "The mob spirit has grown with the increasing intelligence of the Afro-American." — Ida B. Wells