Photo: weheartit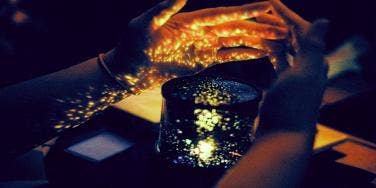 Burn, baby, burn.
Sometimes you just want to get down and dirty fast, but there are other times where you want to set a mood with wicked lighting, sexy beats, and sensual candles.
Candles can be used to help set an erotic atmosphere and can be used in sex play, though you need to be smart about it. You can't just throw hot candle wax on someone and expect it to go over well! Hot wax can reach dangerously high temperatures and people can get seriously injured.
There are certain kinds of candles used for wax play such as soy candles that, when melted, become oil and can be massaged onto various body parts. You also don't have to use the wax the minute it's completely melted; you can let it cool slightly before applying it to somebody's body.
If you're into BDSM, you need to use caution and common sense when using hot candles. Don't put hot wax in any orifices, completely encase a body part or ingest it in any way. The temperature of the wax should stay under 110 degrees Fahrenheit and the wax shouldn't cause burns.
When burning a candle for atmosphere and scent, make sure the wick is trimmed before burning, that it's away from anything flammable, and that you can keep an eye on it. It's not a good idea to light a candle and then go to another room and have a marathon sex session.
Remember that a lighted candle is also an open flame and a potential fire hazard. And it's always a good idea to have a fire extinguisher near by, as a knocked over candle can get dangerous, fast.
All the candles featured have delicious and decadent fragrances, and some do double duty as massage oil — everything you need for an evening of sensuality and pleasure.
Here are 13 suggestions for candles to burn while having sex.
1. Sophia massage candle
These candles are made from soy wax, natural plant extracts and essential oils so they never burn too hot and give off aphrodisiacal aromas.
(Luzdelariva, $29.50)
2. Jimmyjane Afterglow candle
As seen on HBO's Girls, you can burn Afterglow as a candle and then use the liquid as massage oil. There's even a convenient pour spout.
(JimmyJane, $29)
3. Pleasure Chest Mini Melting Body candle
Before you play, dim the lights and set the mood by lighting this aromatic candle. And when it's burned for a bit, blow it out and pour the warm, melted oil all over your partner for a sensual massage.
(Pleasure Chest, $7.95)
4. Rodin scented candle
Olio Lusso's signature mix of delicate jasmine and a hint of neroli will infuse the air with a serene and luxurious sense of well-being.
(Olio Lusso, $125)
5. Love Notes Black Velvet scented candle
The sensual fragrance of this candle gets your message across loud and clear: it's sexy time.
(Pure Romance, $20)
6. Malin + Goetz Cannabis candle
The cannabis scent is a synthesis of the sexy, spicy, peppery notes evocative of the cannabis plant, but the candle doesn't actually contain any material from it. The candle's scent is sensual and provocative.
(Malin + Goetz, $52)
7. Vanilla Orchid candle
Set the mood with the fragrance of erotic flowers mixed with notes of woody amber for a sensual twist on a timeless classic.
(Aquiesse, $26)
8 Betty Man scented candle
Fury Bros express their sensitive side with this candle, with its notes of red rose, jasmine, cedar and musk. Since it has an approximate burn time of 80 hours, you'll have plenty of time to explore all the different sides of you and your partner.
(Fury Bros, $28)
9. CrazyGirl soy massage candle
These candles from Crazy Girl Products are infused with pheromones to enhance sex appeal.
(Crazy Girl Products, $16.25)
10. Rosewood vanilla candle
Leave your troubles behind and get ready to experience passion and sensuality when you burn the Rosewood candle with its wild, ethereal, earthy scent.
(thelocalrose, $50)
11. Lelo flickering touch massage candle
This candle is made from all-natural soy wax, shea butter, and apricot kernel oil. As the lightly scented wax melts, it becomes an exquisite pool of luxurious massage oil. Chances are, you'll melt too.
(Lelo, $34.90)
13. Kitten scented candle
"Our signature scent: Kitten, with visions of dusty records, lipstick, and feather pillows and notes of musk, amber, and hand-picked violets." The vibe may be retro but the scent is pure seduction.
(catbirdnyc, $38)
Previous
Next
BEGIN