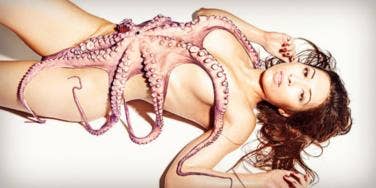 They're putting WHAT in WHERE???...
This March Utah's Governor Gary Herbert signed a resolution declaring pornography a "public health crisis."
Governor Herbert emphasized that Utah is "not banning anything."
So ... if you aren't banning something that you believe should be eradicated, what do you actually plan to do, sir?
I'd like to suggest a little look at how things have worked out in Japan, where similar regulations were put into place.
I learned a bit about the strange (to me) world of Japanese pornography after a game of Cards Against Humanity (Best.Game.EVER!) sent me on a Google adventure.
One of my cards included something about "tentacle porn."
While it was certainly fun to be able to tell my friends that yes, I did know tentacle porn exists, thank you very much, I truly didn't know — and couldn't begin to fathom — WHY tentacle porn exists.
Hence, my somewhat traumatizing trip down Google lane — and what I learned was not at all what I expected.
Tentacle porn wasn't, as I suspected, created to satisfy the "deviant" cravings of a subculture of octopus fetishists, but as a way to get past government policies meant to limit pornography without completely banning it.
In Japan, anti-censorship laws make a ban against pornography illegal.
To work around this, prohibitions were placed against various degrees of "obscenity," including against exposure of genitals and depictions of sensual scenes in bed.
Humans being human and all — i.e., enjoying depictions of sexual activity — tentacle porn was born.
According to pioneering animator Toshio Maeda, "I thought I should do something to avoid drawing such a normal sensual scene. So I just created a creature. His tentacle is not a penis as a pretext. I could say, as an excuse, this is not a penis; this is just a part of the creature. You know, the creatures, they don't have a gender. A creature is a creature. So it is not obscene — not illegal."
In honor of Utah's successful signing of S.C.R. 9, here is a look at some other fascinating results of human minds making their way around censorship at its finest.
Tentacle Erotica
Tentacle pornography is a category that "integrates traditional pornography with elements of bestiality and a fantasy, horror, or science-fiction theme," says Wikipedia.
Often drawn in a cartoon or comic-like format, stories involve "tentacled creatures (usually fictional monsters) having sexual intercourse with predominantly female characters. Tentacle erotica can be consensual, but frequently contains elements of rape."
Live-action Tentacle Erotica
According to Wikipedia, "The use of sexualized tentacles in live-action films, while much rarer, actually started in American B-movie horror films and has since migrated back to Japan."
Pixelation
"Due to the current interpretation of Article 175 of the Criminal Code of Japan, which forbids distributing 'indecent' materials, it is believed that most pornography in Japan must be at least partially censored."
In order to most easily create erotic films that comply with this criminal code, "The primary means is to put a digital 'mozaiku' (mosaic/pixelization) over genitalia."
Omorashi
In the West, "Fetish activities concerning the use of bodily waste are considered by the general public as hardcore, taboo, or edgeplay. However, because the object of the fetish is clothed incontinence, omorashi videos do not feature direct sexual contact."

Because of "Japan's strict censorship laws, which limited depictions of actual sex and pubic hair, erotic films ... often relied on [these kind of] fetish elements which could skirt such restrictions."
Hentai
Hentai, loosely translated as "perverse sexual desire," is a subgenre of Japanese manga-style animation that presents sexual imagery and situations, while allowing for artistic work-arounds of the illegal levels of obscenity.
Ero Guro
"Ero guro nansensu [is characterized by] explorations of the deviant, the bizarre, and the ridiculous."
Wikipedia said, "Its roots go back to artists such as Tsukioka Yoshitoshi, who, besides erotic shunga, also produced woodblock prints showing decapitations and acts of violence from Japanese history. Ukiyo-e artists such as Utagawa Kuniyoshi presented similar themes with bondage, rape and erotic crucifixion."
The modern genre of tentacle rape began within the category of ero guro ... but was so popular that it is now usually considered separately.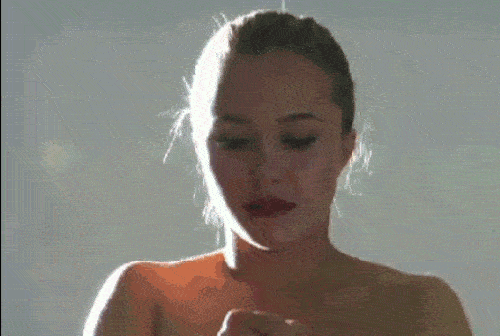 Photo: ifcdn.com
Bukkake
Bukkake means "a heavy splash" in Japanese, and is a term commonly used to describe the act of several men ejaculating at once on the body or face of one woman (or man) centered between them.
"A significant factor in the development of bukkake as a pornographic form was the mandatory censorship in Japan where genitals must be pixelated ... One consequence of this is that Japanese pornography tends to focus more on the face and body of actresses rather than on their genitals," according to Wikipedia. "Since film producers could not show penetration, they sought other ways to depict sex acts without violating Japanese law and since semen did not need to be censored, a loophole existed."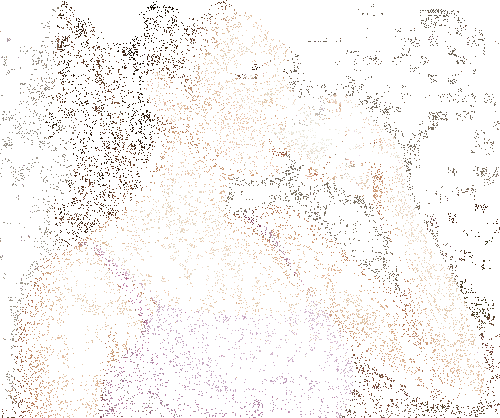 Photo: Giphy
Gokkun
"Gokkun is a Japanese term for a sexual activity in which a person consumes the semen of one or more men, usually from some kind of container," usually following a blow job or after participating in a bukkake scene.
According to Wikipedia, "The word 'gokkun' is onomatopoetic, and translates roughly as the English word 'gulp.'"
Bubbling
Lest, you think these kinds of creative loop holes are purely an Eastern phenomenon, here is the latest invention from young Mormon minds: Bubbleporn.
Using the photo modification technique of bubbling "lets your mind turn innocent bikini shots into porn ... And yep, it's just about as porny as you can get without actually being porn ... Of course, the strategically placed bubbles keep the deed from being a technical sin ..."
Ah, the power of youthful ingenuity.
Mormon roleplay
According to Legrand Wolf, founder of MormonBoyz.com, "Much of America thinks Mormons are kind of freaky. 'Mormonism has always been seen as a place for secret sexuality,' he says. 'Ever since Joe Smith was secretly marrying [multiple] wives, people have thought of the Church as a sexually libertine one that was a danger to the mainstream way of life.'"
The site was created specifically to evoke the "erotic flavor" of Mormon rituals. According to sister site MormonGirlz.com founder Brooke Hunter, "If [viewers of the site aren't] Mormon they probably like entering this little self-contained universe with thorough storytelling ... If they are Mormon, well, it's pretty authentic."
Previous
Next
BEGIN