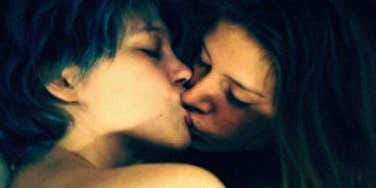 Did they or didn't they?
Movies tend to embellish when it comes to life so they're more entertaining. That also includes how they portray sex. Somehow, the characters always orgasm and even do it at the same time.
But there are a select few movies that are realistic. These either capture the awkwardness of sex, or the actors committed to the role so much that they might have you wondering if they were actually doing the dirty on set.
Here are ten movie scenes that are just a little too real.
1. Boogie Nights
We often forget how fake the porn industry is, but this film portraying a young man trying to make a name for himself broke down that fourth wall.
Mark Wahlberg as Dirk Diggler is nervous filming his first scene and asks a lot of questions, including where he should finish. Between the sex and hilariously bad porn acting, this movie probably got it right.
2. The Spectacular Now
This movie shows a love story between two high school seniors. The first time they have sex together, it's slow, and full of giggling and sweet moments. The intimate scene itself is also long and feels very real for two young people who are in love.
Photo: Apatow Productions
3. Knocked Up
The comedy shows two very different people brought together after getting pregnant from an one-night stand. Later, the couple tries to have sex while pregnant and things are great ... until Ben (Seth Rogen) starts being vocal about being scared of hurting the baby.
Even if you've never experienced pregnant sex, you can probably relate to not being able to be into sex mentally because of a hang-up.
4. Blue is the Warmest Color
This movie tells the love story between Adele and Emma, which leads to a seven-minute sex scene. The movie goes all-out with full nudity and multiple positions, making many people wonder if the actors are really having sex.
The answer is no. They wore molds over their real vaginas, but the scene is still pretty convincing.
5. Nymphomaniac: Vol. 1
In this film, a nymphomaniac tells the erotic experiences she's had throughout her life. The movie climaxes to a scene where Shia LaBeouf and Stacy Martin's characters are having sex.
The scene shows penetrative sex so realistic that the audience may have assumed the actors went all the way. But they both had body doubles for the role.
6. Superbad
The comedy follows awkward male teens going to a party. Evan ends up alone with his drunk crush, who wants to have sex. It's pretty awkward because of how messed up she is, and she obviously thinks she's coming across as sexy (even though she isn't).
Luckily, Evan makes the right discussion by not taking advantage of her. But we all can remember a drunken and clumsy experience that we would rather forget.
7. Friends With Benefits
The movie title is self-explanatory, and the movie has multiple interesting sex scenes. But the first one between Dylan and Jaime is realistic in the fact that they actually talk about their likes and dislikes right before the deed.
Most movies skip that part and the characters just seem to know what the other person wants. This movie proves that some people have no problem speaking their mind.
8. Tiny Furniture
Lena Dunham is known for her really awkward sex scenes. In her movie, she has a scene where she has sex in a pipe with a not-so-nice guy. Her character even asks if he has AIDS, so she knows this isn't safe or right, but she does it anyway.
The whole thing is cringe-inducing and may give you flashbacks to one of your regrettable hookups.
9. The Squid and the Whale
This drama shows two young boys dealing with their parent's divorce. Jesse Eisenberg plays the older brother who's starting to come into his sexuality. In one scene, he gets an awkward handjob from a girl and finishes quickly. It's painful to watch but relatable for most young guys.
10. Brokeback Mountain
Brokeback Mountain is about a secret relationship between two cowboys. In their first sex scene together, it comes as a surprise between the two characters. They struggle between letting themselves have what they want and fighting it.
The scene is great and there are no words, because they aren't necessary. A lot of people have had that inner struggle with themselves before sex, and that's what makes it so real.
Previous
Next
BEGIN