Photo: dudeiwantthat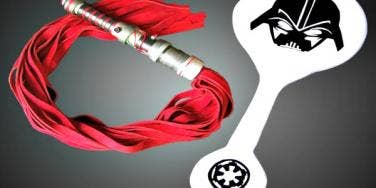 What has the force awakened in you? *wink*
Star Wars: The Force Awakens is a huge hit and has managed to rejuvenate everyone's Star Wars passion. Everyone has their own unique way of enjoying Star Wars, whether it's seeing the movie over and over again, writing naughty memes, or joining together Star Wars with the BDSM/kinky lifestyle.
In a way, it makes perfect sense. Star Wars geeks and those with kinky sexual appetites both love to role play, and both love their toys. It isn't much of a stretch to imagine one Star Wars fan being dominated by someone dressed as a storm trooper or wearing a Darth Vader mask.
A number of the items come from Etsy seller Geek Kink, whose website appears to be under construction. I have a feeling that they're being bombarded for requests for their collection of Star Wars kinky sex supplies.
May the force be with you, but be sure and have a safe word.
1. Storm Trooper latex suit
Storm Troopers have terrible aim, but nobody will miss looking at you.
2. Star Wars wide paddle
Oh, la la! This will give your Star Wars fan pain and pleasure at the same time.
3. Star Wars blindfold and restraints
Bondage play, but in a galaxy far far away.
4. Star Wars red flogger
These are a must-have for any kinky Star Wars fan.
5. Princess Leia costume
Watch out, your geek may become like Jabba the Hutt and ask you to wear this all the time.
6. Star Wars lightsaber
I don't know what they use this for, and I don't want to know.
7. Star Wars long paddle
For the Jedi who needs a good spanking.
8. Storm Trooper couple massager
Keeping the peace can be exhausting. Unwind with this couple's vibe.
Photo: WhippedDreams15XXX
9. Star Wars lightsaber flogger
Previous
Next
BEGIN