Photo: WeHeartIt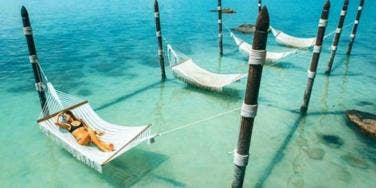 Raise your hand if you've dreamt about being naked in front of EVERYONE.
By Lily Cohen
Do you ever have one of those awful recurring dreams where you're suddenly naked at school, and there's nothing you can do about it? Or what about biting into an apple, only to find that your teeth are suddenly falling out?
Admit it - we've all had some kind of recurring dream that makes us work up a sweat, or at least wake up confused. Well have you ever thought about what it could be that's causing these dreams?
Believe it or not, it's usually the result of an emotion we're feeling or situation that's occurring in our daily lives. Check out these common dreams and see if you can figure out what your brain is trying to tell you.
1. Falling
The dream: You're falling, and unable to stop yourself.
What it means: Dreaming that you're falling has two common interpretations. The first is that it symbolizes anxieties about letting go of a situation or problem in real life. It can represent the feeling of losing control, or a sense of failure. If that's the case, try to move on and let life run its course. Trust that things will work out! The second interpretation is more positive. Falling can also represent a feeling of tranquility, and symbolize that you're letting go of something. If that's true for you, then keep on keepin' on!
2. Being Naked
The dream: You're in public, and you're naked.
What it means: Dreaming that you're going about your business in public and suddenly, you're naked may mean that you're feeling vulnerable, whether it be psychologically, physiologically, or emotionally. You may feel exposed and ashamed in real life due to something like a promotion, new situation, or upcoming public appearance. If this is true for you, the real fear that's fueling this dream might be that you're scared people will see through you or discover something about you that you want to keep hidden. Try asking yourself - what's the worst that could happen if people see the real you? Try opening up and cutting yourself some slack - chances are, people will love you for being you.
3. Taking A Test
The dream: You're in school and taking a big test - maybe you're late, or unprepared, or can't find the room.
What it means: Taking exams in your dream often is a sign of self-evaluation; of critically examining yourself in your life (this is a common dream for perfectionists to have). A lot of times these dreams are associated with stress in your life, whether at work or about an upcoming event. You might be afraid of being judged by peers, or by showing up unprepared, failing, and being rejected. Try to accept yourself and what you're capable of, instead of putting yourself down. Re-evaluate your expectations of yourself and the expectations you think others have of you, because they might not be accurate.
4. Being Chased
The dream: You're being chased by something or someone - a monster, a murderer, etc.
What it means: Being chased in a dream is your body's way of reacting to the fight-or-flight instinct. It might be that you feel threatened by something in your life, external or internal, and looking for an escape. Or it could be that you're running away from something in your life. Try to think about who or what it could be that's instilling so much fear in you or hanging over your head, and see if you can confront it.
5. Flying
The dream: You're flying through the air.
What it means: The flying dream is all about control. This dream is mostly positive - it indicates that you feel free or liberated from a situation in your life - it means you have control, or that you're going to take control. Things are "falling" into place, and this dream is your mind's way of telling you to stay strong when times are tough, because you have the ability to rise above.
6. Teeth Falling Out
The dream: Your teeth are falling out.
What it means: Many experts disagree on the interpretation of this one. Losing your teeth could represent a fear of becoming old and unattractive. Teeth are also often associated with power, wisdom, or communication, so this dream could mean you're having trouble communicating your true feelings about something, losing confidence in yourself, or experiencing anxiety in a part of your life. Teeth falling out could also represent a transition. If you have this dream, try asking yourself where it is you're struggling in your life, and brainstorm ways to work through it - you can do it!
7. Dying
The dream: Someone close to you is dying.
What it means: Death usually symbolizes change or transition; endings and new beginnings. Dreaming that a friend, family member, or significant other is dying doesn't necessarily mean that they're dying, it probably just means that you're going through an emotional change in your life, or that you want a negative aspect of your life to end. Take this as a sign of encouragement to move towards a fresh start.
8. Showing Up Late
The dream: You're headed somewhere, but you just can't seem to get there, no matter how hard you're trying.
What it means: Dreaming that you're late can mean that you feel like you're missing out on a significant opportunity in your life. It could also represent anxiety stemming from overwhelming yourself and taking on too much. It might be time to start making more effective use of your day, whether that's engaging in more meaningful activities or taking a load off your shoulders.
9. Water
The dream: Calm pools of water or choppy seas.
What it means: If you dream about water that's crystal clear, clean, and calm, it probably means you feel a sense of inner peace and have a strong grasp on your emotions. If you dream of choppy waters, you could feel uneasy about something and possibly out of control. Try to be aware of what your emotions might be trying to tell you.
10. Paralysis
The dream: You wake up, but you're unable to move. You could be in a situation where you're trying to move and your body won't let you, or dreaming about the current location where you've fallen asleep, but unable to control yourself.
What it means: This could mean that you've taken too much onto your plate. You might be trying to do too much at once. If you're dreaming about the current moment, it could just be a case of "day residue," a result of constructing dreams of your thoughts and events from throughout your day. One more explanation could be that your body is undergoing a form of minute paralysis while you're asleep, which hinders your ability to take action in your dream. Your subconscious mind is still, and this could be related to the feeling of a loss of control in your day to day life. Don't be afraid to take control of the situation once you're awake!
Previous
Next
BEGIN