Photo: weheartit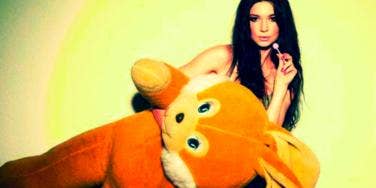 Yes, you can get wrinkles down there.
Age is just a number, but we want that number to be our personal ideal — and we certainly don't want to look or feel older than we are. While it's bad enough to see hair go gray and wrinkles appear where they weren't a year ago, there are other areas showing age that we aren't ready to experience.
Want to keep your vagina young and vital? Obviously! Easy for you, there's some tricks to staying ahead of the curve.
1. Kick up the kegels.
Doing your kegel exercises and building the PC muscles are great for women who haven't been able to get there or want to achieve orgasm faster, says Dr. Emily Morse.
"These are the exact muscles that are responsible for the contractions you feel during climax so it makes sense to give them a workout. The problem is, so many women don't remember to do them, even though you can do them anywhere."
Try the Kegel Camp app, where you can set a daily reminder to do your exercises in just 5 minutes or less. Doing kegels while you masturbate enhances your experience and if you squeeze them during intercourse it can increase pleasure for both of you.
2. Get busy more often.
The more sex you have, the more stimulation and increased blood flow you have to your vagina, says Dr. Morse. Blood flow is crucial for women to enhance lubrication and to enhance orgasms.
3. Use mild soaps when cleaning.
Labial tissue is very sensitive, and intense or harsh soaps can dry or irritate your vagina. Use cleansers that are free of fragrances and dyes, like Aveeno Skin Relief Body Wash, and don't wash abrasively.
4. Stay hydrated.
As with any skin, moisturize, moisturize, moisturize.
"This is more of a challenge than might be apparent ... the vaginal moisturizers and lubricants currently available are not really great for the vaginal skin. Most over-the-counter products are chemical-intensive (some contain sodium hydroxide, a key component in Drano), with ingredients that can be irritating, cause infection, and actually end up dehydrating the skin," says gynecologist Jennie Ann Freiman. A few safer, more natural options include Sliquid's organic line or Good Clean Love.
5. Try herbal steaming.
You may know it as Yoni steam (vaginal steam, v-steam, or bajo). This practice is an ancient herbal remedy that has become fervently revived by women today.
According to Vibrant Souls, yoni steaming is a wonderful way to bring youth and vitality to the vagina, to support reproductive wellness, and to detoxify.
Yoni steaming is a practice in which a woman allows the warmth of herbal steam to permeate the exterior of her vagina for about 30 minutes. Herbs that are often included are mugwort, mortherwort, oregano, rosemary, lavender, calendula, yarrow, and others. The process is very gentle, as the steam temperature is mild.
6. Change the way you think.
Your vagina is as young as you think it is. Mind over matter.
"... A young vagina is a healthy and confident vagina. Keeping the vagina clean and enjoying sexual pleasures keeps the vagina young regardless of age," says OBGYN women's health expert Dr. Sherry Ross.
7. If all else fails, consider laser treatments.
There are now lasers, like the Mona Lisa Touch, that help to rejuvenate the vagina.
"This non-surgical laser treatment is designed specifically for the health and well-being of post-menopausal women. When a woman's estrogen level declines after menopause (either through age or induced by chemotherapy cancer treatments), many changes occur to a woman's vaginal health.
Symptoms such as dryness, itching, burning, or painful intercourse are often results of these changes. This ground-breaking procedure is the best hope for many women to regain the youthfulness of their vaginas," says Dr. Dennis Eisenberg.
Previous
Next
BEGIN