As Miley says, "Life is all about having a good time."
Miley Cyrus nude? You don't say! Although some would say that most things are best left to the imagination, based on these hot and sexy naked (and almost naked) photos, it's safe to say that's not Miley Cyrus' go-to motto.
After, it was Miley who once said, "Life is all about having a good time."
It seems the young singer and actress is far more comfortable in being undressed than most of us regular folk might between. Between her twerk-tastic VMA performance, her now infamous naked Wrecking Ball music video, topless selfies posted to Instagram and a slew of nude magazine photo shoots take by some of the world's most renowned photographers, Miley Cyrus appears to love being naked — and letting the whole world know about it.
Miley Cyrus's nude antics even prompted fellow musician Sinead O'Connor to write an open letter to the songstress, saying the music industry "will prostitute you for all you are worth, and cleverly make you think it's what you wanted."
Those are some pretty harsh words we're pretty sure the sledgehammer-kissing star won't be heeding anytime soon.
In fact, judging by the revealing costumes worn on her 2014 "Bangerz" tour and her incredibly raunchy video "Miley Cyrus: Tongue Tied" (below), we're pretty certain she's only just getting started.
Of course, things do change. Back in July, the 76 million fans following Miley on Instagram were shocked when they noticed her posts slowly beginning to disappear.
Over the course of just about 24 hours, Miley deleted her entire catalog, containing thousands of professional images and selfies, from Instagram.
Some speculated the reason for such a dramatic action must be yet another breakup with her on-again, off-again love Liam Hemsworth, while others guessed Miley must be clearing out remnants of her old image to make way for the release of a new one — i.e., a fresh new look to accompany some fresh new new music.
However, she and Hemsworth remain very much together, no new album has dropped (yet) and her Insta remains super bare.
Not to worry, though! We happen to have a few of her best, sexiest shots from back in Miley's Insta-day!
How much longer before Miley returns to posting naked or clothed photos on the regular? Your guess is as good as ours.
Until then, here are 14 of Miley Cyrus's raciest, hottest and most naked photos yet!
Miley Cyrus topless in a V Magazine
Photo: V Magazine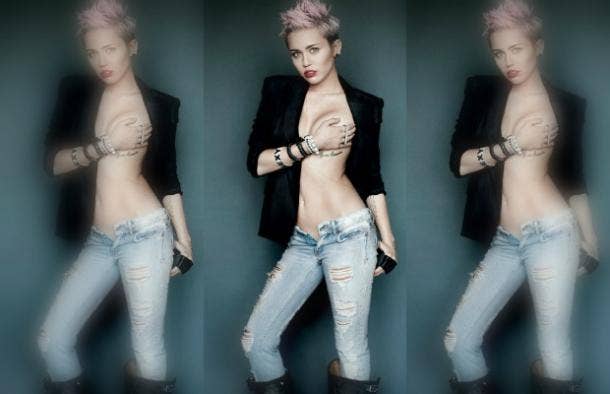 This cover shoot, photographed by the famous Mario Testino for V Magazine in April 2013, solidified that the young, sexy singer is 100 percent comfortable in her own, sometimes very naked, skin.
Miley Cyrus naked on one of 4 covers for Plastik Magazine
Photo: instagram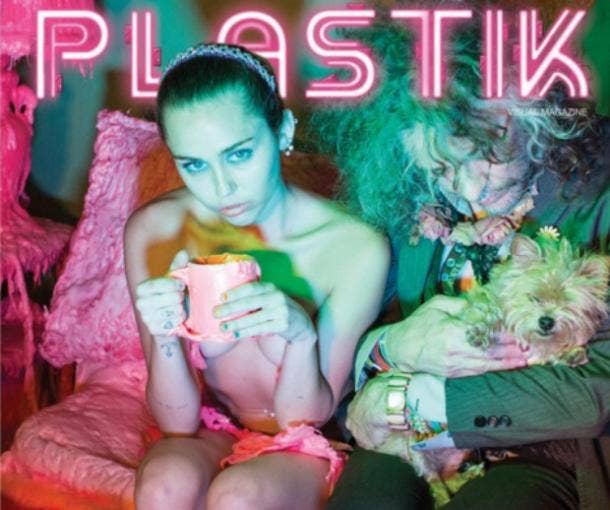 MIley Cyrus touches herself in W Magazine
Photo: W Magazine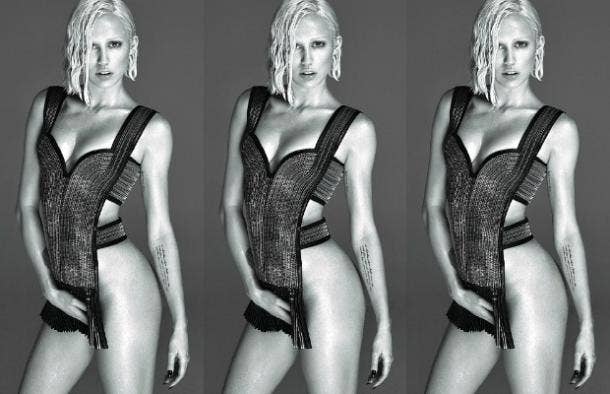 Miley Cyrus strips down in Vanity Fair
Photo: Vanity Fair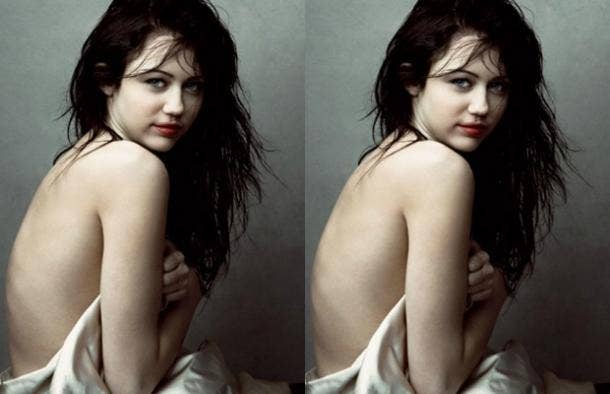 This now-infamous Vanity Fair cover photo of Miley is incredibly risque, with a very strategically placed white bed sheet draped over her nude body. The singer was just 15 when she posed for this one, and though it was mighty racy at the time (ahmm, she even apologized to fans!), it's pretty tame compared current day Miley Cyrus, who is nearly always nude and acting wild.
Miley Cyrus and (most of) her boobs in Plastik Magazine
Photo: instagram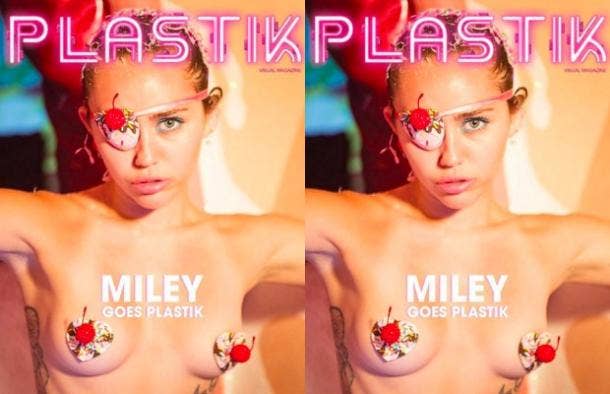 Another of the four covers for Plastik Magazine showed almost completely topless, aside from some strategically placed candies.
Miley Cyrus in a now deleted near-naked selfie on Instagram
Photo: Instagram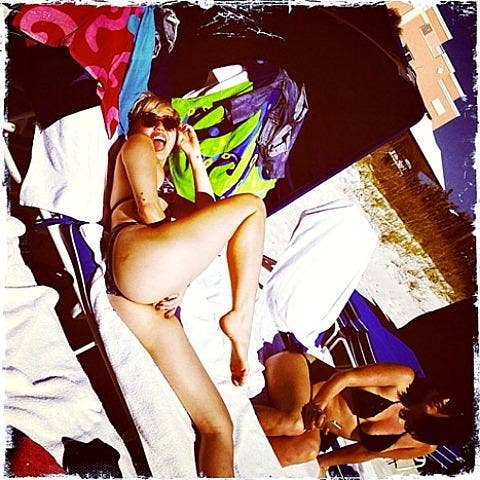 What do you do if you get sunburn where the sun doesn't shine? If you're Miley Cyrus, you post almost naked selfies on Instagram for the whole world to see.
Miley Cyrus takes a sexy selfie in a bra and shorts for her fans on Insta.
Photo: Instagram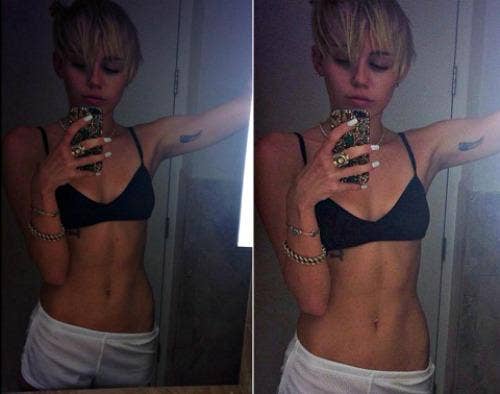 When it comes to sexy naked-looking selfies, Miley is a pro. Here's an example of a nearly nude photo (since deleted) she posted on her Instagram. That body!
Miley Cyrus poses topless for Terry Richardson
Photo: Terry Richardson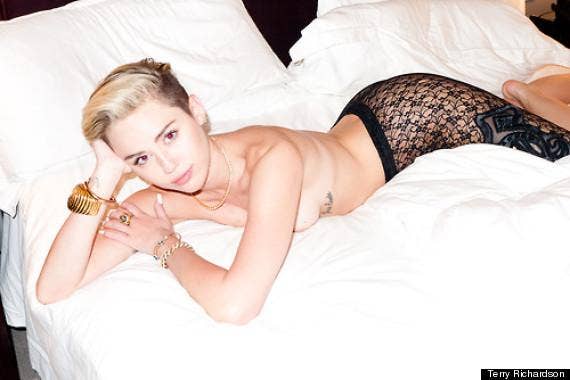 This shot of Miley taken by Terry Richardson in October 2013 is a racier version of her nude-in-the-sheets photo shoot for Vanity Fair a few years prior. Miley's definitely grew up since then, that's for sure.
Miley shows off her bare behind in W Magazine
Photo: W Magazine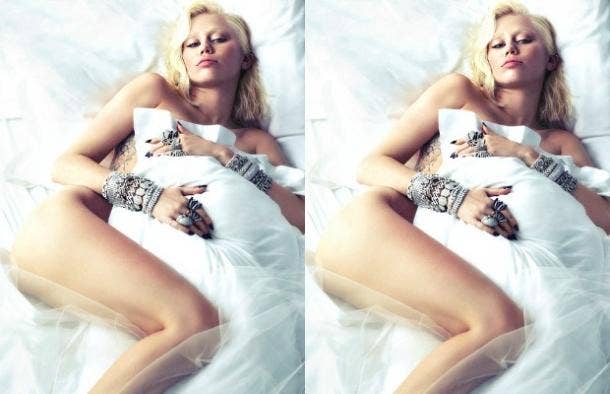 Miley brought her A game to another photo in W Magazine, giving the camera her best sultry pout behind a conveniently placed pillow while still exposing her nude backside.
Miley takes it all off in her 'Wrecking Ball' music video.
Photo: Wrecking Ball Music Video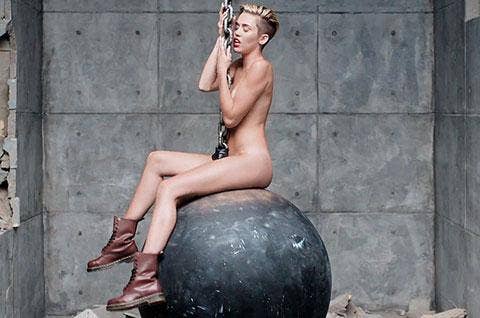 And how could we forget the "Wrecking Ball" heard 'round the world? There's Miley, swinging in the buff in a large, you guessed it, wrecking ball. This one's pretty self-explanatory.
Miley goes topless for Maxim Magazine
Photo: Maxim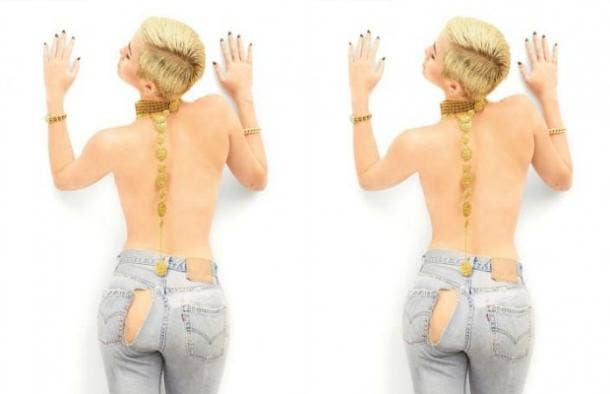 Topping off her list of accomplishments (see what we did there), in 2013, Miley not only made the Maxim Hot 100, she came in at #1 in the fan voting-based competition. Not one to try and cover up, she posed in a sexy gold leotard and these ripped-up-the-back jeans.
Miley Cyrus leaves little to the imagination on the cover of one of her singles.
Photo: RCA Records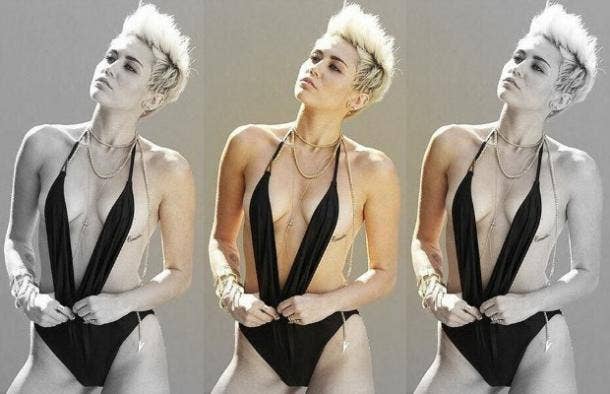 Earlier this summer, Miley released this provocative photo as the cover art for her single and mega-hit "We Can't Stop."
Miley Cyrus poses almost nude for Rolling Stone
Photo: Rolling Stone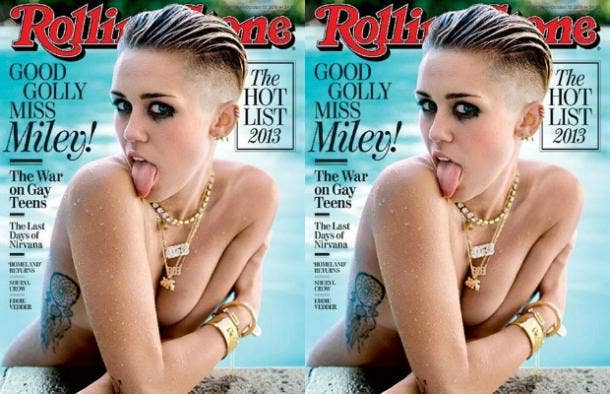 Miley got naked for her Rolling Stone cover in September of 2013, licking herself while completely wet. Wow.
Miley shows off her teeny thong in another shot by Terry Richardson
Photo: Terry Richardson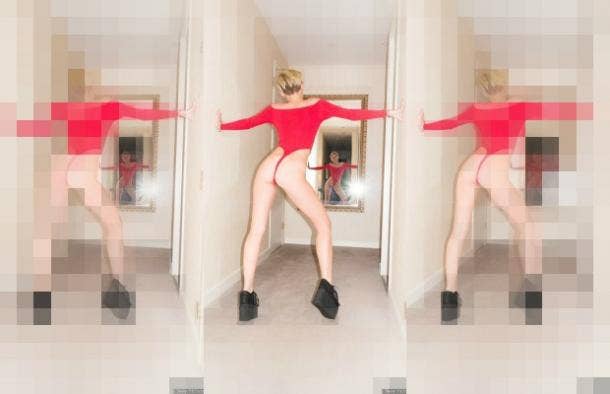 Here's another look from her October 2013 photo shoot with Terry Richardson. We just pray the front and back thong leotard doesn't become a trend (uh, ouch!). Other notable images from the collaboration included a mirror kissing session with herself and — you guessed it — some tongue action.
RELATED:
Ashleigh Schmitz Morley is the branded content director for SheKnows and StyleCaster, specializing in celebrity and entertainment coverage, as well as women's lifestyle topics. Her work has been featured in Esquire, Men's Health, Parade, InStyle, and MTV to name a few.