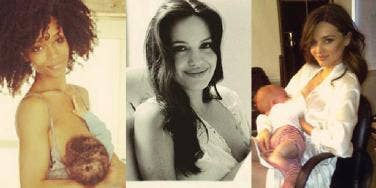 These stars are proud to nurse.
Breastfeeding is natural, it's healthy, and it's human. It's remarkable, in a really depressing way, that it remains such a taboo, because, well, they're boobs.
We all have them. This is literally something that women have been doing since the dawn of time, so there should be no reason why anyone loses their mind about catching a glimpse of a mother's boob in a park or at a mall.
Also, it's food. We all need it, especially rugrats with developing brains. Women have been bullied into bathroom stalls, closets, or under blankets to simply feed their own kids because, well, nipples are like, super scandalous, you guys. (Can you imagine what would happen if we dared to free the nipple? Society would crumble, apparently.)
This weird modern prudishness about breastfeeding has become so bad that even celebrities have faced public backlash for simply showing off their breastfeeding pride.
Which is INSANE. If online trolls are trying to bully Angelina Jolie or Gwen Stefani for naturally feeding their children, can you imagine how difficult it must be for the non-rich-and-famous moms out there to deal with nasty glares and mean comments when they're trying to feed their kids?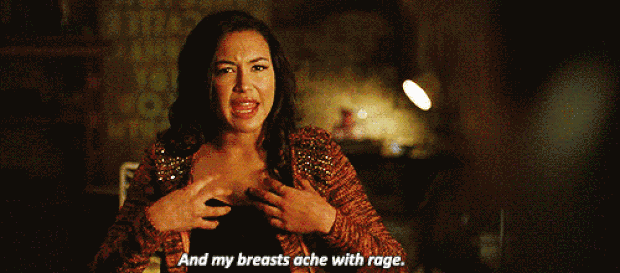 Babies need food, and boobs are just the delivery system.
There's nothing inappropriate about it. Thankfully, nipples are becoming the norm, slowly but surely, through campaigns like, well, Free the Nipple and Miley Cyrus' continued efforts to shock us.
Nipples for nutrition are a fine thing, ladies. And, if you need any further convincing, take a look at these 21 strong, powerful female celebs who have all been proudly photographed breastfeeding their children. These famous femmes agree with you!
15. Salma Hayek
Salma Hayek went on a televised humanitarian trip to Sierra Leone, where she fed a hungry baby with her own breasts. (She was weaning daughter Valentina at the time.) When ABC News asked her about it later, she said simply, "Am I being disloyal to my child by giving her milk away? I actually think my baby would be very proud to share her milk. And when she grows up I'm going to make sure she continues to be a generous, caring person." Damn right.
3. Angelina Jolie
Angelina Jolie proudly nursed daughter Shiloh, which Brad Pitt captured in intimate snaps.
2. Alyssa Milano
Alyssa Milano got backlash when she posted a breastfeeding selfie, so she posted some more. Oh, and she also s*it-talked Kim Kardashian, who, as far as Google tells me, never said a word to her about anything. But hey, whatever you can do to stay relevant, right?
1. Alanis Morissette
Alanis Morissette went from angry ex-girlfriend to Earth Mother.
Photo: Instagram/@kcbc.breastfeedingmatters
16. Olivia Wilde
Actress Olivia Wilde took this adorable picture of her feeding her son Otis for a photo-spread for Glamour Magazine.
Photo: Instagram/@doutzen
17. Doutzen Kroes
Dutch supermodel Doutzen Kroes posted this pic of her "daily routine" to Instagram to help promote breastfeeding and breastfeeding awareness.
Photo: Instagram/@misslivalittle
18. Liv Tyler
Lord of the Rings actress Liv Tyler shared this beautiful breastfeeding picture of her "Sunday morning snuggles with my baby girl."
19. Chrissy Teigen
Model and actress Chrissy Teigen has posted so many cute pictures of her baby online, but she actually showed off her bad-ass breastfeeding prowess in the video for Fergie's "M.I.L.F.$"
20. Lucy Lawless
In 2001, Lucy Lawless — Xena the Warrior Princess herself — released this amazing photo of her breastfeeding to support World Breastfeeding Week, which was captioned "Breastfeeding - my best role ever."
5. Gwen Stefani
Gwen Stefani nurses her youngest son, Apollo.
6. Natalia Vodianova
Supermodel Natalia Vodianova looks, well, super while nursing her son Max. Vodianova said of nursing, "Yes [we really do need to see it] ... because if we continue to treat it as a secret art form, reserved for private rooms and hushed conversations, it will remain a taboo. It will become lost in the passage of time, further misunderstood and out of reach for future mothers."
14. Yaya DaCosta
When Yaya DaCosta caught wind of a pal getting backlash for breastfeeding, she took action into her own hands (and mammaries). "Just heard about the uproar over @ash3nicole pic & had to post a copycat photo in solidarity," she wrote. "Hope you don't mind, beautiful sistren. I'm so proud of you and stand by you! #breastisbest#whattheyaremadefor #getoverit #mamasunite#movement."
13. Tila Tequila
Tila Tequila breastfeeds her daugher, Isabella. "I breastfeed her about every 2 hours all day everyday and we both LOVE IT!" she wrote on her blog. "Breastfeeding truly does build the strongest bond between a Mother & her baby! I think this is such a beautiful photo that captures the moment. She looks so peaceful here that I just had to sneak in a photo of her. I could savior this moment forever!"
She may also teach her about how great Nazism is, because, well, she's Tila Tequila. She's into that sort of thing.
12. Julie Bowen
Modern Family mama Julie Bowen feeds her tykes the old-fashioned way.
11. Gisele Bundchen
Of course if anyone could make nursing look glam, it's Gisele Bundchen.
10. Mayim Bialik
Listen, breastfeeding in public is healthy and normal. But breastfeeding on the subway is awful. Do you know how gross New York City subways are? I've never ridden one that didn't reek of urine and destroyed dreams.
9. Pink
Proud, fierce mama bear Pink nursed daughter Willow Sage whenever she took breaks from acrobatics and slaying your faves.
8. Kristen Bell
Kristen Bell showed off her breast pumps, dubbed her "backstage beauty routine," when she hosted the CMT Awards.
7. Jaime King
Jaime King is a fan of nursing. And also of hanging out with people decades younger than she is. One is healthy, one is unsettling.
Photo: Instagram/@ash3nicole
21. Ashley Nicole
Model Ashley Nicole, long-time partner of Miami Dolphins linebacker Philip Wheeler, posted this picture of her breastfeeding her son, which attracted criticism from an army of internet trolls. Nicole later published another breastfeeding picture to support a woman who had been asked to leave a South Florida mall for publicly breastfeeding.
Previous
Next
BEGIN