Photo: WeHeartIt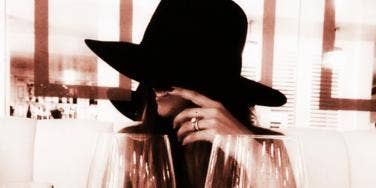 As unbelievable as it may sound, it's REAL.
Once you take marriage vows, you have what a sacred sanctity owed to your spouse. You've promised to be there for them through more than just sickness and health, but until death.
However, with up to 50 percent of all marriages ending in divorce, that's not exactly the case anymore—and online dating platforms are well aware of this fact.
While we can't blame the online dating sites for creating this dilemma, these couples are aware of the choices they're making and the consequences that come with these decisions. The fact that there's actually a market for married people in online dating baffles us a little. Why even get married if you're just going to be cruising around the dark online world of married dating sites?
Cheating was never OK, but this seems a little too out the box — even for a social-media based society. As unbelievable as it may sound, it's REAL. Ashley Madison isn't the only site where you can get your cheating on, as evidenced by these successful dating sites for married people.
That's why we rounded them all up for you—because we thought there was a chance you might have some trouble really buying it. Here are seven sites that help open up the door to the darkest temptations a marriage may see. And we hate to think of what this will do to the already plummeting rates of divorce in this country.
Here are 7 dating sites for married people that you'd have to see to believe:
1. Marital Affairs
Marital Affairs promises discretion and even gives some pointers for how to get the most effective results out of your affair. WOW.
5. Illicit Encounters
Illicit Encounters is the largest online dating site in the UK. That says quite a lot, I think, and none of it good.
6. Find New Passions
Find New Passions... Because the old one died and an affair is the solution, right? Of course it is!
7. Gleeden
Gleeden is the first extramarital site made by women only. And yes, they are very proud of that fact.
Previous
Next
BEGIN